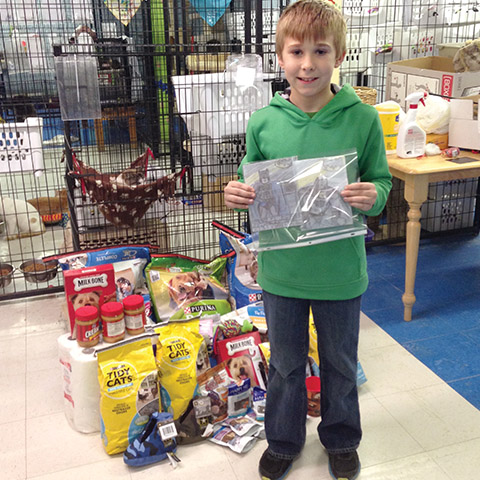 Connor Jones never knew that his artistic talent would make him a celebrity. But the 9-year-old from Roanoke, Virginia, has been on the news, in local newspapers, recognized at his school's board meeting and even asked to illustrate a book!
Yard sale success
Last year, Connor told his mother that he wanted to sell his artwork at her yard sale. He explained that he wanted to give the money he earned to help animals.
"[Animals] can't help themselves," says Connor. "We have to help them."
When people heard what he was doing, orders piled in. Friends, family and his mom's coworkers asked Connor to draw something for them. When he had earned $100, his mom called Angels of Assisi, a local animal shelter, to see what they needed.
Then, armed with a pocketful of cash and the shelter's wish list, Connor and his mom went shopping. They bought bags of dog and cat food, kitty litter, pet treats and toys and then delivered it all to the shelter.
"It made me feel really great [to do] something good," says Connor.
Back to the drawing board
The demand for his art hasn't stopped—and neither has Connor. He was recently invited to sell his art at a local Pet Expo. He earned $141 on the first day and marched over to the Deaf Dogs Rock booth and poured it all into their donation jar. The next day he raised about $75 and gave it to All American Mutt Rescue.
A local author heard about Connor and asked him if he would illustrate a book she was writing about a therapy cat at a nursing home. The book—including his art—has now been published!
Connor has this advice for kids who want to help animals: "If at first you don't raise as much as you thought you would, just keep trying." For Connor, the animals are worth the effort.
GD Star Rating
loading...
Article source: HSUS