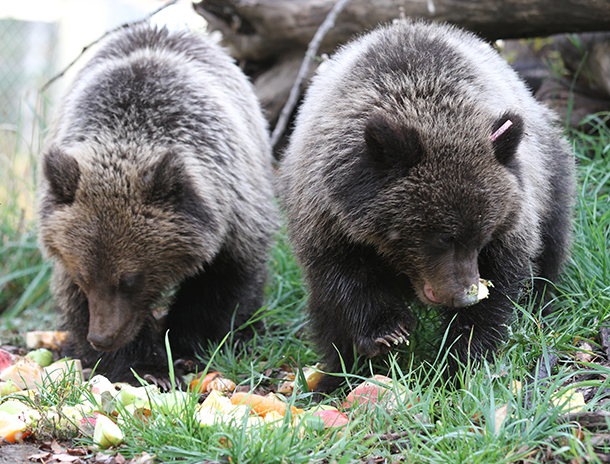 This past weekend, as many people were tucking in to Thanksgiving dinner and counting their blessings, our cell phones were buzzing with the news that two little grizzly bear cubs were in need of help.
Orphaned after their mother was tragically killed by a car, the two cubs were found by a BC Conservation Officer. Since 2008, we've been partners in a unique pilot project in British Columbia that rescues orphaned grizzly bears and involves IFAW, the BC government and Northern Lights Wildlife Society. The Conservation Officer knew his protocol was to call Northern Lights and get the grizzlies into care at their facility.
See a successful bear cub rescue: Watch last summer's release of grizzly cub, Littlefoot, into the wild.
One phone call set the team into action to go and get the cubs – no small feat since they were over 1,000km away! Dinner was put on hold, the transfer was made and the bears began to make their way to their new temporary home…until the truck broke down.
The timing could not have been worse.
It's Thanksgiving weekend; every place was closed – and it's really tough to get a tow with two grizzly bears as part of the cargo! The Northern Lights team used the power of Facebook to get help fast and within hours had a tow, a mechanic and a hotel.
The two little bears, a male and female who are only 9 months old, are now safe and sound and were treated to a Thanksgiving buffet. They will remain at the Northern Lights Wildlife Society's rehab facility until they are ready to be released back to the wild – hopefully this spring – where we will monitor their progress.
So far, through this partnership, IFAW supporters have helped to provide annual operating costs including grizzly rescues, helicopters and radio collars for 13 orphaned grizzlies.
We'll keep you up-to-date on the progress of these two!
–MC
Learn more about IFAW's rescue efforts: Visit our wildlife rehabilitation and release page.
GD Star Rating
loading...
Article source: IFAW