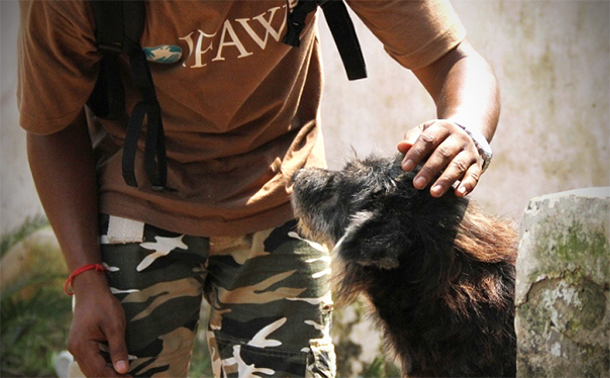 Following the severe destruction of tropical cyclone Hudhud, which barreled into the eastern Indian port city of Visakhapatnam (also known as Vizag) with winds of 130 mph (the equivalent of a Category 4 hurricane), International Fund for Animal Welfare (IFAW)-Wildlife Trust of India (WTI) staff and Emergency Relief Network (ERN) members cleared brush and restored badly damaged enclosures at the Vishakhapatnam Zoo and mobilized local support to provide relief to affected domestic livestock and companion animals.
The BBC reported that up to 300,000 people were evacuated from India's coast in advance of Hudhud, which downed hundreds of trees in the states of Andhra Pradesh and Odisha. Other press reports stated that Vizag had lost about 80 percent of its tree cover and the zoo enclosures were in poor condition as a result.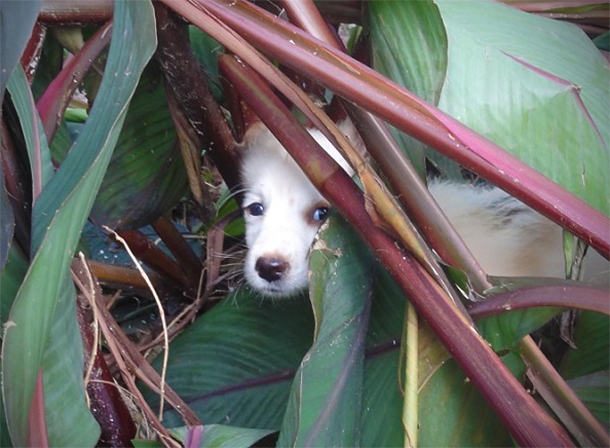 A team, led by IFAW- WTI Assistant Manager Rudra Mahaptra, worked to restore the terrapin enclosures yesterday morning at 7 am, then headed for the python enclosure.
"Fallen trees had created an escape outlet for these reptiles," said Mahaptra. Only one python was found within the enclosure, leading rescuers to believe that four of these reptiles are at large, but supposedly safe.
The team had to remove the fallen trees from inside the crocodile enclosure. Upon request of the zoo authorities, the team also restrained one of the crocs for a physical check-up.
IFAW-WTI is working with our partner Visakha Society for Protection and Care for Animals (VSPCA) to restore the affected bird enclosures at their local facility, an eco-sanctuary for 1200 animals.
The IFAW-WTI team has handed over feed for the rescued companion animals currently housed at the VSPCA facility and will continue to support emergency medical care to  animals in need.
The ERN team is ably supported locally by Mother Earth Environmental Consciousness Society (MEECONS), which has promised to send more volunteers to help feed and provide medical care for livestock and stray dogs in different parts of the city.
The IFAW-WTI team plans to stay on through the week of Diwali, ancient Hindu "festival of lights," and do their best to help the affected animals return to normalcy.
It was almost one year ago to the day that Cyclone Phailin devastated the coastal villages of Odisha, a very short distance from where our team is right now. During recovery from Phailin,
IFAW-WTI held an ERN workshop in this region to bring together our partners and potential partners to build local capacity.
We are stronger as a network when we train and respond together. The increased collaborative spirit of our ERN resulted in a faster and more efficient disaster response as Hudhud pummeled the coast; this saves lives and is at the heart of our mission.   
–SW
Your support of our efforts help make our rescue work possible. Donate now.
GD Star Rating
loading...
Article source: IFAW