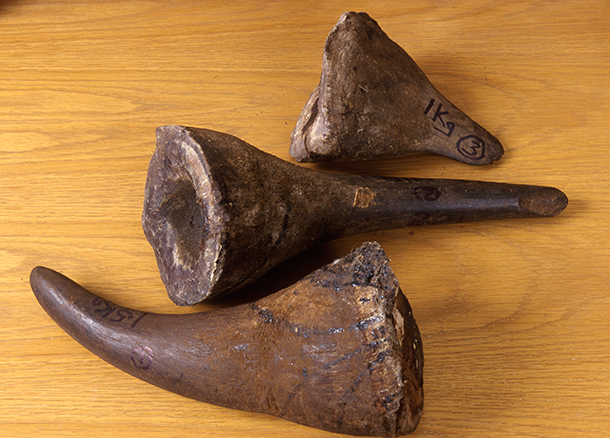 Federal wildlife officials have indicted two brothers in a scheme straight out of a pulp crime novel – the charges lay out a story of international trafficking in rhino horns, vicious attacks on still-breathing animals, and wealthy American hunters played for willing dupes in a conspiracy that stretched over five years.
The men, Dawie and Janneman Groenewald, operated Out of Africa Adventurous Safaris, a hunting outfit based in South Africa and Alabama.
According to the indictment, the Groenewalds advertised their services at gun shows and trade conventions around the US, and donated hunts to auctions run by the National Rifle Association and Safari Club International.
They offered the chance for Americans to shoot various game species but focused on rhinoceros – it cost up to $12,500 for a bow-and-arrow adventure, with the usual price tag running about $10,000 per animal.
By most measures, this was an absolute steal: the Dallas Safari Club, in comparison, auctioned a rhino hunt for $350,000 earlier this year.
How can you fight the rhino horn trade?  Read about the recent Czech/Slovakian rhino burning ceremony and access the post's information sources.  
When hunters arrived in Africa, the brothers would tell them that a particular rhino was "mean" or "aggressive" or a "nuisance" and needed to be shot, but left out a key piece of information – that they had no permits to kill or dart the animal with a tranquilizer (trophy hunts are legal, but regulated, in many African countries).
To avoid tipping off authorities, hunters weren't allowed to bring the trophy back home with them; instead, Out Of Africa staff would take a picture of the grinning hunter next to their kill, and send them off with a photo album or video instead of the horn or hide.
The real money wasn't in the safaris, though. Rhino horn is worth more than its weight in gold on the black market, particularly in places like Vietnam, where it's (ignorantly) believed to be a miracle cure-all for everything from cancer to hangovers, or simply bought to advertise a person's wealth, like a gruesome Rolex.
The Groenewalds would hack off the horns of the dead or tranquilized animals, then ship them overseas for a massive profit.
In at least one case, the American hunter knew what was afoot: the charges say that Dawie Groenewald took photos of the man posing with a rhinoceros he'd darted, "stated that the rhinoceros horn was worth a lot of money in Asian markets, and used a chainsaw to cut the horn off the [living] rhinoceros."
These safaris were part of a huge illegal conspiracy that netted the "Groenewald Gang" nearly $7 million, with hundreds of rhinos killed or dehorned by the syndicate. In the United States, the government's Operation CRASH has caught 26 rhino traffickers, and the brothers are the latest additions to a rogues gallery of Irish mobsters, corrupt antique dealers, and Canadian and Chinese smugglers.
Rhinos are one of the most imperiled victims of the poaching crisis that is decimating wildlife across the planet, with over 800 poached in South Africa this year alone. There are only about 20,000 white rhinos left on the continent, but that's far more than their cousins – Black rhinos number 5,000, Indian rhinos only around 3,000, and there are fewer than 100 Sumatran rhinos and Javan rhinos in existence.
In his remarks to the press, Fish Wildlife Service (FWS) Director Dan Ashe cautioned American hunters to do their own research and not just take their guides at face value, but it's worth asking why the Safari Club, the NRA, and the hunters themselves have been let off the hook.
Whether or not you agree with IFAW's views on the morality and "conservation value" of trophy hunts, the law is clear about what sort of hunts are allowed.
Are we supposed to believe that these seasoned killers were willing to pay $10,000 or more to pull the trigger, but couldn't be bothered to ask questions about their trophy?
When Dawie Groenwald hacked off a horn in front of the man who'd shot it, and explicitly said he planned to sell it, why didn't that raise a red flag?
The FWS requires a permit for any rhino horn trophy imported to this country, and we expect an announcement soon on a permit application, including one for the infamous Dallas Safari Club trophy I mentioned above.
The process gives us a chance to inform their decision and, given the growing outcry of public opposition to this cruel commerce, there's a good chance the Service could deny the applications – but we will need your voice.
Stay tuned for more on this issue.
–PL
For more information about IFAW efforts to protect wildlife from illegal trade, visit our campaign page.
GD Star Rating
loading...
Article source: IFAW