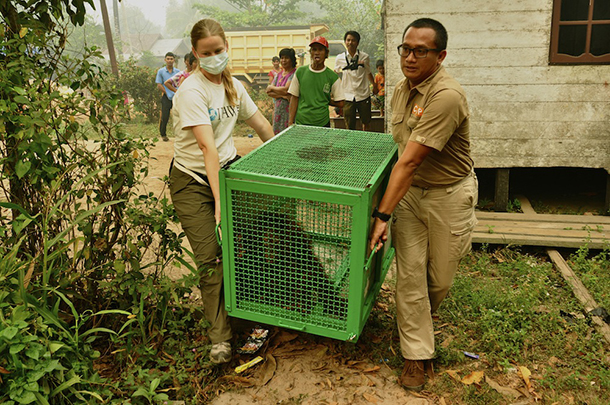 The hazy skies of Indonesia were a drastic change from those left back home.
Sunsets and sunrises are nearly non-existent here, leaving only varying shades of grey to distinguish time of day.
This last week, I joined a team from the Centre for Orangutan Protection (COP) to assess the forest fires' impact on animals and carry out rescues to save helpless orangutans and a gibbon in Central Kalimantan, an area on the island of Borneo.
Flying into the city of Sampit, I could see perfectly plotted parcels of land- all palm oil plantations. And then came the fires-I wasn't able to keep up with counting all of the active fires seen from out of the plane's window.
Sadly, Sampit has a poor reputation as a hotspot for clearing land to make space for more palm oil plantations. 
Out on the road, there were times when visibility was less than 20 meters- and with a variety of vehicles, motor bikes and pedestrians, it was dangerous to be out. There were even stretches alongside the road where fires were blazing, and there were no attempts being made to extinguish them. Other areas were burned within the past few days.
We found no signs of life. 
Our team visited a community of palm oil plantation workers and met a young orangutan being kept at one of their houses. An older man keeping him had grown attached and was emotional about letting him go.  After a long walk, he agreed that a chance at rehabilitation to be released to the wild was the right choice to make.
In collaboration with the Wildlife Authority, our team transported this orangutan, along with a baby orangutan and a gibbon, to the Orangutan Foundation International in Pangkalan Bun.
These animals, along with many others awaiting rescue, get caught in the complicated politics surrounding palm oil plantations. There are laws in place to prevent intentional fire-setting, but there is a clear lack of enforcement due to shortages of government resources or corruption. Big businesses like palm oil production, logging and mining are extremely powerful- a tough opponent for NGOs working to stop them.
While our focus was on animals, the ill-effect on humans breathing in this smoke day after day is yet another issue difficult to see the government disregard.
I could see the worry in mothers' faces as they tried to shield their babies from the smoke, and I wondered how parents explained what was happening to their children. The community won't complain about how palm oil production creates hazardous living conditions.
Palm oil companies have paved their roads, brought them electricity, and built their schools and hospitals.
Life in Sampit is pretty good…as long as you don't think about the side effects of continuous land-clearing.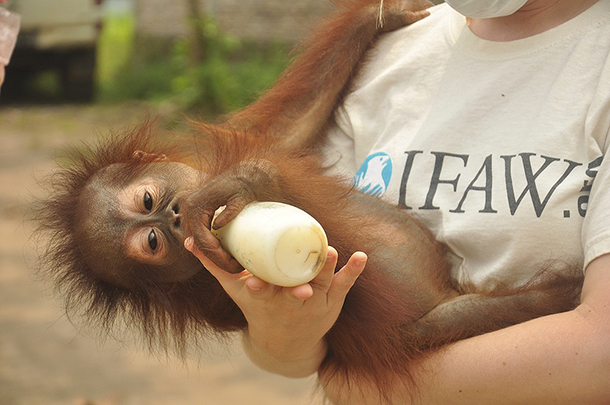 I have seen many devastating scenes created by disasters, natural and man-made, but none compare to witnessing lush forests that are the home to countless numbers of animals being destroyed for humans to make more money.
In grade school, I learned about deforestation, habitat loss and the trend of more species added to the endangered list, and in 2014, we have not stopped these invasive practices. It is hard to imagine what deforestation looks like, and I am still in a state of shock to see how aggressive these palm oil plantations are despite many campaigns against them for so many years now.
I feel there is still hope for Central Kalimantan.
Organizations like COP are working to campaign against deforestation.
–JG
Thanks to your support, we can continue to stand up against these practices and rescue animals in need. 
GD Star Rating
loading...
Article source: IFAW