I knew I was in trouble as we began the descent into Chicago. 
No matter how much gum I chewed, my ears just wouldn't clear. 
Flying with a head cold is no fun. Repeated take-offs and landings can pressure your eardrums to the bursting point.  And this itinerary – Boston, Chicago, Abu Dhabi, Sri Lanka and back in 100 hours — was starting to seem a bit insane.
My wife had raised health concerns when first I told her I'd be flying to Colombo to meet with Sri Lankan officials and local whale experts. It wasn't the welfare of my ears she was worried about; it was Ebola. 
"Sri Lanka is as far from West Africa as we are here on Cape Cod," I reassured her.
Related: Read Ramage's IWC65's wrap-up.
As my 14-hour Royal Abu Dhabi Airlines flight went wheels up from O'Hare, I doubled down on Sudafed and kept pumping the water. 
A longtime IFAW road-warrior for whales, I have come to enjoy, even crave alone time in the "aluminum tube" flying to whale saving meetings, projects or events around the world. One of the great privileges of this work is occasionally landing in an entirely new country and getting a few stolen minutes or hours to experience it in the margins of my "day-job." 
And even as the cab driver drove me into Colombo from the airport at 3:30 a.m. local time, Sri Lanka did not disappoint.
I had come for the whales of course – blue whales to be specific, the largest creatures ever on our ocean planet. One adult blue whale is the weight of twenty five African bull elephants (!). 
Early last year, anecdotal reports from local fishermen reached IFAW scientific advisor Russell Leaper that up to 30 of these leviathans were washing up onto gorgeous Sri Lanka's southern shore of each year – victims of collisions with even larger container ships and tankers moving swiftly through the busy sea lanes that skirt the Indian subcontinent.
A first season of IFAW-supported field work in conjunction with local experts suggested large numbers of whales are surfacing smack-dab in the shipping lanes. Obsessed as we are with practical solutions that serve both animals AND people, IFAW is working to better understand whether a slight shift in shipping lanes might achieve massive gains for blue whale conservation while also securing safer navigation and global commerce.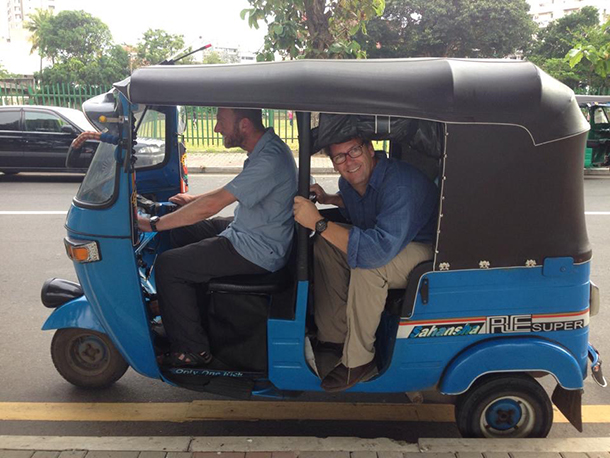 So, deaf as a post and bleary-eyed after several hours of sleep, I joined Russell several hours later in the lobby of the hotel for a "Patrick-proof" briefing and a few hours of sightseeing on our "recovery day".
As we quaffed Coca-Colas in a local cafe, I pulled out my IFAW notebook, sketched a crude, American drawing of the coastlines of India and Sri Lanka and asked Russell to scrawl out a visual of what a hypothetical shift in Sri Lanka's shipping lanes might look like.
In addition to world-class scientists like Russell, IFAW has a powerful regional partner in the Wildlife Trust of India through which we implement our work for animals in South Asia.
WTI Executive Director Vivek Menon, a longtime friend and collaborator, arrived early the next morning from Delhi with two senior colleagues who had orchestrated our meetings scheduled for that afternoon. 
As we gathered in the Ministry of Wildlife Resources Conservation, we were surprised and delighted to be joined by the Honorable Minister Gamini Vijith Wijayamuni Zoisa who chaired the entirety of our two-hour session.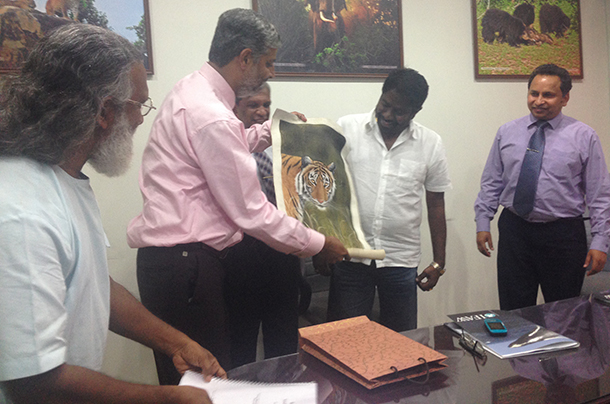 An impressive array of Sri Lankan officials and experts, including Mr. H. D. Ratnayake, Director General of the Department of Wildlife Conservation, world renowned whale researcher Mr. Howard Martenstyn and Dr. Hiran W. Jayewardene, a longtime leader in international whale conservation efforts also shared important insights and perspectives during the session. 
As Professor Tilak Priyadarshana of the University of Ruhuna reminded us all, effective whale conservation is seldom simple and must be rooted in sound science. This first-year of IFAW-supported research suggests that up to 80 percent of blue whales might be protected through a shift in shipping lanes.  But further research and study of affected whale populations and how they migrate through their habitat is needed before we and others can be confident lane changes would actually achieve their desired impact. 
Armed with that knowledge, the Government of Sri Lanka would then have to propose such lane changes to the International Maritime Organization (IMO) where the U.S. and Canada have recently championed similar conservation measures.
Beyond my nearly-blown eardrums and the mind-blowing beauty of Sri Lanka itself, what made the most impact on me this trip was the palpable enthusiasm of Sri Lankan government officials and non-governmental experts alike, and their ready willingness to contemplate significant commitments for whale conservation. 
While leaders in my own country and skirmish over far simpler policy choices, Sri Lankan leaders are clearly committed to showing the way. And the pride they take in the concentrations of blue whales off their shores – which easily eclipse those enjoyed by other countries — is contagious. 
As our time together came to a close, the Honorable Minister finally spoke, making clear that while ports of course cannot not be moved, shifts to shipping lanes ARE possible and that he would be raising the matter with Sri Lanka's President. I couldn't believe my ears.
Your support is what makes moments like these possible. Subject to sound IFAW-sponsored scientific research over the next field season, it also puts major conservation measures for massive blue whales within reach.
Thank you for all you do to help me, my IFAW colleagues and our partners rescue and protect animals around the world and to make our world a better one for animals, and people.
–PR    
Learn more IFAW's work to reduce injuries to whales, visit our campaign page.
GD Star Rating
loading...
Article source: IFAW