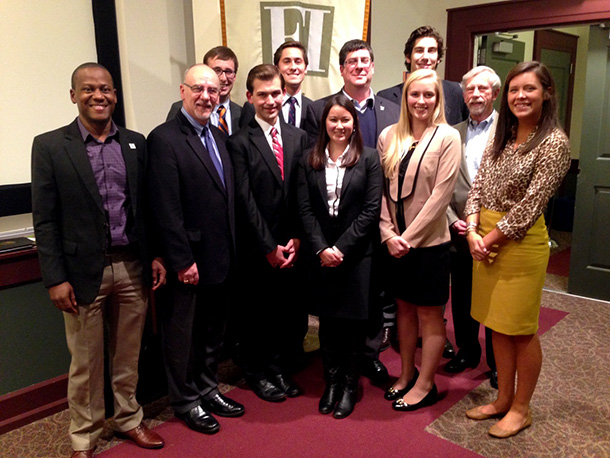 Animals are captured and killed every day for illegal wildlife trade, which is valued at $19 billion worldwide and is proven to be as dangerous as human, drug and weapons trafficking.
The International Fund for Animal Welfare (IFAW) has been at the forefront of the fight against wildlife trade and uncovering the links it has to terrorism around the globe.
Last week my colleague Kelvin Alie, IFAW's wildlife trade program director, spoke as part of a panel to address "Funding Terrorism through Transnational Organized Crime" at Gettysburg College's Eisenhower Institute in Pennsylvania, a center hosting resident and non-resident fellows that have expertise in a variety of fields, including foreign affairs, economics, international security, and environmental sustainability.
He was joined by Keith Masback, CEO, U.S. Geospatial Intelligence Foundation (USGIF), Terry Ford, National Intelligence Manager for Africa in the Office of the Director of National Intelligence, and Richard LaMagna, a former Drug Enforcement Administration (DEA) intelligence officer.
Security experts are busy people. They have to assess complex situations and make crucial decisions sometimes without knowing the entire picture.
That is why I feel it was imperative that we engaged with such professionals in a thoughtful setting, as they are the ones who will be undoubtedly making decisions or informing those who make decisions in the future to address terrorism and organized crime.
We wanted to hammer home the proven point that militant groups like al-Shabaab in Somalia, Darfur's Janjaweed, and Boko Haram in Nigeria—who have committed numerous atrocities against humankind—not only take advantage of the "lootable resources" of wildlife trade, but have come to rely on the revenues created by sales.  Ivory, for instance, is thought to be the primary source of revenue to the Lord's Resistance Army in Uganda, according to a joint UNEP-INTERPOL report.
Knowledge sharing works both ways. For those who study environmental sustainability at the Eisenhower Institute, we stressed to them that organized crime worldwide is very much related to the challenges we face on the environment, that the poaching that is killing elephants, tigers, rhinos, and various other endangered species is fuelled by a strong and dangerous international network that doesn't bow down to local laws and authority.
According to a ground-breaking report, the year 2013 witnessed the largest amount ever of ivory seized in 500kg or larger consignments. That shipment size indicates that organized crime is involved; individuals and smaller criminal partnerships on their own cannot source, consolidate, transport, and sell ivory along an extremely long and complex supply chain that crosses borders and oceans and travels from the remotest corners of Africa thousands of miles to retail markets in Asia.
Links between wildlife crime and terrorist groups have been additionally documented in our own Criminal Nature: The Global Security Implications of the Illegal Wildlife Trade as well as the Midterm report of a Group of Experts on the Democratic Republic of Congo to the UN Security Council, June 2013.
Even the US government has admitted that this is an immense problem. "Poaching operations have expanded beyond small-scale, opportunistic actions to coordinated slaughter commissioned by armed and organized criminal syndicates," said President Obama earlier this year in his executive order to establish a Presidential Task Force on Wildlife Trafficking.
The coalition of enforcement agencies organizations to tackle wildlife crime is growing. They include everyone from INTERPOL, the Lusaka Agreement Task Force (LATF), and the World Customs Organization (WCO) to local, federal, environmental, and park service authorities.
We have found that most authorities work alone; they do not share information and resources or coordinate responses to achieve maximum impact. But now they face threats that are well beyond their scope.
INTERPOL has recommended the establishment of National Environmental Task Forces (NESTs) in each country to facilitate a coordinated wildlife crime response, even promising training and operational support if countries do so (unfortunately, very few countries have taken them up on this offer).
Where can we go from here?
We need to help susceptible regions:
foster a commitment to coordinated interagency and intergovernmental response and grassroots community involvement.
support communities that now either don't support wildlife protection or are driven by poverty to poaching or other wildlife crimes, either passively or actively so that organized crime does not take advantage of their inaction and grow increasingly influential and dangerous.
encourage legal and law enforcement authorities to cooperate to maximize penalties and dismantle networks before it is unsafe for them to do so.
If the next generation of policy experts and leaders can better understand the triggers of this wicked web of crime, fear, and killing that leaves helpless animals in its wake, we can hope that the knowledge they gain in such settings will make for better policies for the well-being of animals and people alike.
–AD
/theme/21For more information about IFAW efforts to combat wildlife crime, visit our campaign page.
GD Star Rating
loading...
Article source: IFAW