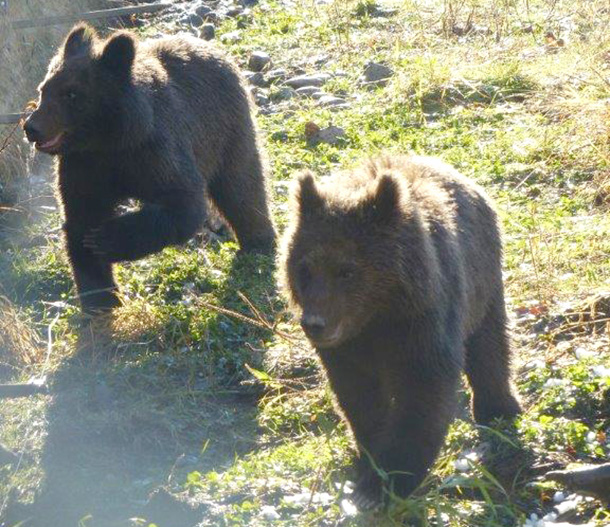 It was just a few short weeks ago that we reported on two grizzly cubs who, after quite a bit of drama, were rescued by our partners the Northern Lights Wildlife Society (NLWS). Since 2008, we've been partners in a unique pilot project in British Columbia that rescues orphaned grizzly bears and involves IFAW, the BC government and Northern Lights Wildlife Society.
There never seems to be a dull moment where grizzlies are concerned, and there are now two more little cubs joining the first two after another exciting rescue!
The NLWS team received a call from the outstanding Terrace Conservation Officers who did everything in their power to save these two cubs. Their mother had been killed near a popular fishing spot on the Kitimat River in British Columbia. The two cubs she left behind were born only this past winter and the Officers knew that they wouldn't make it through the winter on their own. 
The Conservation Officers carefully and patiently set live traps for the two cubs, where they had last been spotted on a sand bar – at the time, the river was low and they didn't realize just how much it would rise!
The traps had to be monitored and the Conservation Office recruited staff from the Kitimat Fish Hatchery to monitor the situation. They checked in on the traps throughout the day and evening until the little cubs were safely captured. By then the river had risen and the sandbar was now an island. Not to be deterred, the Conservation Officer and the hatchery staff made sure they got the cubs across the river and the Northern Lights team safely transported the cubs back to the sanctuary.
These two grizzlies are extra special as they have been rescued just a couple of hours from Smithers. This provides a unique opportunity for us to monitor them, virtually in the backyard of the Northern Lights sanctuary.
The four grizzlies are now sharing an enclosure at the sanctuary where they will be fed and cared for over the winter, until they can be released in the spring. Stay tuned for updates on their progress! 
Our thanks go out to the staff at the hatchery and the wonderful Conservation Officers who all went the extra distance to make sure these two little cubs had a second chance. 
—PZ
GD Star Rating
loading...
Article source: IFAW