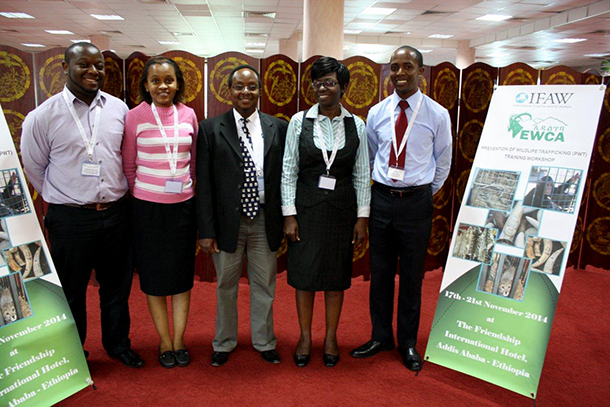 The International Fund for Animal Welfare (IFAW) is a leading force in the training of authorities to combat illegal wildlife trade.
Over the past eight years, IFAW has supported the training of law enforcement officers around the world to more effectively implement CITES regulations and to stop illegal wildlife trafficking. Nowhere are our efforts more evident than in East Africa and the Middle East, where we have facilitated the training of thousands of frontline personnel – customs and wildlife law enforcement officials, police officers, border guards and others – to increase their ability to detect and apprehend wildlife smugglers.
We are now partnering with the Ethiopian Wildlife Conservation Authority (EWCA), African Wildlife Foundation (AWF), Freeland Foundation and Lusaka Agreement Task Force (LATF) to host a workshop at the Friendship International Hotel in Addis Ababa, Ethiopia, to empower INTERPOL officers, customs staff and CITES management authorities with the necessary skills to deter illegal wildlife trafficking.
His Excellency Amin Abdulkadir, Ethiopia's Minister of Culture and Tourism, says wildlife trafficking has become a major threat to wildlife conservation not just where the wildlife is sourced but also in the transit and destination countries of the West and East Asia. He lauded IFAW and EWCA for organizing the workshop, and made special note of the continued partnerships with INTERPOL and LATF. ARREST partner AWF has conducted similar trainings in other countries to strengthen in-country and cross-border collaboration in combating the illegal wildlife trade and is a crucial collaborator.
Participants are drawn from Kenya, Uganda, Ethiopia, Somalia, Tanzania, Yemen, Saudi Arabia, United Arab Emirates, Oman and Jordan under a continent-wide program called ARREST (Africa's Regional Response to Endangered Species Trafficking). Training will ensure law enforcement officials from the Horn of Africa, East Africa and the Arabian Peninsula are better equipped to combat wildlife trafficking and report wildlife crimes.
Experts are teaching participants practical, hands-on skills in interactive sessions during this five-day training. Such skills will be used to combat illegal wildlife trade across the region. Training focuses on:
The status of high-value wildlife species in trade
Identification and correct handling of commonly trafficked wildlife, wildlife parts and derivatives
Impacts of wildlife crime on local and national economies, biodiversity, good government and the rule of law
International trade conventions and organizations and
Inter-agency cooperation to improve international and regional communications.
Valued at 19 billion or more US dollars annually, illegal wildlife trafficking is one of the world's most lucrative criminal activities. According to the IFAW report Criminal Nature: The Global Security Implications of the Illegal Wildlife Trade, ivory smuggling and the illegal wildlife trade have been linked to other forms of transnational, organized crime including terrorism, illegal arms sales and drug trafficking. Ethiopia, in particular, has become a major transit hub for illegal ivory in recent years and the country's stockpile of confiscated ivory is estimated to be 6.3 tons. 
This training is but one in an international, multi-year campaign to address illegal wildlife trafficking. IFAW has trained more than 2,450 law enforcement officers in Africa, the Middle East, Asia, Oceania and the Caribbean since 2006.
In 2012 we collaborated with EWCA on a national training for Ethiopia officers and worked alongside the Ethiopian Wildlife Conservation Authority, the Horn of Africa Regional Environmental Center and the U.S. Department of State to launch the Horn of Africa Wildlife Enforcement Network HA-WEN at the African Union Conference center.
The scale of animal poaching and trafficking of high value wildlife species are on the rise, affecting biodiversity, local and national economies, human health and well-being. They contribute to corruption and violence and cause immense cruelty and suffering to animals.
The whole of society must respond quickly and earnestly.
Such a comprehensive and collaborative effort shows our dedication to fighting wildlife trafficking worldwide.
–KA
Learn more about IFAW efforts to combat illegal wildlife crime on our program pages.
GD Star Rating
loading...
Article source: IFAW