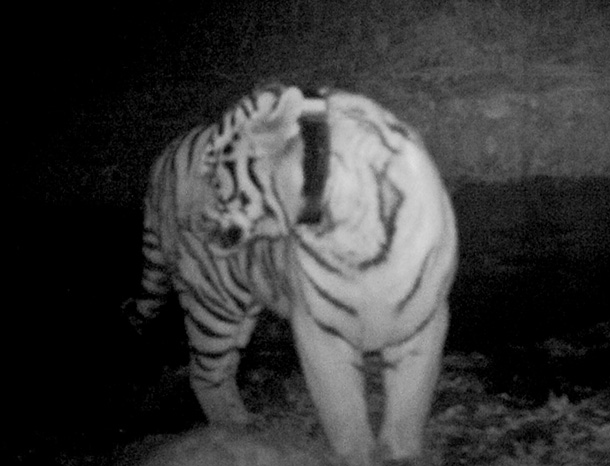 We have some amazing news – we recently received a photo of Kuzya, the traveler. Kuzya is one of the rehabilitated Amur tigers, which were released back into the wilds of Far East Russia in Mayof this year.
We are overjoyed for him!
Approximately a month ago Kuzya swam across the Amur River and into China. This area is much more densely populated than the bordering Russian territory, and many were concerned that Kuzya would move close to human settlements, start hunting domestic cattle or end up in some other conflict situation with people. These concerns were exploited by some journalists, who fabricated stories of Kuzya pillaging a henhouse.
Actually, as the satellite monitoring data shows, he was at least 30km away from the alleged attack.
The reality is that Kuzya has invalidated the worst concerns. So far he has been avoiding all dangers and has moved over to the Xing'an cedar and broad-leaved woods of the Taipingou natural reserve. This natural reserve was founded in China in the framework of the protected trans-border natural reserves project.
It is important to say that a number of such environmental corridors have already been established and their use by tigers was documented. For instance, a Russian fisherman recorded a video of a tiger swimming over the river between the Bolshehehzirsky state natural reserve in the Khabarovsk Krai and the wetlands of the Sanjiang Natural Reserve in the Heilongjiang Province.
The travels of Kuzya have demonstrated to us the importance of these corridors and the need to establish new ones.
The photograph of the tiger taken in Taipingou did not arrive to us by accident.
This natural reserve is well prepared to receive these wild "guests". Its territory is cleared out of poachers' snares, biotechnical measures are undertaken and trail cameras set up. One of the important reasons that kept Kuzya there is the high density of hoofed animals inhabiting this natural reserve.
Based on the data of Professor Zhang, an expert on large mammals in the Chinese Northeast Forestry University, Kuzya successfully hunts and kills a wild boar every three days and feels so comfortable that sometimes leaves an unfinished "lunch". 
I witnessed a similar picture in the Panna National Park in India, where tigers regularly just "get a taste" of their prey, leaving the rest to other predators.
Animals can behave in this way only when food is easily available.
It looks that our Kuzya has made himself comfortable, and I personally feel much calmer.
—AF
For more information about IFAW efforts to save the last of the world's remaining tigers, visit our campaign page.
GD Star Rating
loading...
Article source: IFAW