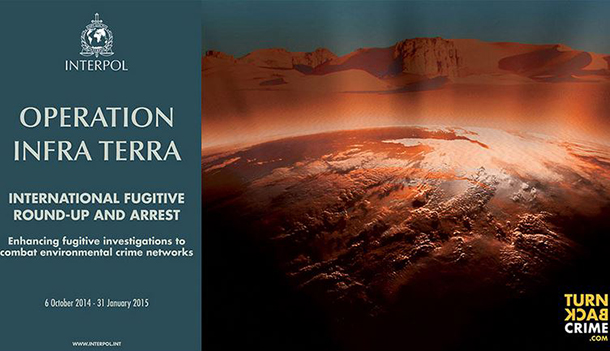 In 2013 IFAW became the first ever non-governmental organization in the environmental field to sign an MOU with INTERPOL's Environmental Security unit.
Together we have collaborated on numerous projects since 2005 including INTERPOL's largest-ever ivory trade operation in 2012. The organisations joined forces to combat global wildlife crime, especially crime related to the illegal killing of and trafficking in elephant, rhinoceros and tiger parts.
Today, INTERPOL issued a public appeal for assistance in locating nine fugitives who are the subjects of INTERPOL Red Notices and wanted for environmental crimes, through their Operation Infra Terra.
I thought it would be interesting to learn more about Red Notices and asked INTERPOL a few questions of clarification:
KA – What is an INTERPOL Red Notice?
INTERPOL – An INTERPOL Red Notice is used by INTERPOL to inform its 190 member countries that an arrest warrant has been issued for an individual by a judicial authority in one of those countries. As such, it is an international wanted persons alert, not an international arrest warrant. INTERPOL's role is to assist national police forces in identifying or locating those individuals with a view to their arrest and extradition. Countries act upon a Red Notice according to their existing national laws.
KA – What triggers their issuing?
INTERPOL – Red Notices are issued at the request of a member country (or International Criminal Tribunal, if appropriate). A Red Notice will only be issued if the requesting INTERPOL National Central Bureau (NCB) has provided all the information required by the General Secretariat, including details of a valid arrest warrant for the individual.
KA – How successful is the Red Notice in helping to capture or detail suspects?
INTERPOL – Red Notices are just one tool use by law enforcement worldwide to locate wanted individuals.  In 2013, INTERPOL issued 8,857 Red Notices. During the same year, 1,749 people were arrested on the basis of an INTERPOL notice.
KA – How many have been issued for wildlife or environmental crime offenders?
INTERPOL – In 2014, 7,469 Red Notices have been issued for all types of environmental offences (as of 31 October). Additionally, 13,799 diffusions were circulated for environmental crimes. A diffusion is a similar type of law enforcement alert, but is less formal than a Notice and can be sent directly by an NCB to a select group of countries.
KA – What, if anything, can the public to do support INTERPOL or wildlife/environmental crime law enforcement efforts?
INTERPOL – INTERPOL encourages the public to play an active role in supporting law enforcement efforts to reduce the instances of environmental crimes. In this respect, knowledge is key. Through INTERPOL's Turn Back Crime campaign, police worldwide are raising awareness of how purchasing products made from endangered species or illegally obtained timber can fuel the criminal organizations which thrive on environmental crime. In addition, the campaign brings together the police, the private sector and the public to pool their knowledge and information to more effectively combat all types of organized crime threatening global security.
Visit INTERPOL's Operation INFRA-TERRA page and read more about this operation.
GD Star Rating
loading...
Article source: IFAW