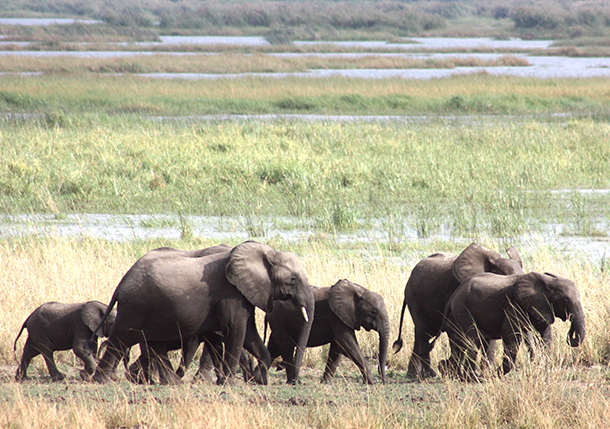 As the IUCN World Parks Congress (WPC) deliberations begin to unwind, there are a few messages coming out of this congress that are crystal clear.
While a lot of progress has been made since the previous congress in Durban in 2003, especially in terms of engaging communities and bringing people to the forefront of the conservation policy agenda, the next ten years are probably the most important in history for the world's wild places, species and communities, and here is why.
RELATED: Read Jason's previous post on the World Parks Congress in Sydney here.
Firstly, wildlife population declines are taking place at alarming rates due to habitat loss and the illegal wildlife trade. This has resulted in extinction of many species globally and seriously threatens the survival of others.
Take an iconic species such as the African elephant, for example, a flagship species for IFAW's efforts to protect habitats and eradicate illicit trade. Elephants need space for their survival, but their habitats are becoming increasingly fragmented as competition with human land-use practices accelerates. And, the renewed demand for ivory has resulted in the decimation of many wild elephant populations. In some cases, this has resulted in local extirpation and in many other instances populations are under significant threat of extinction.
With close to 100,000 elephants killed in the past three years, the picture looks extremely bleak.
Most agree that if the turnaround for elephants does not take place in the next ten years, these iconic animals will be ghosts in the wilderness. 
Secondly, what we used to think of as indirect threats to wild animals and places are now direct threats, not only to animals and their habitats but to communities too. This just adds fuel to the fire that is raging where habitat loss and illicit trade are concerned.
Take climate change for example. The World Parks Congress has reinforced that climate change is no longer all about everything and not about anything. It is very much about something and should be considered in all conservation planning frameworks. We have to get ahead of the curve and really understand what the future looks like so that policy decisions are geared towards addressing the potentially negative impacts of climate change.
I am relieved that IFAW is looking at this bigger picture through an initiative aimed at understanding these potential impacts on elephant populations and communities in sub-Saharan Africa with a view to promoting conservation and land-use policies that address the needs of wildlife and people in the context of a changing climate.
And lastly, as the compounding threats of habitat loss, the illicit wildlife trade, climate change, governance, etc., take effect, the challenge of financing actions to address these threats is becoming increasingly relevant. Hence, there has been a significant focus at this congress on innovative financing solutions. While many governments have stepped up to the plate and committed resources to addressing such crises as the illicit wildlife trade and poaching, there is a significant global funding gap.
It is estimated that US$50 billion is currently being spent worldwide on the protection of nature.
However, $150-200 billion is needed.  It was thus reassuring to see one stream of the congress focus specifically on finding innovative financing solutions to work towards closing this enormous funding gap.
The next World Parks Congress in ten years will be a watershed event.  I predict that there will be lots of tears and I hope that they will be tears of joy as we reflect on having addressed the crises reflected on above.  I am extremely hopeful, and for one main reason.  The spirit of collaboration between NGO's, governments, the private-sector, community groups, not to mention inter-sectorial collaboration between the conservation and development community, is at a level that I have never seen before.  If there is one take-home from the congress it is that we simply all have to work together to be successful.
—JB
For more information on IFAW efforts to protect animals from illegal wildlife trade, visit our program page.
GD Star Rating
loading...
Article source: IFAW