by Ruthanne Johnson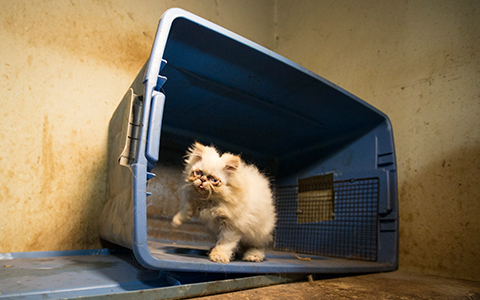 Even filthy, the little pale-colored kitten was all that. When HSUS rescuer Tara Loller found her in a tiny room with five other Persian cats, she was boldly exploring a dilapidated plastic tub on top of a table. Her soiled fur and swollen eyes made her look ancient. "But she was very curious," remembers Loller, "and would come up to me and then go nurse on her mom."
The first sign of her spunkiness came when Loller picked her up to have her photo taken for evidence. She immediately wriggled with all of her might to be let down, Loller says. She'd also run sideways and then spin around, as if trying to catch her tail. Loller named the kitten Sassafras, Sassy for short.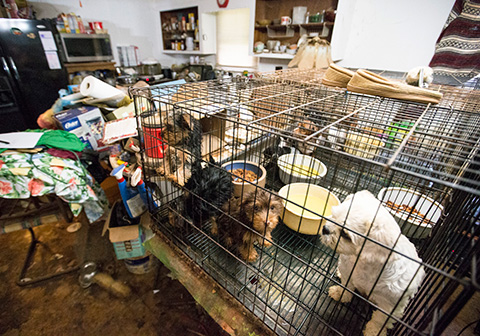 Sassy was one of nearly 60 dogs and cats rescued from a North Carolina puppy mill in early October—the state's 21st puppy mill rescue in just three years. The breeder had been charged with animal cruelty in 2002 but was still selling small breed dogs on multiple websites.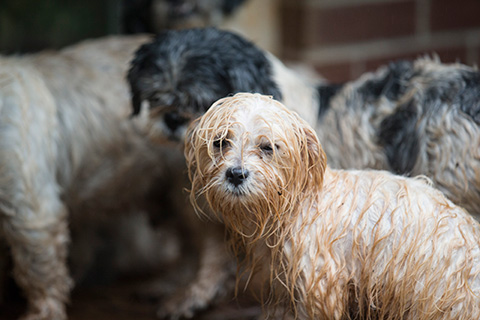 When HSUS rescuers arrived on the scene, they found dogs soaking wet in the pouring rain and dozens more inside the house in wire cages.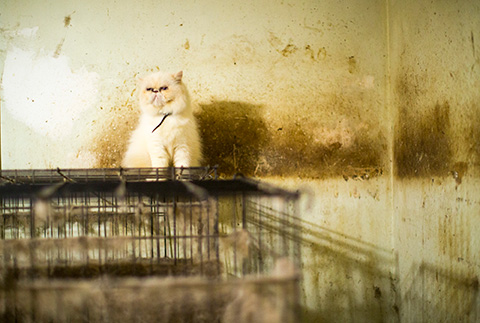 Inside the cat room, the stench of ammonia overwhelmed rescuers, making it hard to breathe. "I can't even explain how bad it was," says HSUS rescuer Tara Loller. "The walls were brown. The floors were saturated with feces and urine. They had no way to escape that situation. That was their life." Sassy and the other cats coughed when they breathed.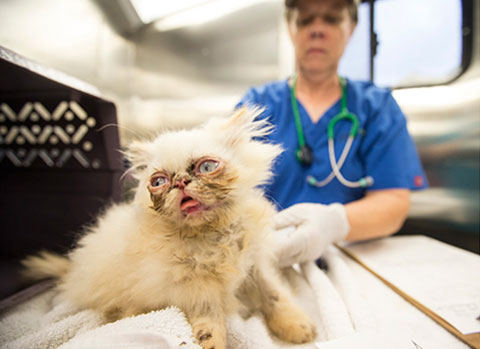 Judi Vogt, shelter veterinarian for the Humane Society of Charlotte, examined the animals in the Cashiers-Highlands Humane Society's fully equipped trailer. Her group and other local emergency placement partners took in the animals and began administering medical care—including vaccinations, dental cleanings, antibiotics for infections, soothing hair trims and baths for irritated skin, and cleaned and clipped nails. She sutured a Yorkshire terrier's broken jaw so it would heal properly. Comprehensive care helped ready each animal for adoption.
Sassy is now in the care of Brother Wolf Animal Rescue, a local group that also took in four other cats and several dogs. Former executive coordinator Sheryl Mann and her daughter fostered the kitten for several weeks.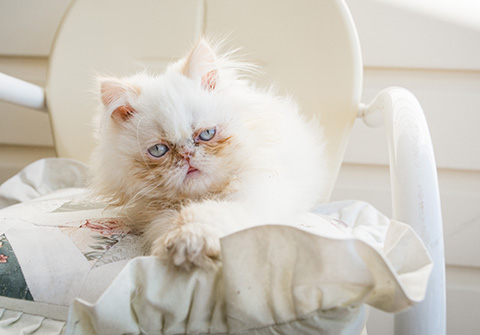 After Mann bathed her and gently combed the mats from her fur, Sassy's fluffy white coat emerged. Her eyes and breathing improved in just 48 hours. Brother Wolf held a "Name This Kitten" contest on Facebook, and dozens of families have applied to adopt her. Athena emerged as the most popular name. "[It's] a pretty strong name for a brave little kitten," Mann says. "I think it will serve her well." She has since become Brother Wolf's spokeskitty for stronger legislation against puppy mills in the state.
Puppy mill operators often sell puppies (and other pets) through official-looking websites, hiding behind adorable puppy photos, AKC registration papers and claims of strict breeder standards. In reality, animals sold online are likely from situations of cruelty and neglect, where profits are placed above the animals' welfare. Reputable breeders don't sell their puppies or kittens online. If you're in the market for a puppy, read our tips to make sure you're not supporting a puppy mill.
GD Star Rating
loading...
Article source: HSUS