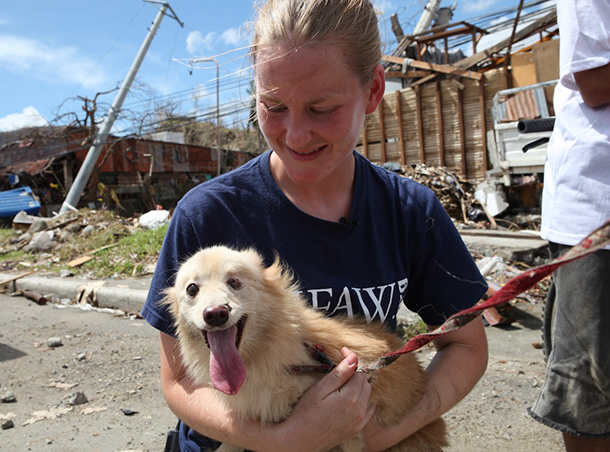 A powerful storm that stirred up fear and emotions has finally exited the Philippines.
While officials are still busy completing initial assessments and clearing roads, IFAW is making preparations to visit the hardest hit areas in the province of Eastern Samar where Typhoon Hagupit first made landfall as the equivalent of a Category 3 hurricane.
Some of the communities IFAW worked in last year are yet again devastated.
Typhoon Hagupit took a similar path as last year's Super Typhoon Haiyan, one of the most catastrophic disasters in Philippine history.
Communities still in the recovery phase were especially vulnerable; luckily orders to evacuate were taken seriously and many lives were spared.  It is easy to see how lessons learned were not forgotten, instead implemented into new procedures, practices, and partnerships.
Taking a look back over these past 13 months, we know that we have built a strong network of local responders who share our passion for working as a team during disasters.
Immediately after Typhoon Haiyan swept across the archipelagic nation, IFAW teams were deployed to assess the disaster's effects on animals.
Veterinary care was initially most important, and over the next several weeks, IFAW partnered with multiple organizations to provide medications, vaccinations, and food to animals living in dozens of coastal villages throughout Leyte and Samar. We worked alongside our longtime partner the Philippine Animal Welfare Society, and developed new relationships with groups like the Armed Forces of the Philippines and World Vets. 
The effects of the storm were vast; a coalition was needed to organize the activities of all of the groups involved in helping animals, and so Animal Relief Rehabilitation Philippines (ARRPh) was formed. Organizations came together to address the needs of animals, not only for this disaster, but also future disasters.
To keep the momentum of team-building going, IFAW hosted a workshop outside Manila in May.  ARRPh members as well as other stakeholders trained together in disaster response and technical water rescue, and also discussed lessons learned from Typhoon Haiyan.
It was great to see everyone work seamlessly together!
As Typhoon Hagupit formed, we reached out to our contacts from these activities, so that we are ready to build our response teams if needed. 
The Philippines is one of the most disaster-prone countries in the world. Just like humanitarian groups, animal welfare groups must work together if we want to improve our effectiveness and help more animals and the people who care about them.
–JG
Stay tuned for updates on how IFAW is helping animals affected by Typhoon Hagupit.
GD Star Rating
loading...
Article source: IFAW