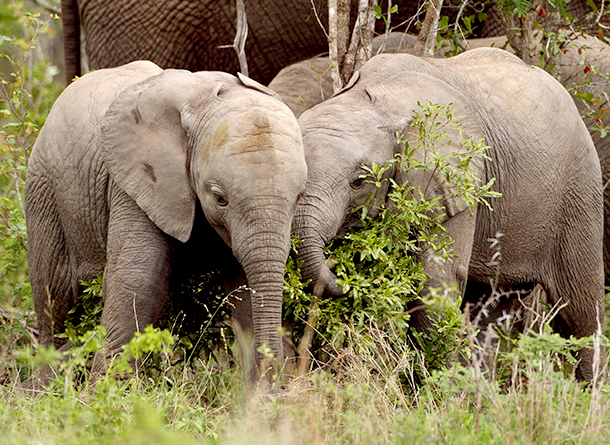 The Zimbabwe government's capture and export of allegedly 34 baby elephants not only poses grave threats to the very survival of those compromised individuals, but will cause deleterious harm to the families from which they were seized.
At a time when elephant populations are facing dangerous threats from human conflict, habitat loss and most notably poaching, the survival of every endangered African elephant is crucial.
According to the Telegraph, the Zimbabwe Conservation Task Force said visitors to the park had "witnessed the capture of elephants aged between two-and-a-half and five years old by government helicopters and ground teams, who roped them together after separating them from their mothers by firing shots above the heads of the herd."
We know that elephants have strong family bonds, juvenile males staying with their mothers, sisters and aunts until well into their teen years, and females staying their whole lives within their family group.
So we can only imagine the terror and suffering these elephants endured during this melee as the young were rounded up and taken away.
We understand that animals are held in captivity around the world for purposes of furthering education and conservation and, in some cases, because an animal is unable to survive in the wild, the animal must be transferred to captivity if they are to survive.
However, the large-scale round-up of random animals for unverified destinations does not meet any ethical justification of captivity.
Given the spiraling poaching crisis and ongoing loss of habitat battering elephant populations around the world, unnecessarily seizing wild elephants for a lifetime in captivity is a violation of conservation principles and a blatant disregard of animal welfare.
The news reported by the local paper, The Citizen, yesterday that one baby elephant has died while in captivity is particularly grim. Baby elephants are wholly dependent on their mother's care, and we know this all too well from the work we do in India and Africa caring for orphan elephants.
We fear that other young elephants will meet the same fate.
Saviour Kasukuwere, Zimbabwe's environment minister, told the Telegraph "it was normal for wildlife to be captured in the country's largest game reserve and exported "from time to time. He denied earlier reports that the animals were destined for Chinese zoos, saying they were destined for the United Arab Emirates.
The destination of the elephants in this case does not matter.
No foreign sanctuary or zoo can give the elephants in question the life they deserve to experience on vast landscape of Hwange National Park.
We implore that the Zimbabwe government reassess their capture of these elephants and take steps to return these elephants to the wild if at this point that is even possible.
Zimbabwe's recent track record with elephants has been poor, and it factors into our skepticism that the best interest of the elephants are being taken into account.
Last year, three baby elephants from Zimbabwe were captured and sent to China. They survived the journey but one died shortly afterwards and the other two are reported to be in poor health.
In a horrific poaching incident, more than 300 elephants and countless other animals died when criminals laced natural salt licks in the park with cyanide.
It was reported to be the worst single massacre in southern Africa in a quarter century.
Earlier this year, the U.S. Fish and Wildlife Service announced an interim suspension of imports of sport-hunted African elephant trophies hunted in Zimbabwe. The service said, given the current situation in Tanzania, and given the information available regarding elephants in Zimbabwe, it was "not assured" that any benefits of sport hunting will be realized in those countries.
The survival of African elephants has reached a tipping point.
With rampant poaching, conflict and habitat loss causing a die-off of 100,000 elephants in the last three years, the taking of elephants from the wild to be placed in zoos and sanctuaries of potentially questionable repute is putting the lives of particular elephants in danger, and irreversibly harming the family units from which they originated.
We cannot afford the loss.
Not now.
Not ever.
—AD
Join us in urging the Zimbabwe government to stop the export of these elephants. Take action now.
GD Star Rating
loading...
Article source: IFAW