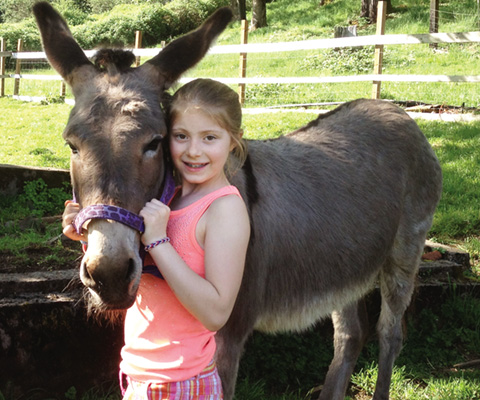 Emily Crabtree's alarm clock woke her earlier every day. But the 10-year-old from Washougal, Washington, didn't mind. She knew she would have to get up extra early every morning to care for her new pet. Emily would soon have her very own burro named Clover.
Clover was a wild burro (burro is the Spanish word for donkey) who was being trained to live as a pet through a program called the Platero Project. Clover was learning to be comfortable around people, led by a halter, loaded into a trailer and have her hooves taken care of.
A messy job
While Clover was busy learning, Emily was preparing for the burro's arrival. A neighbor agreed to let Emily use an old, unused barn on their property. But there was just one problem. The barn looked like the previous owners had never cleaned it.
"The poo was about two feet high in both stalls," Emily says. "You couldn't even open the door!"
Armed with shovels and buckets, Emily and her best friend spent weeks cleaning out the barn.
Home at last
Clover shares the clean and comfortable barn with two goats that the burro loves to chase around their 2-acre pasture. Sometimes Emily sits on a stool in the barn and reads or sings to the burro—or just gives her hugs.
"Clover puts her whole head in your arms, closes her eyes and just stands there … like you're rocking a baby," Emily's mom says. "She's really got us wrapped around her big, old long ears."
GD Star Rating
loading...
Article source: HSUS