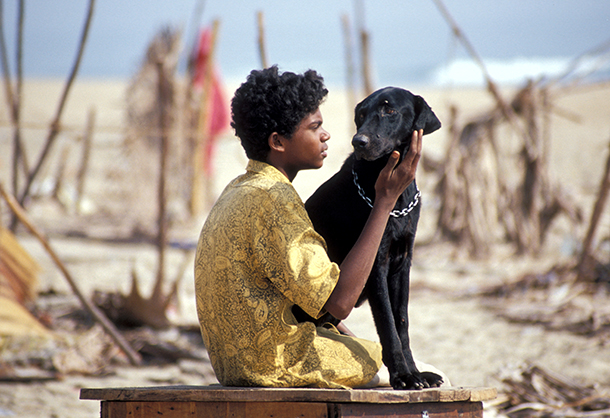 It's Boxing Day in many parts of the world – a day to relax and spend time with friends, family and neighbors. Ten years ago, this day was a cause for tremendous concern. A devastating earthquake and tsunami hit Southern Asia shattering tourist resorts and seaside communities from Thailand to East Africa. It was a tragedy of monumental proportions. More than 200,000 people died and 1.6 million were displaced as a result.
There was a massive outpouring of help and many humanitarian and animal rescue groups deployed to the region. I was in Thailand working to help identify victims in January 2005. The destruction that I witnessed was heartbreaking. Families were literally torn apart from each other and in many cases lost to one another forever. At the same time IFAW was helping animals in Indonesia.
I recently spoke with Dr. Ian Robinson, our VP of Programs and Intl. Operations, who was there. He said, "I had responded to oil spills and animal disease epidemics, but never to a disaster with such a devastating effect on the human population.  I was concerned that when they were suffering so much themselves, local communities would resent our attempts to help animals.  I could not have been more wrong.  As soon as we arrived at a tented camp, people who had lost everything came from all directions with their dogs and cats – and as the word spread, they arrived from far and wide on bicycles, in 'tuc tuc' taxis, any way they could.  And there were so many stories – of pets thought lost and then found, or the faithfulness of pets awaiting the return of their owners, and of the joy of reunion.  No one could ever experience that and doubt the importance or the power of the human animal bond."
IFAW had a vital role to play in the recovery process. Not only did many of the areas impacted by the tsunami depend on animal-based agriculture for their survival, but dispensing vaccinations to farm animals and pets in order to control the spread of disease was crucial to avoid further tragedy and loss of life.
We have seen firsthand how much it means to someone who has lost everything to get a small piece of their life back.  It may not seem like much for someone to once again hold their goat or cat after they have lost a home or loved ones, but for those victims with nothing left – it can mean the world.
While it's so difficult to prepare for a natural disaster of this magnitude, we've come a long way to improve our coordination and overall impact in the past ten years. We have joined forces with rescue groups and enhanced Emergency Relief Networks (ERNs) around the world. This collaborative spirit is resulting in a faster and more efficient disaster response.
The IFAW Southeast Asia ERN gained momentum with the unfortunate natural disasters of 2013, including an earthquake, volcanic eruptions, and Typhoon Haiyan. IFAW was there, working with our ERN partners like Philippine Animal Welfare Society (PAWS) through each one to help animal victims. During our response to Haiyan, IFAW was integral in the formation of a national and international coalition of government agencies and private industry, as well as numerous non-governmental organizations. Our hope is that this unified model can be replicated around the world.
IFAW is not only there during the disaster; using our ERN model we increase local expertise and capacity and help prepare for the next event through training and mentoring. We've conducted trainings in affected areas including US, Mexico, Canada, Australia, India, Indonesia and the Philippines.
We are grateful to the Disney Worldwide Conservation Fund for the ongoing support of our ERN development around the globe as well as natural disasters like the Asian tsunami response ten years ago. At our most recent ERN training in the Philippines I met someone who has family in Thailand – he told the story of how his family survived this tragedy. They noticed a drastic change in their farm animals' behavior after the earthquake. When the animals rushed to higher ground they all followed…this saved their lives as the tsunami engulfed their entire village.
I am proud of all IFAW has developed, implemented, and changed through leading by example these last ten years. We are watching and listening to the animals more than ever…and yes, we still have much to learn.
–SW
Your support of our efforts helps make our rescue work possible. Donate now.
GD Star Rating
loading...
Article source: IFAW