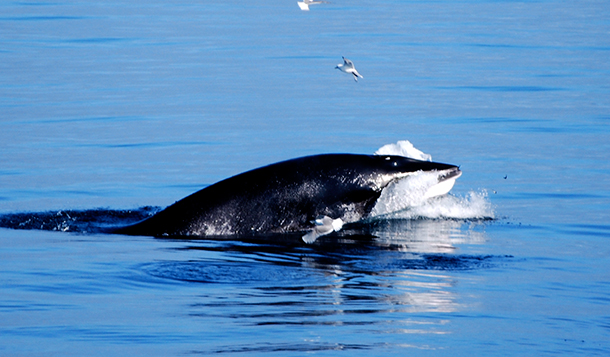 16th of December was like every other Tuesday at Reykjavík City Council. The minority criticised the majority for all sort of issues, voted against them and lost.
One issue was different though.
Representatives of all six parties with delegates in the council decided to introduce together a resolution urging the minister of fisheries to enlarge the whale sanctuary in Faxaflói Bay, just outside Reykjavik.
Since whaling resumed in Iceland in 2003, after a pause of 13 years, almost all of the minke whaling has been taking place in Faxaflói and 80% of it at the very border of the whale watching area, resulting in clashes between Reykjavík whale watching operators and the small but influential group of active whaling supporters.
In the spring of 2013 Steingrímur J. Sigfússon, the former minister of fisheries, decided to enlarge the whale watching area by a relatively small amount, to which the whalers responded by saying it would mean the end of minke whaling.
The current minister, Sigurður I. Jóhannsson, who is sympathetic to the whalers' cause, made it one of his first tasks to put the whale watching area back where it was before.
Traditionally the centre/right Progressive Party and the right wing Independence Party have been more supportive of the whaling but now that has changed, at least in Reykjavík.
All parties, across political lines, voted last week in favour of the resolution calling for the whale sanctuary to be enlarged, and therefore in fact for whaling to leave Faxaflói Bay.
Only one council member abstained, but nobody voted against.
This is indeed very good news for whales and for the International Fund for Animal Welfare (IFAW) which has campaigned to end the cruel and unnecessary whaling in Iceland for more than 11 years.
This positive result has been brought about by close cooperation between different stakeholders within Iceland, mainly the Icelandic Tourism Association and Icewhale (the organisation of whale watch operators) as well as open-minded politicians.
Unfortunately it is the minister of fisheries, not Reykjavik City, who decides if whaling can continue in the bay outside this most northern capital in the world but this decision makes it much harder for the minister and his government not to reconsider the issue.
More than 100,000 tourists go whale watching from Reykjavík alone, making it the single biggest organised tourism activity in the city.
This cannot be ignored anymore.
The strong partnership between IFAW and Icewhale, resulting in the Meet Us Don´t Eat Us project, Whale Friendly Restaurants and much more has opened the eyes of people within Iceland for the need for change and informed foreign tourists about the importance of choosing responsible whale watching rather than a cruel hunting activity that has no place in the 21st Century. 
–SM
Read all about IFAW's Meet Us Don't Eat Us campaign here.
GD Star Rating
loading...
Article source: IFAW