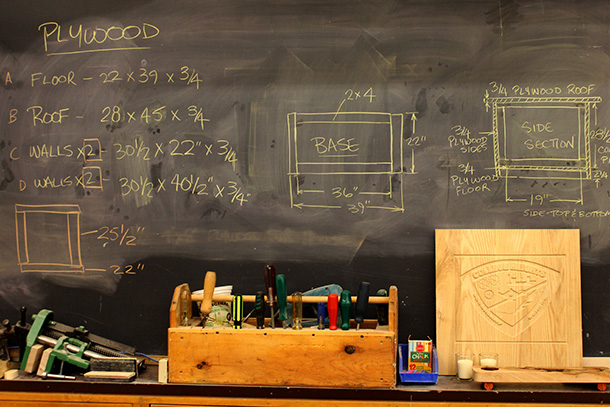 One phone call can change so much, and it's usually my phone ringing that causes a domino effect on the Northern Dogs Project. Recently, I received an urgent call for help from a community in northern Ontario that we have a close relationship with.
The temperatures were dipping fast, many of the community's outside-dwelling dogs had no shelter, and the possibility of puppies freezing to death was very real.
They needed dog houses, and fast.
That was the first phone call. It set in motion a series of others that have not only built dog houses, but built community in the process.
IFAW donors stepped up immediately, jumping on the request for funds to buy materials. With that in place, we started the process of planning to build a significant number of well-constructed and insulated dog houses in a short period of time.
And then some magic happened.
One of our Northern Dogs volunteers, on her first trip to the northern communities, suggested we contact Habitat for Humanity who, of course, is full-up on builders and contractors and all sorts of wonderful folks with the know-how to get a build done.
Habitat for Humanity has a deep commitment to building community and helping people, and they were immediately keen on partnering with us to get the dog houses done.
Habitat for Humanity not only brought their skills to the table, they also brought their partners with them! They have a terrific relationship with the Upper Grand District School Board, whose students worked with them on a few building projects in the region.
One school in particular, College Heights Secondary School in Guelph, Ontario, was keen to get involved with the build as part of their class work and final exam in the Technical Education program. It was an opportunity for the students to transfer the skills they'd learned all year and apply them to something meaningful.
Thanks to another of Habitat's partnerships, Home Depot provided support on the materials end, and within a few days the kids were off and running to build.
It was a sight to behold.
Students from grades 9 to 12 worked in teams to construct segments of each house. There was incredible cooperation and camaraderie between the kids, and their enthusiasm for the project was inspiring.
Constructing these doghouses has been a confidence-builder for everyone involved.
Without our supporters, Habitat for Humanity, the Upper Grand District School Board, and the incredible students from College Heights, we couldn't have reached our goal of helping dogs in need nearly so quickly!
The next phase, now that the houses are finished, is to ship them north and get them to the dogs.
Keep watching for the next update, coming soon!
— JH
For more information on IFAW's Northern Dogs Project, click here.
GD Star Rating
loading...
Article source: IFAW