In honor of World Oceans Day promoting Healthy Oceans for a Healthy Planet, I'm here at Capitol Hill Ocean Week (CHOW) hosted at the Newseum, an interactive museum of news and journalism, in Washington, DC spreading the news about the new Whale Alert app now available for free download to Android and Apple devices.
IFAW has been working for more than a decade to enact and protect the 'Ship Speed Rule' requiring vessels of 65 ft or more to travel at speeds of 10 knots or less in key North Atlantic right whale habitat.
By slowing down vessels in traffic areas we can save whales, but more action is need to improve compliance with this and a diverse set of other management measures in place up and down both coasts.
The Whale Alert app was first launched in 2012 as I started my career at IFAW and has since become my pet project. Over the course of three years we have grown this boutique app focused on protection of the North Atlantic right whale into a global platform.
With the expansion of the project to partners on the west coast and Canada we have not only expanded the geographic coverage of this conservation tool but also incorporated more species and functions.
At its heart the app is still a tool to compliment efforts by IFAW and our partners to reduce the risk of ship strikes to large endangered whales. However, now it is so much more.
Citizen scientists like you can help contribute to protection of whales through submission of whale sightings!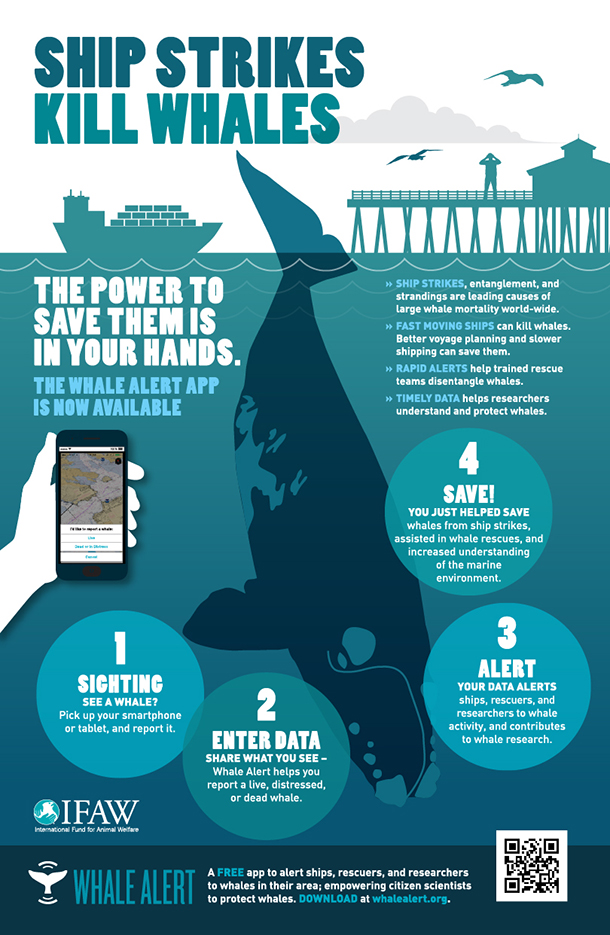 These sightings are shared in real-time with managers, researchers and responders allowing them to take action to implement speed restrictions and whale advisory zones or respond to incidents of dead, entangled, or stranded animals.
Celebrate and support World Oceans Day by downloading the app for free now and committing to be an active partner in the protection of the world's whales. 'Like' the Whale Alert FaceBook page and share with your friends and family!
—AW
GD Star Rating
loading...
Article source: IFAW