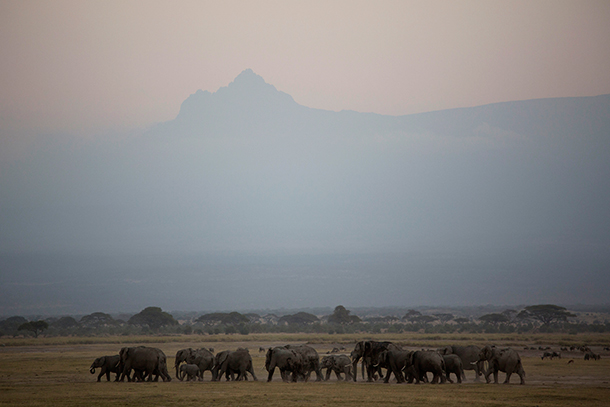 "IFAW is a thief…..it stole poverty!"
Those were the moving words from Saitabau, a 16 year old Maasai child who is one of the 66 IFAW scholarship students from the Olgulului-Olalarashi Group Ranch (OOGR) community in Amboseli in Kenya.
Saitabau was so grateful to IFAW for his scholarship that he wrote and presented a poem, learned off by heart, in front of what must have been an intimidating audience of a large number of community representatives.
There were leaders from OOGR (a community of around 1500 local members), myself, Azzedine Downes our CEO, James Isiche our East Africa Regional Director and a selection of distinguished guests including the Amboseli National Park Chief Warden from KWS and the Deputy County Commissioner.
IFAW was there to present and make payment for the Kitenden Corridor lease – 26,000 acres of community land that IFAW, working in partnership with the African Wildlife Trust, has leased from the local community to protect it from unsustainable development, fencing, agriculture and damage – in order to save the wildlife that inhabits the critical ecosystem area adjacent to the Amboseli National Park.
Both of our organisations know though, that the real partnership isn't with each other, it's with the community.
During the day we were showered with thanks, not just from the scholars but from tribal elders, community leaders and government officials, for the support and partnership approach that IFAW has taken in this area, three years in to the initial five-year lease term.
But, Azzedine summed things up so well in his closing speech following the celebration event – don't thank us, thank you.
Without the community on board, working with us as partners and taking the risk to trust us with our plans, we can achieve nothing for wildlife.
It was no mean feat to make this happen. With the land subdivided into 2600 separate plots there were many stakeholders. It is testament to the kind support of our donors, the local team's hard work and the community leaders' vision and foresight that this could happen.
But, my reason for making the trip wasn't just to witness this humbling celebration. It was to get under the skin of the community and the local area, with an aim to showcase the potential for sustainable tourism that will directly benefit the local community and the environment (unfortunately this isn't a given in many parts of Africa).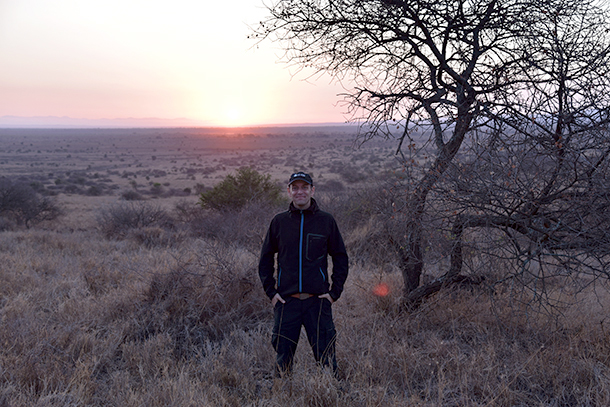 I was tasked with being the new Kitenden Tourism Ambassador – to help spread the word to potential tourism investors and having seen the beauty and potential of this area, and the passion and buy-in of the community, I know it won't be a hard sell.
From the potential for 'bush breakfasts' in the shadow of snow-capped Kilimanjaro (our test run was a moment of wonder to remember forever) to a trek to Lendikir Cave where Maasai Warriors (Morans) go for sustained periods to take a local potion of herbs (called 'orpul') and eat traditional meats and to drink a special soup as part of a tribal ritual dating back for many many years.
It is a wonderful area with incredible potential and is littered with wildlife, which the community scouts help to protect (another sustainable benefit of the lease agreement which provides local employment and training).
I saw hyenas, monkeys, baboons, wildebeests, buffalo, impalas and more.
I also saw elephants – without protection of this critical corridor these elephants would be at real risk.
Without understanding the details it's so easy to judge the local communities as not doing enough for wildlife, but that is a misguided comment and spending time with the community on a visit like this deepens understanding of the issues so much.
Faced with poverty, lack of education opportunities, the need for agriculture, not to mention negative interactions with wildlife that affects community crops and livestock; selling land or fencing it off is naturally seen as a default logical solution.
Now that IFAW has shown the benefit of protecting wildlife, and like any great partnership offered help to those that help us, the words of another one of the community speakers at the celebration rung so true – "we never knew an elephant could turn around and make our community better!"
I won't quickly forget my time in Amboseli and Kitenden and I'll do all I can to encourage more and more people to support the project – remotely or locally, a project that is a prime example of working with all stakeholders, focusing on local communities and building a sustainable way of life in harmony with nature, not against it.
—PM
GD Star Rating
loading...
Article source: IFAW