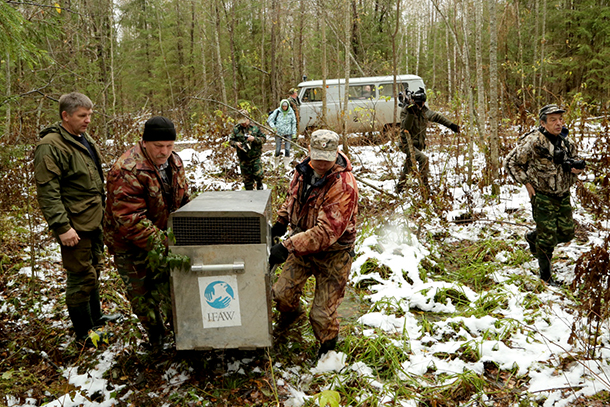 As of now, 11 bear cubs out of the original 16 brought to the Orphan Bear Rescue Center (OBRC) have been released.
In the weeks to come, three more bear cubs will be released, and two will stay at OBRC for wintering, one because it has not yet developed a fear of people, another one as it will be a candidate for spring satellite monitoring.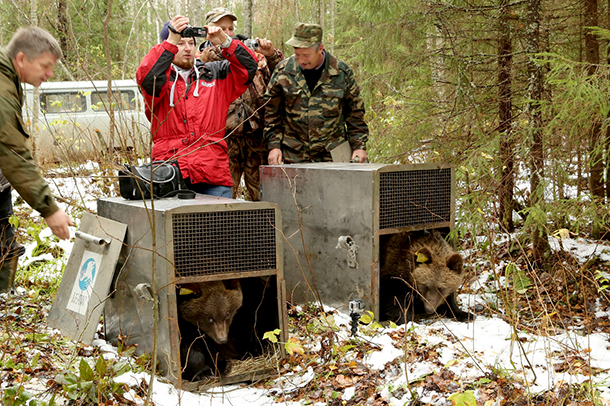 Two bear cubs, Misha and Tisha, were released in the territory of the "Kologriv Forest" Nature Reserve in Kostroma Region. The brothers were delivered to OBRC in February from the Kostroma Region. At the release, Misha weighed 35 kg; Tisha, 31 kg.  The Nature Reserve director and scientific staff will monitor the bear cubs by radio collar put on Misha. IFAW's OBRC is in constant contact with the Reserve.
Also released was a cub named Pueschel.
He came to OBRC in April 2015 when animal activists from Perm (a large industrial city in the Ural Mountains) asked for help regarding a bear cub in their city. He had been brought to an animal shelter, whose owner Svetlana Rogacheva gave the best room to the charming small creature, fed him with porridge, milk, carrots and apples, even though he was very different from her usual guests.
The bear cub, however, was tearing the floor and the walls with his large sharp nails, and it was hard to clean where he was living because he would nip and claw at people.
Soon he was transported to our Orphan Bear rehabilitation Center. We were concerned that the bear would be too habituated to people as he spent some time in artificial conditions, but surprisingly he was still quite wild and a good candidate for successful rehabilitation.
He got his name Pueschel to commemorate our beloved IFAW director of international agreements Peter Pueschel, who passed away suddenly this summer.
After the necessary quarantine period Pueschel joined the other bear cubs of approximately the same age in large rehabilitation enclosure.
Pueschel was released with another bear cub named Masha at the protected territory near the village of Lugovo in the Penovskyi region of the Tver District. Near the spot of the release are several unharvested oat fields, a favorite for brown bears.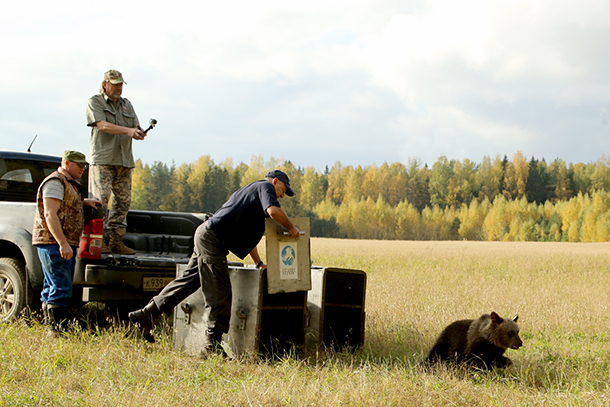 Pueschel will be in very favorable conditions to get enough fat for hibernation. Meanwhile as a present for the first several days, about a hundred of kilograms of apples were left by rehabilitators for the cub, giving him food as he explored his new home.
–MV
GD Star Rating
loading...
Article source: IFAW