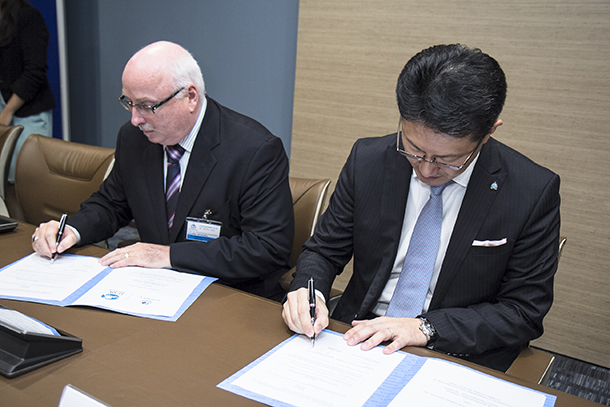 Wildlife crime will be stopped only if organizations—with a wide range of specialties and oversight capacity—all work together to address the killing, trafficking and demand that is ridding our planet of its most iconic species.
Law enforcement entities cannot do it alone. They need to collaborate with public and private entities who can not only provide particular expertise, but can serve as a conduit to their own audiences and supporters as well as to the general public itself.
I am attending the second annual INTERPOL Environmental Compliance and Enforcement Conference in Singapore, addressing all aspects of environmental crime.
INTERPOL's essential partners in the fight against wildlife crime, from operational managers and investigators to executives from non-governmental organizations and the private sector, gather to discuss the problems and the progress we've made since the last meeting in Nairobi in 2013.
Today, I speak on the topic of wildlife crime with an impressive cast of inspiring leaders on this topic. Joining me on the stage are CITES Secretary General John Scanlon; Crawford Allan, TRAFFIC's Senior Programme Director for Wildlife Crime and Illegal Trade; and Deborah Harris, Chief of the Environmental Crimes Section of the US Department of Justice.
INTERPOL and IFAW have worked together since 1996, and in 2013 we became the first ever non-governmental organization in the environmental field to sign an MOU with INTERPOL's Environmental Security Sub-Directorate for enhanced global support for law enforcement to combat transnational organized wildlife crime.
We have collaborated on numerous projects including Operation Worthy, INTERPOL's largest-ever transnational and multi-agency law enforcement operation to dismantle illegal ivory trade, in 2012 and led the way in support of Operation Infra Terra, a project begun last year to track down environmental crime fugitives around the world.
We look this year to increase our already robust collaborations with INTERPOL.
Yesterday, I signed an agreement with Noboru Nakatani, Executive Director of the INTERPOL Global Complex for Innovation (IGCI). The following is what we will strive to accomplish:
Identify areas of cooperation to dismantle criminal enterprises engaged in wildlife trafficking at the global and regional levels;
Enhance the capacity, capabilities, and cooperation of INTERPOL member countries to prevent the unlawful exploitation of wildlife and other natural  resources;
Undertake comprehensive analyses of wildlife and forest offences in INTERPOL priority member countries and of their current national preventive and criminal justice responses to these crimes;
Provide operational support to member countries for the enforcement of wildlife crime and environmental laws.
To date, more than 2,800 participants have attended IFAW's Prevention of Wildlife Trafficking trainings across 81 training workshops in approximately 38 countries. Many of these have been conducted in partnership with INTERPOL.
The further cooperation between INTERPOL and IFAW, and the larger scale of cooperation between a host of organizations on particular initiatives, will better protect animals around the world from wildlife crime's scourge of killing.
–AD
Learn more about IFAW's work to battle wildlife crime.
GD Star Rating
loading...
Article source: IFAW