Lynn Frankel Fleetwood's photography exhibit of Amboseli is currently on display at Fleetwood's General Story Art Gallery at 744 Front Street in Lahaina, Hawaii, through the end of January 2016. All of Lynn's net proceeds from the sale of her photographs will be donated to the International Fund for Animal Welfare (IFAW). The following blog explains how a recent trip to Amboseli inspired this show and her desire to give to this important endeavor to save elephants from extinction.  –The eds.
Did you ever get the feeling that something big was about to happen to you… and then it does? Well, that's the best way I can describe my first experience in Africa. In particular, my visit to Amboseli National Park.
I arrived in Amboseli pretty much knowing only that it was home to the most famous elephants in the world. This is no small statistic for me, as I've been an obsessive elephant lover since I was a child. Of course back then I had no idea that these majestic animals were being killed for the bracelet I was wearing or for the figurine that stood in my family's formal living room. I just thought it was so cool that I had a part of my favorite animal with me all the time. 
Quite honestly, it wasn't until just a few years ago that I realized how the demand for ivory was fueling the poaching crisis, and therefore threatening the existence of the African elephant species. I knew I wanted to do something to protect them, but had no idea where to begin.
When my friend Joanne told me that our two day visit to Amboseli would be spent with members of the IFAW staff, and that we would be living the experience of IFAW's Amboseli project first hand, I had no idea my life would be changed forever.
Driving through the breathtaking savanna on the morning we arrived, I was blown away by the sight of all the wildlife living in their natural habitat. …a Cape buffalo chomping on grass in the swamp beside the road…two adult and five baby hippos walking in the distance…impalas, gazelles, wildebeest and zebras all peacefully coexisting….and a herd of seventeen giraffe! It was amazing, surreal…. and then, as if they knew I was coming, three elephant families came from off in the distance. The icing on the cake was the magnificent bull elephant that then approached our truck.  I was truly in awe! I had to hold back the tears from the emotion of sheer joy coupled with the deep sadness at the thought that anyone would ever harm this incredible animal.
That afternoon, I was humbled to be invited to IFAW's meeting with the Maasai community as the two joined forces to work to protect the Kitenden Corridor, historic land owned by the Maasai community group ranch and a critical migratory corridor for the elephants.  That day I learned that IFAW's project also includes scholarships for young people in the Maasai community, many of whom were invited to participate in the day's events and closing ceremony.
There are no words to describe the feelings that swelled inside of me as I watched these young students recite poems they had written, sing songs, dance, and show their pure appreciation to IFAW for what they were doing to help the people and animals of their community. The gratitude and sense of urgency to be a part of the solution were contagious, and in my heart I knew that I needed to become a part of this team in any way I could. Not only for me, the elephants and the people of Amboseli, but also for my children, grandchildren and all generations to come.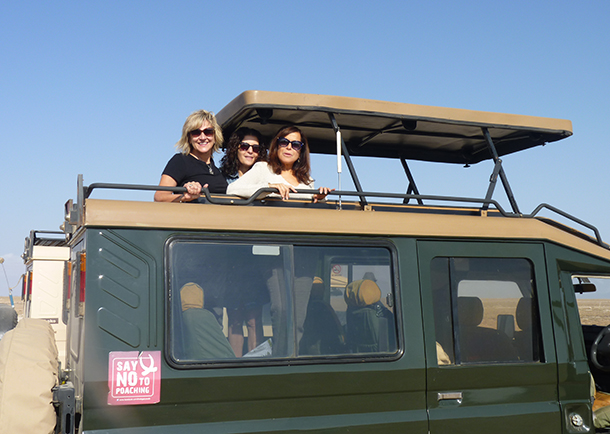 When I returned home to California I knew that a part of Amboseli would stay in my heart forever.  Literally every day I would turn on my computer and go through every single photograph I had taken while in Africa. Within that first week of being home it struck me …if I could be so impacted by my visit to Amboseli, perhaps I could evoke similar emotions in others by sharing my story and photographs. If a devout elephant lover like me was so unaware of how critical the poaching crisis was, imagine how many others I could help educate. Awareness would be the first step. Through research and my new relationship with IFAW, I started to get educated and soon learned that Hawaii is rated as the third largest place for illegal ivory in the United States, behind only California and New York, which have already passed ivory ban laws.
Having spent many years living on Maui and calling it home, I was shocked by Hawaii's role in ivory trade. That is when I came up with the idea of using my photographs from Africa in Hawaii to raise awareness of the elephant crisis and to let the local people know that they can get involved to make a difference.
On December 4, my photography exhibit debuted at Fleetwood's General Store Art Gallery with an opening reception attended by local residents and island visitors. In addition to my contribution of creating awareness, 100% of my net proceeds from the sale of my photographs will be donated to IFAW.  On the evening of the reception, Fleetwood's on Front Street restaurant donated a portion of all food sales to IFAW.
The timing of the exhibit in Hawaii could not have not been better. In January, Hawaii legislators will introduce a bill designed to protect elephants and rhinos, as well as other ivory-bearing species like whales and walrus, by restricting sales of ivory and horn within the state. Helping to pass this legislation is a major IFAW priority and I am excited to do what I can to help.
Even by simply sharing this blog with others, you too can be a part of the solution by spreading the word and creating awareness. I really hope you will join me on this important journey… a journey that  continues to feed my soul and has forever changed my life.
–LFF
GD Star Rating
loading...
Article source: IFAW