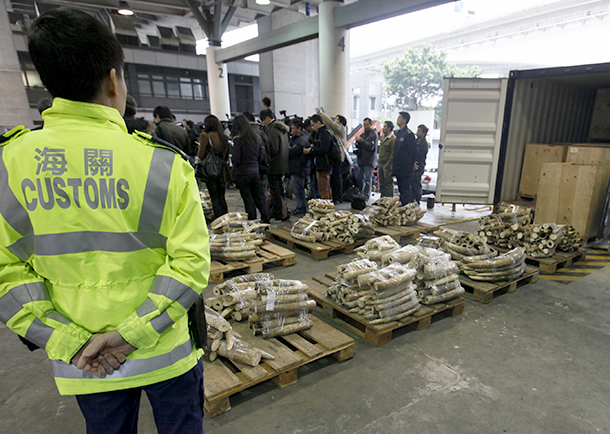 Determined to crack down on ivory trade, Hong Kong chief executive Leung Chun-ying said in his annual policy address the other day that the Chinese city will make huge strides on fighting ivory trade.
"The government is very concerned about the illegal poaching of elephants in Africa," Leung said at the Legislative Council. It will actively "explore appropriate measures" to phase out the local ivory trade and impose heavier penalties on smuggling and illegal wildlife trade. It will also "kickstart legislative procedures as soon as possible to ban the import and export of elephant hunting trophies," he added.
This is great news, as Hong Kong, a special autonomous region of China, is a major hub for illegal wildlife trade between Africa and the Chinese mainland.
This follows on the heels of a joint announcement by China and the US last September to enact strong domestic trade controls that once in effect will represent near total ivory trade bans.
China made its first announcement that it would phase out ivory trade at the Beijing crush of 662 kg of ivory in May 2015.
Hong Kong started the destruction of its own 30-tonne stockpile of illegal ivory in May 2014.
When the US Fish and Wildlife Service destroyed 6 tons of contraband ivory in November 2013, I wrote in a blog, the survival of elephants depends on our collective stand against ivory trade, expressing my hope that the US ivory destruction would rally China to do the same.
PIC: #HongKong #ivoryburn ashes: MORE: Grace Ge Gabriel post on event: http://t.co/sGPqeVoD6M pic.twitter.com/AWvV6I6EXv

— IFAW China (@IFAWChina) May 15, 2014
Indeed, China followed the US lead: Less than two months later, China destroyed 6.1 tons of ivory in Guangdong.
In fact, since then, nearly 60 tonnes of ivory confiscated from illegal trade have been crushed or torched in many countries and territories around the world, including France, Chad, Belgium, Kenya, Congo Brazzaville, and UAE. (Since 2011, governments have destroyed nearly 90 tons of ivory to bring awareness to the elephants' plight.)
In addition to supporting these ivory destructions, IFAW offices in UK and France have also organized destruction of ivory trinkets surrendered by our supporters.
As a key consumer country, the most significant contribution China, including Hong Kong, can make to combat elephant poaching and ivory smuggling is by closing down ALL ivory markets, legal and illegal.
Surveys show an ivory trade ban is supported by the Chinese public. For 60 percent of the ivory consumers, the most compelling reason to stop buying ivory is if buying ivory is illegal. This reason would also be made more compelling if backed up by a strong recommendation from a government leader.
Only by having clear and unambiguous laws combined with vigorous enforcement and meaningful punishment for violations can we stigmatize ivory consumption, which is essential to demand reduction, which will eventually save elephants from the useless slaughter that is wiping out the species.
–GG
GD Star Rating
loading...
Article source: IFAW