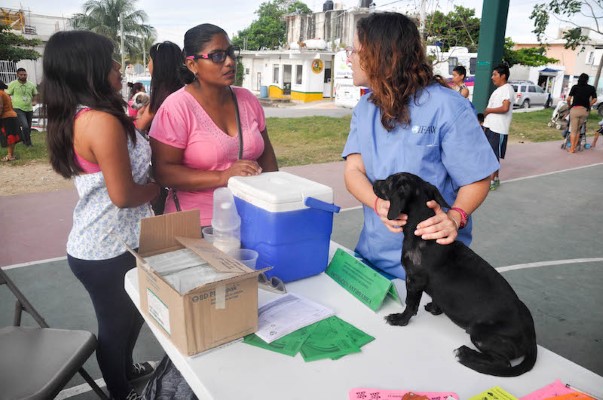 The International Fund for Animal Welfare has just started a new community outreach program in Playa del Carmen, Mexico to provide free veterinary advice and aid in neighborhoods with urgent need for such services.
This will provide us the opportunity to go where the people are rather than them coming to us.
Take for instance the little girl who came to my colleague Dr. Erika Flores with her puppy in her arms asking for help. My colleague took the dog and immediately the girl told her to be careful with her leg, because her skin was burned. Dr. Erika asked how that happened, and she explained her house burned while the puppy was inside, but she managed to get her out with just those burns.
To help more people like her, we will be collaborating with the Municipal Health Directorate to offer a broader concept of health for both humans and animals.
Our mobile Free Veterinary Advice Station will be set up outside the Municipal health centers in neighborhoods with poor access to veterinary services. We will also be joining efforts with the Municipal Animal Welfare Center (CEBIAM) during the Municipal Health Fair. This is a massive deployment of free human health services in communities throughout the municipality, offering everything from preventative medicine like vaccines for kids and gynecological check ups, to dental and psychological services.
Last week we participated on one of their health fairs in a community called Puerto Aventuras, and more than 50 dogs and cats were provided with some of the following services that we will be offering in this program:
·         Advice on how to provide adequate guardianship of companion animals
·         General veterinary advice
·         Rabies vaccines
·         Deworming and heart worm prevention
·         Basic dog behavior advice
·         Flea and tick preventative medicine
·         Nail clipping
·         Promotion of sterilization
This will be a great opportunity not only to provide aid to dogs and cats that urgently need it, but also to reach people face to face and learn from their needs, concerns and interactions with their companion animals, so that we can develop more accurate solutions for them.
This is also a great example of good collaboration between government authorities, local organizations and the community. I congratulate the municipality for this effort, and I am happy that IFAW is able to reach more people and animals with these programs.
–JDLT
GD Star Rating
loading...
Article source: IFAW