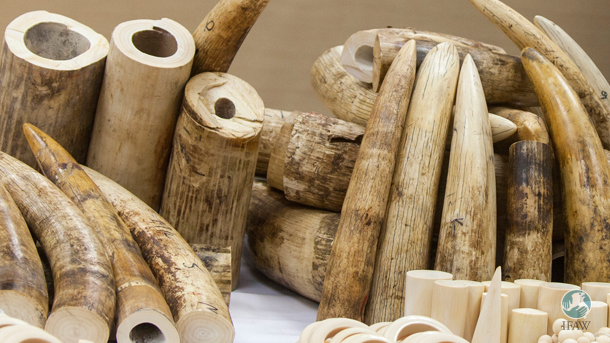 Hawaii is thought to have the third largest ivory market in the US behind New York and California.
But since New York and California's state governments recently passed bans, Hawaii could likely become the top US market for ivory products overall if nothing is done.
That is why wildlife protection advocates, including the International Fund for Animal Welfare, Humane Society International, the Natural Resources Defense Council, the Wildlife Conservation Society, and Vulcan Inc., are converging in Hawaii to throw their support behind a bill in the Hawaii legislature that would make sure this does not happen.
Both versions of the bill – SB2647 in the Senate and HB2502 in the House – are designed to protect endangered wildlife by preventing the trade of their parts and products.
If the bill passes, elephant ivory, along with wildlife products made from rhinoceroses, tigers, great apes, Hawaiian monk seals, sharks, rays, sea turtles, walruses, narwhals, whales, hippopotamus, lions, pangolins, cheetahs, jaguars, and leopards, will not be welcome in markets throughout Hawaii—both in physical storefronts and online.
The bill will also improve law enforcement coordination in Hawaii for addressing trafficking in these endangered species products.
Many wildlife species around the world are being decimated due to poaching. Elephants are killed for their ivory, rhinos for their horn, and tigers for their bone and pelts. It's the primary reason why many of these species are so threatened.
Shutting down the trade of these products in Hawaii would be a huge step in the campaign at the state level to curb poaching of wildlife species.
Bans in several states have passed (New Jersey, New York, California) or are in the works (Maryland, Connecticut, Massachusetts); recently, Washington state voters passed a ballot initiative to stop wildlife trade of endangered species within the state.
On the federal level, the US government has significantly increased efforts to end wildlife trafficking in recent years, but their powers only go so far. It is up to the states to regulate the trade of wildlife within their borders.
This legislation has gained the support of citizens, businesses, legislators, not-for-profit organizations, and wildlife law enforcement officers across Hawaii, many of whom have testified in support of it.
On March 3, World Wildlife Day. IFAW's Jeff Flocken will join colleagues from the coalition for a panel discussion at the Hawaii State Capitol Auditorium, moderated by actress and IFAW ambassador Kristin Bauer van Straten.
We are confident that getting the word out to legislators and the public will increase support for these bills.
In the days following, Jeff and other IFAW personnel will be attending events across the islands, spreading word among our supporters that the illegal wildlife trade must be stopped.
-MH
If you are a Hawaii resident, take action: Ask your state legislator to support and vote for the bill.
GD Star Rating
loading...
Article source: IFAW