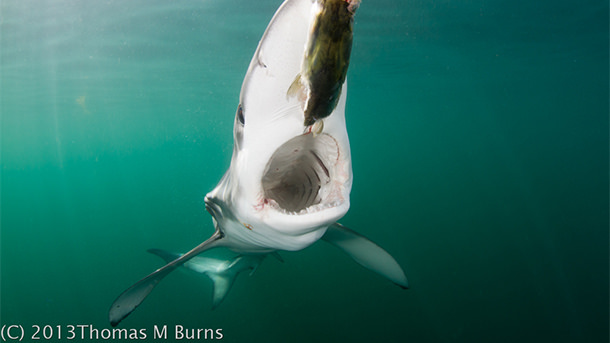 As Discovery Channel celebrates Shark Week and runs a variety of programs looking at the world of sharks and how to conserve them, we feature a local veterinarian who has extensively photographed sharks here on Cape Cod. All photos ©Thomas M. Burns.
Dr. Tom Burns was hooked on sharks ever since he picked up a Jacques Cousteau book on the topic when he was a child.
Since then, this Cape Cod veterinarian has traveled all around the world to photograph the remarkably varied species that roam the oceans, and has had hundreds of hours of interactions with the most iconic shark species.
Two years ago, Dr. Burns developed the Cape Cod White Shark Predation Study to investigate his premise that white sharks hunt seals differently off Cape Cod shores than in other known areas of pinniped predation, targeting prey in much shallower environments than previously documented in places like California and South Africa.
They studied white shark behavior using spotter aircraft and decoy targets.
Dr. Burns collaborated with National Geographic photographer Brian Skerry on National Geographic Wild's "Mission Critical – Sharks Under Attack."
Dr. Burns has become keenly aware of how exploited so many shark species are. In the years he has photographed blue sharks, for example, he has noticed a significant drop in their numbers.
In many sharks he photographs, he sees the effects of human activity, evidence of their encounters with fishing hooks or nets or marine debris.
He says he notices something new about shark behavior on each dive and that is motivation to keep jumping into the water to document these mysterious creatures.
–EM
Read about the work the International Fund for Animal Welfare is doing to protect sharks throughout the world.
GD Star Rating
loading...
Article source: IFAW