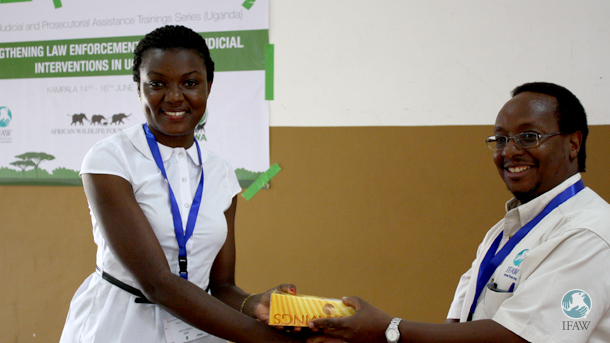 Apprehending a wildlife trafficker is only halfway to stopping a wildlife crime.
In order to effectively combat wildlife trafficking, collaboration between law enforcement agencies and the judiciary is a must to ensure adequate sentencing for wildlife crime offences.
Last month, IFAW partnered with the African Wildlife Foundation (AWF) and the Uganda Wildlife Authority (UWA) to host a three-day Wildlife Judicial and Prosecutorial Assistance Training in Kampala, Uganda, the theme of which was "Strengthening Wildlife Law Enforcement through Judicial Interventions."
Often times when wildlife traffickers or poachers are arrested, they are given very light penalties or fines and sent on their way. Successful prosecution is dependent on not only proper crime-scene evidence handling and intelligence, but a judiciary that is aware and knowledgeable of the various wildlife crime laws and the necessary penalties required to enforce them.
READ: How a simple role-playing exercise led to a wildlife trade confiscation
The joint training provided attendees an opportunity to dive deeper into wildlife crime in Uganda, and identify and overcome weaknesses in investigative and prosecutorial processes aimed at combating wildlife crime. Judicial officers, prosecutors and members of Uganda's police and customs authority attended the training and worked together through case studies and content development to strengthen both their understanding of wildlife crime and their collaborative approach to stopping wildlife criminals.
By the end of the three-day training, officers came up with interventions that would allow them to:
identify gaps in the Uganda Wildlife Act;
create a network with organizations such as the Lusaka Agreement Task Force and the World Customs Organization that address issues of wildlife crime; and
review and make available a database of wildlife related decisions that have been handed down by the courts for information sharing and engagement of the Uganda law society.
Now Uganda's judicial officers, prosecutors, police and customs are equipped with the knowledge and expertise to work together to tackle wildlife crime. Criminals beware…
This training is part of a larger program called the Horn of Africa Wildlife Crime Prevention Program, which is funded by the Foreign Affairs Ministry of the Kingdom of the Netherlands and implemented in partnership with the IUCN NL (National Committee of The Netherlands) and the Horn of Africa Regional Environment Centre and Network. This two-year programme aims to prevent and combat wildlife crime in the Horn of Africa, which is emerging as a major region and hotspot for wildlife crime worldwide, both as a source and a transit route for illicit trafficking of wildlife products. Additional support was provided by AWF.
–KA
GD Star Rating
loading...
Article source: IFAW