Story by Karen E. Lange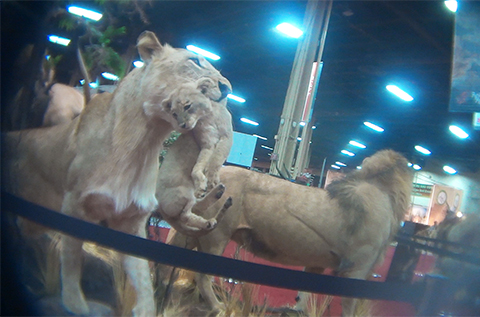 Want to kill a majestic big cat but are pressed for time? It helps to remove chance from the equation. And the vendors at the Safari Club International convention can help you do just that. "We pre-bait for people, if you want," says a safari operator, caught on video during an HSI/HSUS undercover investigation. "We'll go ahead and put up the baits for that leopard, or that lion. It can save time." Dead zebras will be hoisted in trees, and when a leopard comes to feed on one, you, the lucky trophy hunter, will sit comfortably hidden behind a blind. The task of finding and killing an elusive leopard won't be a challenge at all.
Inside SCI's annual convention in February in Las Vegas, the more than 500 hunting outfitters offering trophy hunting packages for tens of thousands of dollars weren't selling chances to conserve leopards or other threatened or endangered species, as SCI's media statements suggest. Instead, the investigator's conversations with safari operators revealed vendors offering the lives of animals like merchandise. Safari operators promoted hunting tours that are anything but fair chase, offering hunts on fenced properties, guaranteeing kills and using dead animals for bait and hounds for tracking and cornering.

The footage was released just before July 1 to mark the first anniversary of American trophy hunter Walter Palmer's killing of Cecil, a much-beloved lion, outside Zimbabwe's Hwange National Park. SCl relies on money hunters pay to attend the convention, as well as auctions of safaris at the event, for more than half of its funding. Convention revenues are tax-exempt. Masha Kalinina, international trade policy specialist for HSI, hopes the video will help the public understand the true character of trophy hunting. "It's how the animals' lives are being treated, like dinner items on a restaurant menu—you can just have your pick," she says. "We're talking about slaughter!"
Vendors caught on tape say bookings have dropped significantly since Cecil's death. Recent reports may lower them further. The Democratic staff of the House Committee on Natural Resources found trophy hunting hurts conservation. Researchers in Zambia report trophy hunting is one reason Africa's lion population has fallen 40 percent. And the International Union for the Conservation of Nature says it's also harmed Africa's leopards.
---
Read more from this issue
Subscribe to All Animals
GD Star Rating
loading...
Article source: HSUS