Everyone knows that pigs used for their flesh suffer immensely. So as International Bacon Day approaches, here's our guide to celebrating the day without harming these smart, wonderful animals: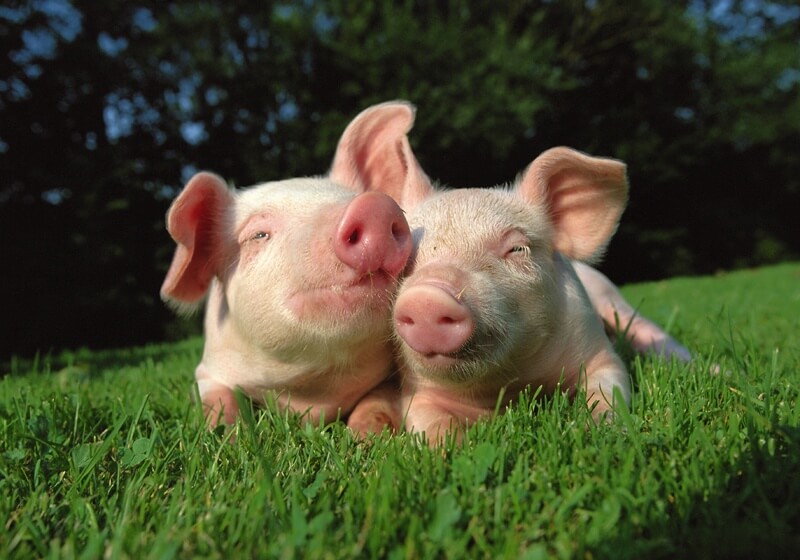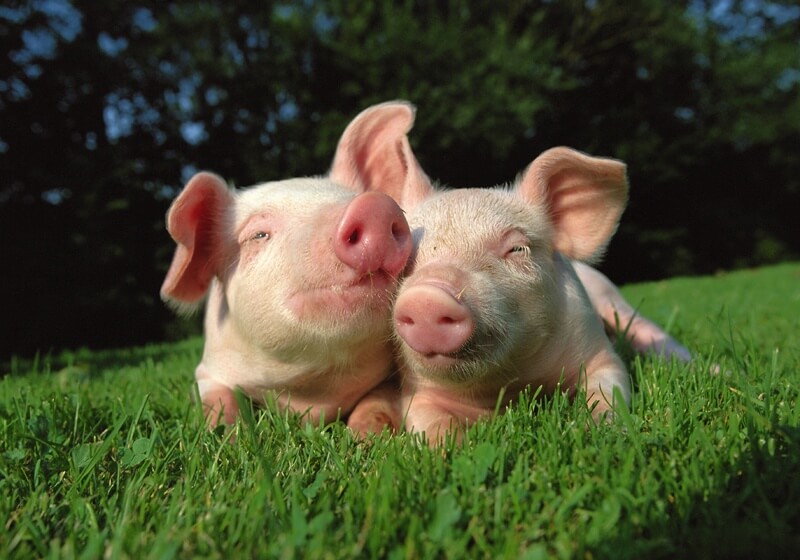 1. Buy Some Ready-Made Vegan Bacon
Did you know that there are heaps of vegan bacon brands available? Why kill and cook pigs when you can simply pick up one of these easy alternatives instead?
2. Enjoy a Delicious Restaurant Meal
As vegan eating becomes increasingly popular, restaurants are catching on and offering delectable plant-based options to cater to compassionate customers. Here are some of our favourite restaurants that feature vegan bacon on the menu:
Lord of the Fries – New South Wales, Victoria, and Western Australia
We're big fans of vegetarian fast-food chain Lord of the Fries. And its Parma and Poutine burgers feature tasty soy bacon that will satisfy your taste buds like you wouldn't believe.
108 posts in 108 days. #101 CUSTOMER PICS A very up close personal pic by @ledbyexample of our Poutine burger. It's looking divine! Please contact [email protected] for a free meal voucher. 👍🏼📷

A photo posted by @lordofthefries1 on May 26, 2016 at 7:06pm PDT
Melbourne's coolest vegan night, "Mock the Casbah", serves up a rotating drool-worthy menu, including the Fat Vegan burger – a "bacon cheeseburger" complete with mock fried "chicken" poppers. Make sure you're very hungry when you visit.
Don't think about it – just go! The food at Sugar Shack has to be seen to be believed. Burgers this good will satisfy any craving imaginable. And yup – there's vegan bacon aplenty.
Cold weather has started to set and it makes our tummies rumble for comfort food. So we thought it was time to make the Hungry Vegan! It is a chickpea veggie patty, ketchup, mustard, pickles, soya bacon, melted vegan cheese, tomato, lettuce, Southern fried tofu, vegan Mayo, BBQ jackfruit, Spanish onion, Kale slaw, avocado, plied high with beer battered onion rings plus vegan garlic aioli, trust me you need to be hungry. #veganfood #burgers #tofu #veggies #jackfruit #BBQ #adelaidefood #adelaideburgers #sugarshackdiner #choices #eatingout #ParadeNorwood #instafood #foodporn #vegan

A photo posted by Sugar Shack Diner (@sugarshackdiner) on Jun 24, 2016 at 6:39pm PDT
5 Dogs – Queensland
A traditional hot-dog joint is not where you'd expect to find vegan bacon, but 5 Dogs is proof that the vegan revolution is spreading like wildfire. This clever eatery knows that people want compassionate menu choices, and it obliges with its yummy vegan hot dog options.
Great weekend ahead remember we are now open on the #goldcoast in #surfersparadise opposite #shootersclub #veganbrisbane #gcvegan #chilifries #poutine #5dogs #brats #fries #fortitudevalley #foodporn #tofurkyaustralia #tofurky #vegan #vegetarian #meat

A photo posted by 5 Dogs (@5dogshotdogs) on Apr 1, 2016 at 3:57am PDT
Enjoy a vegan BLT Bagel and then satisfy your sweet tooth at this fully vegan bakery in Ascot Vale, Melbourne. Brunch never looked this good.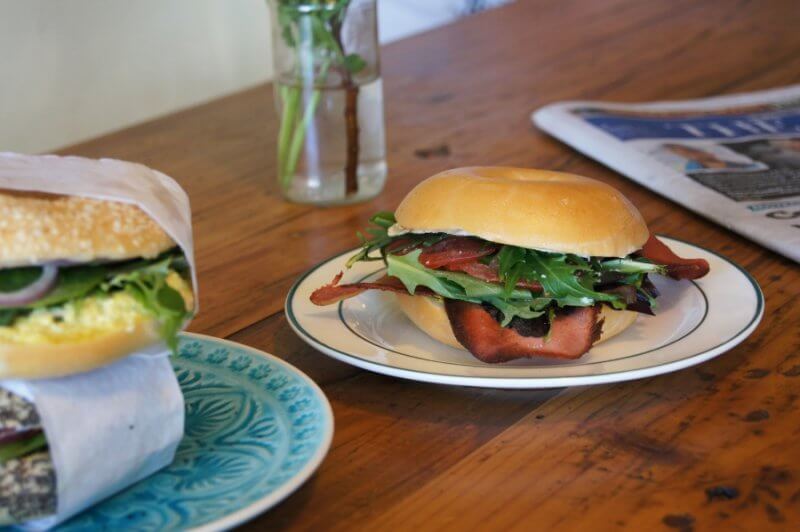 Go on – throw some vegan bacon on a pizza. We won't judge you. This is yet another traditional restaurant cleverly meeting the demand for plant-based options. Vegan-friendly pizza bases, dairy-free mozzarella, and a huge variety of toppings (including faux bacon) rule the menu. Oh, and there's also an Oreo Pizza for dessert!
When the vegan pizzas at @pizzadesignco are so good that you have to go again the next day 😍😍😍 They have awesome service, decent prices and the pizzas come out in no time!! 👌🏼 ✖️My pizza: Tangy BBQ sauce, dairy free mozzarella, vegan pepperoni, capsicum, sweet potato pineapple ✖️Boyfriend's pizza: Tangy bbq sauce, dairy free mozzarella, vegan bacon, potato, mushroom sun-dried tomato SO FREAKING GOOD!!!!!! 😭🙏🏼 [NEW YOUTUBE VIDEO LINK IN BIO 🎥]

A photo posted by CHERIE TU (@thrivingonplants) on Dec 18, 2015 at 2:10am PST
It wouldn't be a list of vegan bacon options without a big cooked breakfast. My Rainbow-Dreams in Canberra offers the Rainbow Breakfast, consisting of scrambled tofu, sautéed mushrooms, baked tomatoes, pan-fried "not bacon", home-style baked beans, and lightly toasted sourdough. Who's hungry?
Big brekky from #myrainbowdreams yes pls! #vegan #veganuary #tofuscramble #notbacon #foodstagram 😋🍅☀️🌷🍴

A photo posted by K O L L I E ☀️ (@k.chan17) on Jan 2, 2016 at 1:14am PST
Both the Vegan Benny and the Brunch Burger feature delicious coconut bacon, so you might just need to order both.
Loving weekend brunch @mandalaorganicarts 💚 📷 Featuring the Vegan Benny (organic sourdough, sautéed mushrooms, wilted spinach, avocado, smoky coconut bacon vegan hollandaise sauce) 👌🏼 Pretty as a picture and so delicious! #mandalas #mandalaorganicarts #mandalaorganicartscafe #veganbreakfast #veganbrunch #veganbenedict #veganbenny #coconutbacon #veganhollandaise #veganfoodporn #veganeats #veganfoodshare #veganmeal #veganfriendly #goldcoastfood #goldcoastlife #visitgoldcoast #goldcoastcafe #goldcoasteats #gcfood #gceats #gccafes

A photo posted by Plant-powered 💪🏼🌿 (@run2food) on Dec 18, 2015 at 10:20pm PST
3. Make Your Own, and Treat Your Friends
Of course, it's also easy to make your own delicious versions of vegan bacon at home. Why not share some with your meat-loving friends and encourage them to make more compassionate food choices?
Here are a few recipe videos which might help you out:
Rice Paper Bacon
Coconut Fakin' Bacon
Eggplant Bacon
Tempeh Bacon
Mushroom Bacon
'Bacon' Blanket Breakfast Rolls
Tofu Bacon
Shiitake Bacon
4. Find Your Pig-Loving Tribe on Instagram
Lovers of pigs, unite! Instagram is a great way to connect with others who share your desire to protect and show respect for these awesome animals. You'll find everything from easy vegan recipe ideas and drool-worthy food snaps to hilarious memes and poignant animal tributes.
Eazy-E BLT (Eggplant bacon, lettuce, yellow heirloom tomato…and cukes for good measure + #justmayo mustard) #stuffontoast for Saturday brunchfast.

A photo posted by Stuff on Toast (@stuffontoast) on Aug 20, 2016 at 11:04am PDT
First attempt at making vegan tempeh bacon and I LOVE IT WOAH. Got inspired by the lovely @vegan.with.cats and @vegandelight_edwin to make this. I am going to make this more often, that's for sure 💕

A photo posted by S O L E U N A (@sarahwitpeerd) on Aug 15, 2016 at 5:33am PDT
I've been laying in bed for an hour, but I can't fall asleep until I make sure there's no more pie in the fridge.

A photo posted by Esther The Wonder Pig (@estherthewonderpig) on Aug 29, 2016 at 6:09pm PDT
VEGAN BACON!!! I made this #veganbacon and I was really sceptical but the taste comes really close to the real thing. Moreover it takes 10 minutes to make and you need 3 ingredients that are easy available. If you want the recipe let me know

A photo posted by @thevegancommunist on Aug 29, 2016 at 3:42am PDT
They are the reason why we do the work that we do. [Photo: Jo-Anne McArthur / @weanimals]

A photo posted by The Humane League (@thehumaneleague) on Aug 30, 2016 at 8:22am PDT
@Regrann from @veganstreet – When people say that the stuff you write on social media will be around forever, they really mean forever. @veganstreet #trolls #trolling #internettrolls #trollweek #stpeter #pearlygates #heaven #vegan #veganstreet #veganmeme #veganstreetmeme #Regrann

A photo posted by Susan (@sueran15) on Aug 21, 2016 at 1:45pm PDT
☁️sunday mornin☁️ sandwich w/ @sgaiafoods maple bacon rashers, avocado, tomato, spinach @nutcrafter_creamery cream cheese w/ a side of hash browns! 🔥💥 . . . . . . . #lazyvegan #vegan #veganfood #veganfoodshare #veganbreakfast #easybreakfast #simplemeals #vegankids #eatyourgreens #cheatmeal #plantbased #veganism #plantbasedfood #veganfortheanimals #veganpower #govegan #veganlifestyle #vegansofig #vegansofinstagram #veganbacon #hashbrown #artisan #blt #blat #avocado #tomato #spinach #conciouseating #veganbusiness #supportlocal

A photo posted by naomi (@veganmvp) on Aug 14, 2016 at 7:15am PDT
Rainbow sandwich! 🌈🌈🌈 #brunchclub #vegan #eatingrainbows

A photo posted by evelynadams (@evelynadams) on Aug 20, 2016 at 6:39am PDT
"The human spirit is not dead. It lives on in secret…. It has come to believe that compassion, in which all ethics must take root, can only attain its full breadth and depth if it embraces all living creatures and does not limit itself to mankind." – Albert Schweitzer, Novel Peace Prize address: "The Problem of Peace in the World Today" #WiseWednesday #AlbertSchweitzer #animalsofinstagram #animalsanctuary #plantpowered #kindness #edgarsmission "If we could live happy and healthy lives without harming others, why wouldn't we?" www.edgarsmission.org.au

A photo posted by @edgarsmission on Feb 23, 2016 at 8:32pm PST
THE BEST VEGAN BLT! Before I became a vegan, I would have never dreamed that I'd still able to have lunches like this, but thanks to @edgyveg and her INCREDIBLE rice paper bacon recipe, and my @hamptoncreek Just Mayo of course, I can have a BLT that's exactly like the ones I had as a kid! I decided to try this when I saw her recipe video but I never ever expected it to be so realistic, it almost freaked me out. It's salty, crispy, thin bacon just the way I used to like it. I'M AMAZED AND IN LOVE. ❤️❤️ . . . . #bacon #blt #veganblt #bltlunch #no🐷wereharmedinthemakingofthisbacon #veganfood #veganfoodshare #easybeingvegan #veganbacon #veganlunch #crispybacon #edgyveg #ricepaperbacon #ricepaper #namashoyuhow

A photo posted by Formally Kaitlin's Kitchen🍝 (@namashoyuhow) on Aug 2, 2016 at 10:26am PDT
GD Star Rating
loading...
Article source: PETA Files