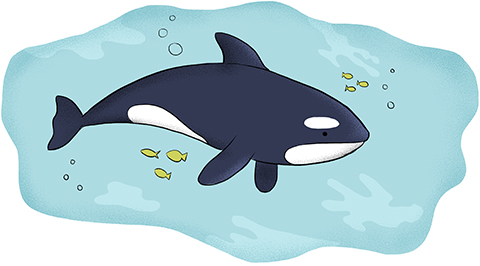 When a wild-caught orca named Tilikum killed a trainer at SeaWorld Orlando in 2010, the public's illusion that the park's orcas were happy, joyful creatures was destroyed. Tilikum, who had once ranged with his family in the open ocean, hunting and swimming hundreds of miles a day, had for years endured boredom, frustration and loneliness. At the end of a show, as spectators watched, he dragged trainer Dawn Brancheau into the water and repeatedly attacked her as she drowned. Suddenly, what was in front of the crowds all along—the cruel mistake of confining the world's largest predator in tiny concrete pools—was on horrific display.
People are starting to question everything.
– Nicole Paquette

Brancheau, an experienced trainer, was the third person Tilikum had killed. Naomi Rose, a marine mammal scientist for The HSUS at the time, said Brancheau's death meant the orca shows had to end. Rose had been arguing against keeping orcas in captivity since the 1990s, when public pressure and the movie Free Willy led to an orca in another park being moved to a sea pen and eventually released. In 2013, her voice was amplified by the documentary Blackfish, which carried the story of Brancheau's killing and the daily suffering of captive orcas to millions of viewers. SeaWorld's attendance and stock price dove. A campaign designed to win back public support failed.
In late 2015, the California Coastal Commission banned breeding at SeaWorld's San Diego park as a condition of a permit to expand the orca enclosure there. Faced with the new rule, CEO Joel Manby, who had been brought in to restore the company's image, was ready to talk to Pacelle about reform. This spring, the two announced an agreement that ended SeaWorld's breeding of orcas (wild capture had already been discontinued) and committed the company to spending millions more on marine mammal rescue and rehabilitation. The company will also join The HSUS in advocating for better protections for oceans and their creatures. SeaWorld is still breeding other marine mammals, but no more orcas will be born into lifetimes of captivity in its parks.
As with SeaWorld's orcas, the cruelty Ringling Bros.' elephants suffered was visible all along, if circus-goers knew where to look. Even if they didn't see the elephants separated from their families, chained for the majority of their time and loaded every few days into boxcars for the journey to another city, the mistreatment was on display during every show. As the elephants performed, they were accompanied by handlers carrying bullhooks. The industry calls these tools "guides," but they are instruments of fear, designed to break, coerce and intimidate the animals by inflicting pain on sensitive areas—behind the ears, under the chin, on the trunk, back and legs.
It's a perversion of what people who know elephants say they require. "They are such gentle, intelligent, perceptive, sociable, keenly aware, creative, emotionally complex and sensitive animals, they need always to be in an atmosphere of complete trust and of mutual admiration," writes expert David Hancocks. "They deserve, in other words, to be deeply loved."
In 2015, encouraged by The HSUS and others, Los Angeles and Oakland, California, outlawed the use of bullhooks, threatening to disrupt the circus's tour. "The Greatest Show on Earth" was abruptly recast. Ringling Bros. decided to no longer travel with its elephants, who will instead live year-round at a compound in Central Florida.
With pressure from the public, momentum is building for change in the treatment of elephants, orcas and all captive animals, says Nicole Paquette, HSUS vice president of wildlife protection. "People are starting to question everything," she says. "It's the beginning of a new era, one that should lead to an end to wild animal acts."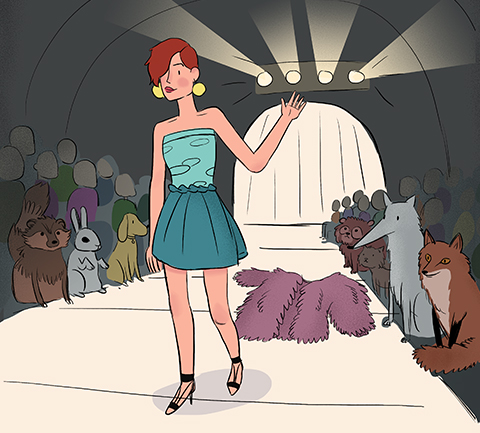 Giorgio Armani counts two cats among his close companions and says he loves all animals. In 2008, the renowned Italian fashion designer was thought to have eliminated all fur from his luxury line but continued to use rabbit. Then in March, after years of talks with The HSUS, the news broke that starting with its fall/winter line, the Armani label would be entirely fur-free. The announcement got attention around the world, from China to Lithuania to Brazil. "Technological progress … allows us to have valid alternatives … that render the use of cruel practices unnecessary," read the company statement—careful, quiet words that shook an industry.
Armani's clothes can be expensive and are generally sold only to small numbers of consumers who can afford them. That's why, in a way, it took so long for the designer to change and why the move is so significant, explains P.J. Smith, HSUS corporate outreach manager. "In the luxury market, it's very difficult to get a company to go fur-free, because fur is believed to mean luxury," says Smith. "Having the leadership of somebody like Armani is very important: One of the cruelest forms of fashion is unnecessary now, and you have the biggest name in fashion design saying that."
HSUS investigations have shown that the association of fur with luxury is absurd. Animal fur can be cheaper than faux fur and is frequently falsely advertised or labeled as fake.
Pacelle met with Armani in 2009 and learned that the use of fur in his fashion line weighed heavily on his conscience. Smith continued the discussions, helped by the Fur-Free Alliance, a coalition of 40 animal protection organizations (including The HSUS and Humane Society International) from 28 countries. "It was clear that Mr. Armani was an animal lover; it was always a difficult thing for him. But he thought he had to sell fur to be considered luxury," says Smith.
Time after time, Smith offered faux fur as an alternative, arguing that it looked like animal fur and could be used in the same ways, preserving Armani's creative freedom. As with the brand Hugo Boss, which went fur-free in 2015, Armani searched for humane sources of fur and found none. There was only one solution. Giorgio Armani has a motto, borrowed from Albert Einstein: "We can't expect things to change if we keep doing the same things over and over."
The company's fur-free announcement marked the end of an era. "Loved by the A-list and feted by the fashion community, this is a brand steeped in heritage, quality and class," wrote Shelly Vella, former fashion and style director for Cosmopolitan. "The decision will have a powerful effect."
The reforms keep coming. In June, the National Aquarium in Baltimore announced it will move its dolphins, who perform for visitors, to an oceanside sanctuary, and the Georgia Aquarium said it will no longer import wild-caught beluga whales or dolphins from overseas. Rhode Island is poised to become the first state to ban the use of bullhooks, with a bill passed by the House and Senate and awaiting the governor's signature. And following negotiations with The HSUS, Perdue, the United States' fourth largest producer of chicken, announced it will give its broilers sunlight and more space.
Change begets change as people look at the world in a new way. It's just the start of a process that will revolutionize our treatment of animals, Pacelle writes in The Humane Economy. "We are in the midst—much closer to the beginning than the end, I believe—of an epic political, cultural, and economic realignment. … An older order is passing away."
---
Read more from this issue
Subscribe to All Animals
GD Star Rating
loading...
Article source: HSUS