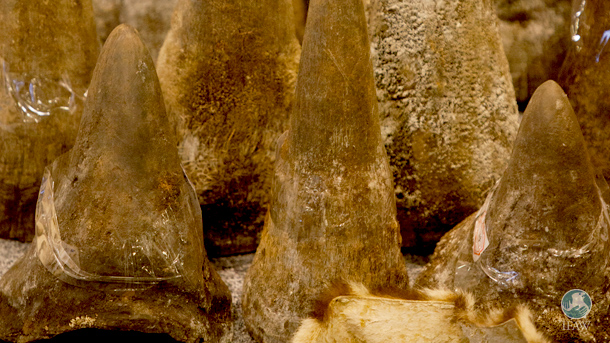 Yesterday, officials burned a stockpile of confiscated rhino horns, rhino horn "medicine" and other illicit products at the San Diego Zoo Safari Park.
Just like the many ivory crushes that have taken place—many only in the past three years—events like the one in San Diego raise awareness and put the issue back at the forefront of public consciousness. For countries with lax oversight of government stockpiles, controlled burns and crushes also reduce the risk of confiscated horn and ivory entering the black market.
This rhino horn destruction event was especially timely as it comes just a few weeks before World Rhino Day (September 22) and the Conference of the Parties to CITES, the Convention on International Trade in Endangered Species, where rhino poaching and trade will be a major point of debate.
Rhinos are the second largest land mammals after elephants, and are poached for their horn due to the demand for (unscientific) medicinal and luxury goods in countries like Vietnam and China, where rhino horn can fetch up to US$60,000-$100,000/kg (each horn can be from 1-3 kilograms). Poaching levels and trade have reached their highest levels in the last two decades: between 2013 and 2015, about 3,400 rhinos were cruelly killed for their horns, and today, rhinoceros populations are at historic lows with approximately only 30,000 remaining in the wild. All this despite the fact that this treasured product is made of the same substance (keratin) as human toenails and hair.
On top of pressure from illegal trade, Swaziland recently submitted a proposal to permit legal trade in white rhino horn collected from natural deaths or recovered (by game rangers) from poached Swazi rhinos, along with non-lethally harvested horns. Proposals like this are dangerous because they will increase the demand for rhino horn—with severe ramifications on remaining rhino populations now and in the future.
As we have seen with the debacle that resulted from briefly allowing limited ivory trade in the mid-2000s, legal commerce in these wildlife products quickly spirals out of control, even if undertaken with the best of intentions.
IFAW applauds the San Diego Zoo Safari Park, the US Fish Wildlife Service, and the California Department of Fish and Wildlife for their decision to turn these depressing confiscated items into a teachable moment. The life of a rhino means more than the value of its horn. Killing an endangered species for profit is a cruel and unacceptable act.
–PL 

GD Star Rating
loading...
Article source: IFAW