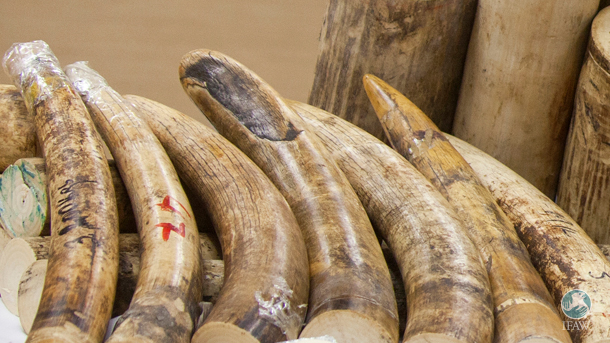 Over the last four months the German customs authorities have discovered and confiscated a total of 1.2 metric tons of illegal ivory, with an estimated market value of more than a million euros.
In May customs inspectors at Berlin Schönefeld airport uncovered 625 kilograms of ivory hidden in falsely declared crates of air freight intended for Vietnam. The ensuing investigation tracked down the source to the German state of Rhineland-Palatinate, where 570 kilograms more ivory was found at the end of August. Two suspects, who were caught at the scene carving figures and pearls from the ivory, were arrested and are currently detained awaiting trial.
On the one hand, it is encouraging that a German investigation team was able to land this catch, and record an important success in the fight against the illegal ivory trade.
On the other hand, a seizure of ivory of this magnitude is highly disturbing, especially bearing in mind two recent developments:
First, a freshly published study by US researchers shows that the elephant populations in Africa have declined more sharply than was previously feared. Between 2007 and 2014, Africa's elephant population has plummeted by 30 percent, representing a loss of approximately 144,000 elephants. The major reason it gives is ivory poaching.
Second, Namibia and Zimbabwe have both entered proposals for discussion at this September's meeting of the Convention on International Trade in Endangered Species (CITES) to allow these countries to resume trading in ivory. Should these applications be voted in it would signal the death knell for the remaining elephants in Africa, because it would increase demand for ivory and inevitably intensify poaching elsewhere.
For this reason IFAW will do everything it can at the CITES conference in South Africa to ensure no further international trade in ivory is permitted. Moreover, we support every endeavor to close national ivory markets and advocate for the destruction of ivory stocks.
The future of elephants can only be secured if we are active in a variety of ways: supporting measures against poaching in elephant range states, detecting and containing smuggling and illegal trading – in Germany too – as well as reducing the demand, particularly in Southeast Asia.
— RK
Translation by Alan Frostick

GD Star Rating
loading...
Article source: IFAW