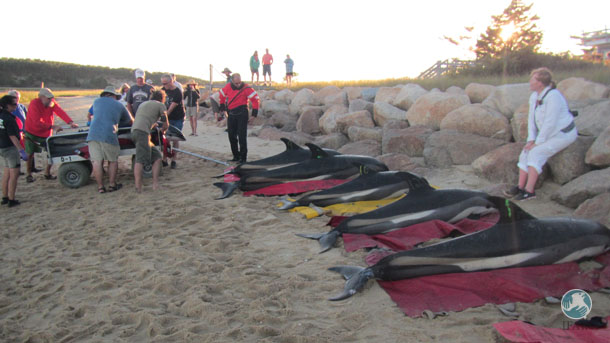 Yesterday, the International Fund for Animal Welfare responded a report of six dolphins swimming in Wellfleet, Massachusetts, a global hotspot for mass strandings of dolphins and small whales.
The first team on scene discovered not six, but nearly 20 Atlantic white-sided dolphins trapped in shallow water with a receding tide.
Soon, 16 animals were left high and dry.
With the capacity of a full team and many volunteers responding, our team moved each dolphin from the mud flats on a stretcher using our specially designed dolphin cart. They were staged on the beach to be triaged and prepared for transport to Herring Cove Beach in Provincetown for release into open water.
Health assessments revealed that all of the animals were strong enough for release. While two were in guarded condition, given our past success in release, we felt comfortable giving these animals a chance to survive in the wild. 
Since each trailer can only hold a maximum of five animals, it took us four trips (two for each trailer) to get all of the animals to the release site in Provincetown.
It was a well-choreographed dance with teams at each site and in each trailer caring for the animals. 
READ: 4,000 and counting: IFAW's stranding team reaches milestone
Two animals were released with satellite tags. One has returned to Cape Cod Bay, which is a concern for potential mass stranding.  The other is now more than 30 miles north of the Cape.
All animals have small yellow dorsal fin tags with our rescue phone number on them. If they are re-sighted at sea or stranded (dead or alive), we ask folks to call our hotline at 508-743-9548.
We had great teamwork from our colleagues at the Center for Coastal Studies in our response.  We are also very grateful to the National Park Service for assistance at the release site and to the Chequessett Neck Yacht Club for allowing us to stage the response from their property.  The public at both the stranding site and release site were incredibly helpful and supportive, and we can't thank them and our wonderful volunteers enough.
–KM
GD Star Rating
loading...
Article source: IFAW