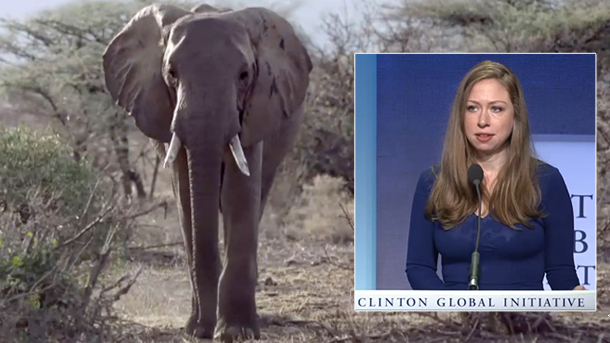 Chelsea Clinton raised the plight of the Africa elephants to the top of the agenda at the very last meeting of the Clinton Global Initiative (CGI) during the United Nations General Assembly Week in New York City on September 19. Citing the efforts of the International Fund for Animal Welfare (IFAW) and other NGOs, governments and companies which have worked together to form the Elephant Action Network (EAN), Clinton pointed out that we have much more to do to save the elephant from a premature demise. The session followed the sobering news of the Giant Elephant Census earlier this month, which concluded that at the current death rate of eight percent per year, we may have as few as 160,000 elephants roaming the savannah by 2025.
I had the chance to participate in the final breakout session of the CGI yesteday, where members of the Elephant Action Network plotted the extension of work initiated at CGI four years ago, focused on three pillars: Stopping the Killing, Stopping the Trafficking and Stopping the Demand.
As one of the few organizations working on all three pillars, IFAW has a unique view of the problem, which ranges from remote villages in the heart of Africa to ivory markets across Asia and North America and involves illicit transit through marine terminals, bus stations and airports all across the region.
The problem of poaching will not be solved without concentrated attention on all three aspects of this nefarious value chain.
The EAN members agreed to try and extend work in all three pillars as well as continue the network's valuable coordination efforts.  I was pleased to announce our own continuing efforts to stop the Killing, by expanding our tenBoma program, which crunches real time big data on elephant mortality and poaching activity in order to identify key hotspots and stop poachers before they kill. The program represents a partnership with Kenya Wildlife Service and leading NGOs like Big Life and Tsavo Trust, and several EAN members expressed an interest in joining the partnership.  
IFAW will also be augmenting its work in the other two pillars in the coming months. In partnership with the U.S. State Department, Africa Wildlife Foundation and Freeland Foundation, IFAW will be extending its expert counter-trafficking training to customs and border officials in eight countries of Southern Africa. And in China, we will be scaling up our demand reduction work, which has generated more than $50 million in donated media from advertising companies and effectively reduced the misconception, still widespread in China, that you can take an elephant's ivory without killing it.
Our partners and we are making good progress in the fight, but there is so much more to do to reverse current mortality trends. We thank the Clinton Global Initiative for convening this powerful group of stakeholders and for giving the elephants a voice on the global stage.
–AW


GD Star Rating
loading...
Article source: IFAW