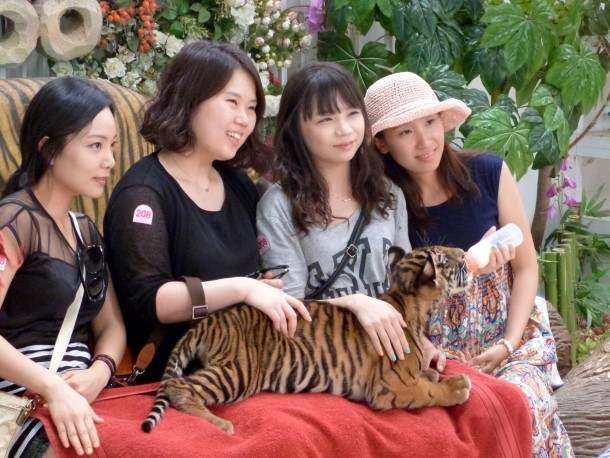 TripAdvisor's travel website—which operates in 48 markets globally, covers more than 6 million attractions, and reaches many millions of visitors each month—has announced important, wildlife-focused revisions to its booking policy, reinforcing similar progress abroad.
The site will phase out sales of tickets for hundreds of exhibits worldwide that allow members of the public to come into direct contact with captive wildlife or endangered animals. Although TripAdvisor has not yet released a list of attractions that will be affected by this policy, it has made clear that tiger handling displays, elephant rides, and certain marine mammal programs will be covered.
The travel planning giant will also establish an "education portal" to inform users about animal care standards and conservation implications associated with various animal tourism options. Available information will include views and data from diverse experts. This United Nations World Tourism Organization (UNWTO)-endorsed portal is intended to facilitate informed decision-making by visitors and, ultimately, promote animal welfare and environmentally-conscious tourism. Once fully operational, it will include all animal exhibits listed on TripAdvisor.
TripAdvisor has an existing ban on listing or publishing reviews for animal exhibits that involve "blood sport," such as captive hunts and animal fights. That listing/review ban will not be extended to the direct contact displays covered under the new policy; although they will not be bookable through TripAdvisor, they will remain visible on the site. However, by early next year every animal attraction listed will be identified and linked to the education portal, enabling visitors to carefully evaluate animal-related tourism options and their impacts.
As we mark the fifth anniversary of the infamous "Zanesville massacre"—the release of fifty dangerous exotic animals into an Ohio community—it is reassuring to see increased public awareness about the myriad problems associated with the exploitation of wild animals like big cats. As the US Congress, federal agencies, state legislatures and city councils are acknowledging the need for reform, TripAdvisor's announcement represents an important step forward in the protection of captive wild animals.
–CB
GD Star Rating
loading...
Article source: IFAW