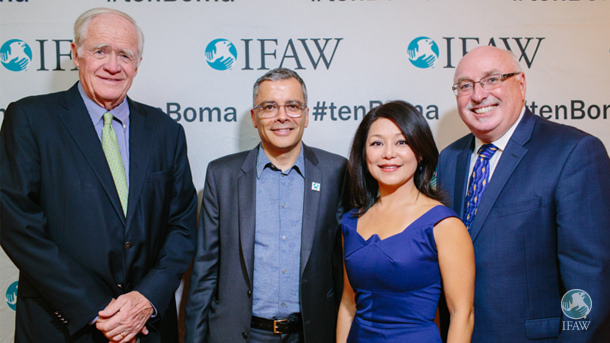 It was truly an honor to spend the evening with almost 100 IFAW friends and supporters at our most recent fundraising event for tenBoma in Boston. My sincere thanks to our generous hosts the Gifford Family, IFAW Board members and our outstanding MC Janet Wu, as well as the wonderful guests who joined us to learn more about IFAW's innovative program to stop poachers before they strike
It was such a pleasure to interact with such an incredible and diverse group of people—all united by a desire to put an end to elephant poaching.
We were proud to share our latest stories from the field as we continue to build this innovative project giving front-line rangers direct access to the same battle-tested intelligence gathering, tactical training and equipment used by elite US Special Forces.
IFAW Chief of Staff, Lieutenant Colonel Faye Cuevas, explained how tenBoma aims to build our network to defeat the criminal networks and actually stop poaching BEFORE it happens.
Our sincere gratitude for the generous financial support pledged for tenBoma at this event.
Please learn more about this project and contact Meg Canty to learn more about upcoming fundraising events. We'd love to have you join our network!
-AD

GD Star Rating
loading...
Article source: IFAW