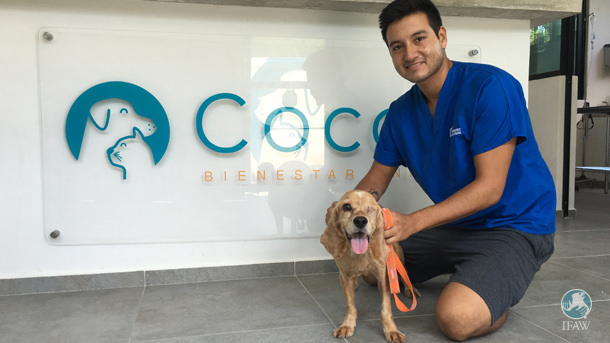 Bobby the spaniel came to IFAW partner Coco's animal clinic with a terribly infected eye. His owners are from Invasores, a poor community on the outskirts of Playa del Carmen, where Coco's is based.
Every month IFAW and our partner Coco's hold a wellness clinic in the area, providing preventive flea, tick and heartworm treatment. Through this outreach we are also able to discuss the needs of dogs and cats with their guardians. And any animals who are in need receive the necessary treatment. We have found this community to care so deeply for their pets that when times are tight, some people feed their dogs before they feed themselves.
Bobby's owner Mica came to one of our wellness clinics looking for help. Luckily, they came to us in time. The infection had not spread too far, and the veterinarians at Coco's were able to remove Bobby's infected eye. He spent two weeks recovering at Coco´s new clinic as he needed specialized care due to the surgery.
Now he can go back to playing with the neighborhood kids and lounging around with his family.
Our outreach work in Invasores has been paying off, not just for Bobby, but for thousands of other dogs in the poorest neighbourhoods of Playa del Carmen. When I recently ran the numbers from the last few years of helping animals at Coco's clinic, I was shocked.
Between 2014 and 2015, the number of animals helped by Coco's had increased by almost 50% from 7,635 dogs and cats to 11,218.
The community has learned how to better care for their animals as well. Children have become more aware about their responsibilities towards their dogs and cats. And they have learned that the animals reward them with wagging tails and kisses.
Recently, IFAW helped to fund the construction of a new clinic for Coco's, drafted training protocols for the staff, and provided funding to hire another veterinarian. This has meant we can keep providing essential services to the animals of Playa Del Carmen.
READ: Grand opening for Playa del Carmen animal clinic
It's thanks to IFAW supporters like you that we could help Bobby and the thousands of other animals we see every year.
Thank you!
–EF

GD Star Rating
loading...
Article source: IFAW