by Kelly Madrone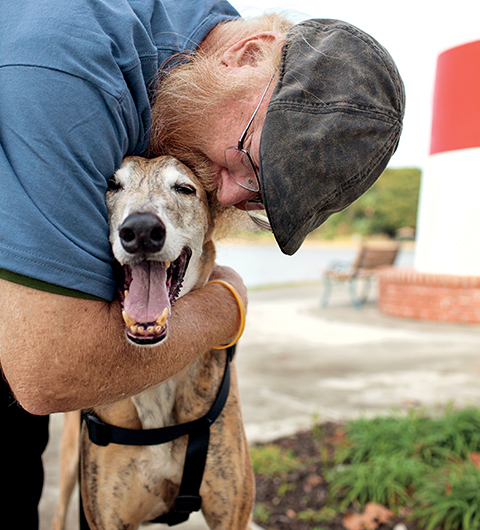 Inspiration strikes
Every weekend, photographer Lori Fusaro ventured to one of the Los Angeles area's overburdened animal shelters and volunteered her professional skills to create funny, adorable and moving images of the pets to boost their adoption potential.
As she returned to each shelter week after week, she noticed that the older dogs and cats were still there. One day, while visiting the Carson/Gardena Animal Care Center, she stopped to spend a moment with Shady—a sweet brindle-and-white dog whose snowy face was evidence of her advanced years. Fusaro offered her a treat, but to her dismay, a resigned Shady wouldn't even lift her head.
All that night and into the next day, thoughts of Shady haunted Fusaro. Was it crazy to think about adopting a 16-year-old dog? Wasn't it just a recipe for heartache? Fusaro went with her gut, hopped in her car and drove to the shelter to retrieve Shady, whom she promptly renamed Sunny.
Fusaro and her husband took Sunny to the vet, who confirmed a malignant tumor on her left leg, the reason Sunny's previous owners had surrendered her to the shelter. The couple decided not to take "heroic measures" to treat Sunny's cancer, instead putting her on pain meds. Knowing Sunny could at least spend her last weeks in comfort was enough for them.
But apparently it wasn't enough for Sunny, who blossomed in her new home, transitioning from dejected shelter dog to happy and fun-loving family member. Sunny lived almost another three full years with the Fusaros and their other pets—an older dog named Gabby and cats Enzo and Francis.
The photographer was so inspired by Sunny's plight and her dramatic turnaround that she dedicated herself to promoting senior pet adoption through a photo project called Silver Hearts. Through this work, she made the acquaintance of writer Laura T. Coffey, who wrote about Fusaro's work for the Today show's website. Little did the pair know Sunny's story would brighten the lives of people around the world.
Readers were so inspired by Fusaro's images of older dogs that the story went viral, and Coffey and Fusaro were approached by a literary agent. The result was My Old Dog: Rescued Pets With Remarkable Second Acts, a book that's spreading the word about the benefits of adopting senior pets.
Happy tales
Taking in a senior animal can be a daunting prospect for people who envision a long, rich life with their pet pal—emphasis on the "long." But time and time again, Coffey discovered, people who adopted older animals feel a special satisfaction knowing they gave a second chance to animals who may otherwise have spent their last days behind shelter walls.
Everyone Coffey profiled in the book—such as the three elderly nuns who adopted 9-year-old Remy, a calm, sweet-eyed large terrier mix; the nursing home residents who care for loveable 15-year-old golden retriever Rocky, and the Powells, who took in blind American Staffordshire terrier Healey—said what a special experience they've had rescuing older animals. "It's just amazing to me that you've got every geographic area of the country, every age, every income level, and to a person, they all said that taking in this older dog made their lives so much better and was the best thing they've ever done," Coffey says.
Even celebrities have gotten in on the act. Though many people have dreamed of stealing the heart of actor George Clooney, it was Einstein—a fuzzy black 10-year-old cocker spaniel—who finally managed it. Einstein, whose story appears in the book, was so sought after by Clooney that the actor admits to having rubbed meatballs on his shoes before meeting the spaniel in person to ensure things would go well. Now the pair are inseparable.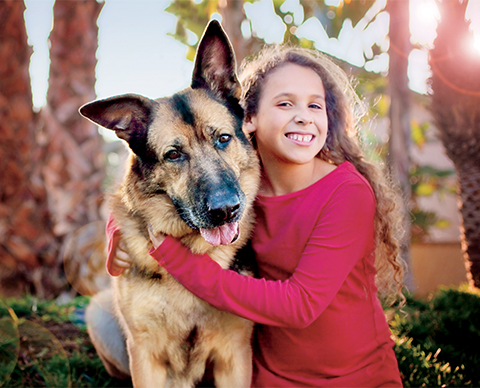 Giving pause
Not everyone is so excited about the prospect of adopting an older pet.
Inga Fricke is director of pet retention programs for The HSUS and a former shelter manager. She's also the caretaker of 17-year-old Tug, a long-haired Dachshund. "I think that there's a perception that taking home an older dog means taking home extra problems and extra burden without a lot of return," Fricke says. "But when you take home a dog that's older, they're already seasoned. You definitely have that personality established—you know what you're getting."
According to data from Petfinder.com—an online, searchable database of animals who need homes—senior cats and dogs typically spend nearly four times as long in shelters as younger animals. Of shelters surveyed, 28 percent said seniors are the hardest animals to adopt out.
Concerns about health issues or not getting enough time with an older pet steer many adopters toward younger animals. But puppies and kittens come with their own challenges, says Suzanne D'Alonzo, strategic engagement manager for companion animals at The HSUS. Puppies and kittens are wonderful, "but sometimes it's nice not to have to batten down the hatches," D'Alonzo says, calling the animals "virtual firestorms" who often require adopters to attend to every door, table lamp and roll of toilet paper in the house—all of which hold the possibility of endless adventure for exuberant youngsters. She knows several people who wore extra socks to bed for months after adopting kittens because, as D'Alonzo jokes, "toes are indeed made for pouncing at 2:34 a.m."
…taking in this older dog made their lives so much better and was the best thing they've ever done. – Laura T. Coffey
And while many fear the vet bills they assume will accompany senior pets, young animals are not without their expenses. It's important to keep things in perspective. Yes, you want the animal to have a high quality of life, but that doesn't necessarily equate with major medical interventions. Most folks who adopt and foster older animals decide not to take extreme measures (such as extensive cancer surgery) in their medical care. Instead, they focus on keeping the pet comfortable in his golden years.
If a financial concern is the only thing blocking you from going with an older animal, know that there are organizations that can help. Some foster groups and sanctuaries provide financial assistance to families who are willing to provide loving homes for older animals. Old Dog Haven in Washington State and Old Friends Senior Dog Sanctuary, based in Tennessee, operate large networks of foster families and cover medical expenses for families who need help.
Coffey says groups such as these are part of an overall senior pet movement that didn't exist a decade or more ago. "There's just so much going on that's really smart and innovative and exciting, and it makes it a lot easier for people to consider [adopting an older pet], even if you've got limited means."
And adopters stand to benefit just as much as the animals, she says. "These programs are making it possible for anyone to have this unconditional love and friendship, and I mean, who doesn't need that?"
D'Alonzo agrees and says when it comes to older pets, most of them take it all in stride. "I've fostered many cats and kittens and have always been impressed at how the senior cat arrives and sizes up life by the number of cushiony surfaces available. It's as though they enter a room and say, 'OK, does this one have a bed or will it be a couch?' "
Fricke and Coffey both say that one of the biggest rewards of adopting older pets is how grateful they are—that they seem to know they're getting a second chance. Says Fricke, "It's just something you see in their eyes."
Pros of adopting older pets
Most are already house-trained.
They're great companions.
They have laid-back, gentle spirits.
They usually don't need as much exercise as younger animals.
You'll get good vibes from helping an animal in need.
Second chances: Tales from our readers
George's legacy<!–
–>
Abbe Jacobs of Smithsburg, Maryland, was devastated by the loss of her beloved old kitty George. Nutmeg, his stalwart companion, was also heartbroken, so Jacobs headed to the shelter to find him a new friend. There she zeroed in on 13-year-old Pumpkin. "Pumpkin leaned against the front cage bars, purring, attempting with everything she had to catch the attention of any of us that passed. She was the oldest cat there, had a little sniffle, one of her eyes had been damaged in some way. … But to me, I was starting to see… that she held a wonderfully endearing little personality." Jacobs decided Pumpkin was the one. "This may sound a bit silly, but I could feel George's presence, and I knew he was happy with my decision, too." At home, Pumpkin is now often found cuddling with Jacobs' infant son during naptime or curling up on the lap of her husband, Chad.
Another chance to care
When Sandra Shertz retired and moved to Albuquerque, New Mexico, from Pennsylvania she found herself feeling lost. No more nursing career, no young kids to take care of and no old friends to spend time with. Then, there was Sunshine. The boxer mix was 12 years old and had been living at the local shelter for a while. Arthritic and suffering from spinal stenosis, which limited her ability to stand, Sunshine also had a bladder infection and was refusing to drink. A long-time caregiver, Shertz says, "I now had purpose!" Shertz adopted Sunshine and found that with medication to help Sunshine be comfortable and a belly belt to support her, she could take Sunshine for walks, which is how Shertz began to meet some of her neighbors. Back home, it was all snuggles. "I wish I could express the happiness in my heart when I heard her sigh of contentment as she laid her head in my lap," Shertz says. "I had 14 months of love!"
Fly away home
Mikey the Macaw would've best lived in the wild, but instead he got pulled into the pet trade, was abused and neglected, and wound up at A Helping Wing, a bird rescue and sanctuary in New Jersey. There, he met Karen and Mel Kalmenson of Great Neck, New York. Mikey was estimated to be about 15 to 20 years old, his body absent of feathers, but "in his eyes I saw a kindred spirit," Karen says. Two weeks later, the couple went back to visit Mikey. "He put his little green feathered head on Mel's chest and, well, the rest is happy history." Karen says they've learned a lot from Mikey. "His capacity to accept and give love in spite of the traumas he suffered…is beautiful and humbling." Mikey is still going strong and, Karen says, "ruling with an iron claw, and we would not have it any other way."
More love for Morris
Gillian McPhee of Arlington, Virginia, and her husband Greg DiCostanzo were devastated when their 3-year-old cat suddenly passed away. That week, McPhee looked at Morris—a cat at the shelter where she volunteers— with new eyes. "He had been there several months with no interest from potential adopters," she says of the 13-year-old feline. "We hadn't planned on adopting so soon, but that loss created a space in our home for Morris." McPhee calls the decision a win-win. "Opening our hearts to a sweet, loving older cat and giving him a home where he can live the rest of his life brought a bright spot into our lives during a time of great sadness."
The dog who came for Christmas
It was late December 2013 and Molly was set to have a lonely Christmas. Just two days before, the 14-yearold bichon-papillon mix had been surrendered to the local shelter. Then Pat and Bill Dobilas of Philadelphia, Pennsylvania, gave her the best present of all—a new home. "I was finally ready to adopt a second dog," says Pat, whose Rottweiler mix, Abby, had passed away in October, and why not at Christmas? "I wanted to adopt an older dog because I thought it would be hard to place, and as an 'older dog' myself it seemed right." Pat says Molly made them laugh every day, tearing around the house looking for treats. Even though Molly passed in July 2016, Pat and Bill were glad to have had two and a half wonderful years with their holiday girl.
Stuck on Taffy
Ed Hendrych of Phoenix, Arizona, had never been a fan of his parents' dog Taffy, referring to her as "the rat dog" because of her pink nose. But after his parents passed away, leaving 9-year-old Taffy homeless, Hendrych took her in. "She was grossly overweight, tipping the scales at 28 pounds on a foot-long frame. I had myself a dog that was like a box on four legs who I thought looked like a Yeti." But as time went by, with a dietary adjustment and regular exercise, Taffy's weight fell, and so did Hendrych's reluctance. At age 12, Taffy went blind and deaf, but Hendrych says neither disability hindered her in any way. Taffy ended up living with him for nine years before she passed, years in which he says, "she went from being the rat dog to the little dog I loved."
Alternatives to adoption
Can't adopt right now? There are other ways to help senior pets.
Donate: Whether it's money or time, senior rescues and animal shelters can always use more resources.
Foster: If you're not able to make the commitment to adopt a senior pet, you could be a foster home for animals in their last days or weeks. Many have been amazed at how rewarding it is to be able to provide a peaceful parting for an older animal.
Promote: Contact your local shelter or rescue and offer to help promote an older animal in your social circle by sharing photos and information about the animal's story and personality. You can even enlist the help of your family and friends. Laura T. Coffey, co-author of My Old Dog: Rescued Pets with Remarkable Second Acts, says kids, especially, seem to love getting involved in helping older animals.
---
Read more from this issue
Subscribe to All Animals
GD Star Rating
loading...
Article source: HSUS