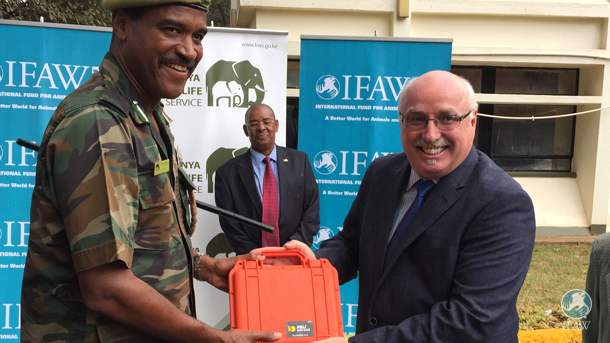 The Kenya Wildlife Service (KWS) expanded its tenBoma counter-poaching partnership with the International Fund for Animal Welfare (IFAW) today, announcing the opening of a new tenBoma site at the Jomo Kenyatta International Airport in Nairobi. KWS Director General Kitili Mbathi and I were on hand at KWS headquarters to review the site's new equipment, including an ivory fingerprinting kit specially developed by the London Metropolitan Police.
With counter-intelligence and investigation training, specialized equipment and expanded surveillance and monitoring capacity, the new site will allow KWS to better identify ivory and other wildlife trafficking "persons of interest" at the airport. The new ivory fingerprinting kit will allow KWS to recover from ivory seizures evidence that ordinary fingerprinting kits are not able to detect because of the porousness of elephant tusks.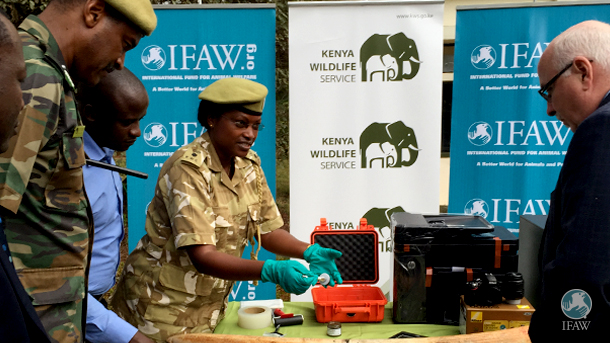 As part of IFAW's tenBoma partnership, "KWS officers stationed at the airport will be able to act on intelligence provided by the tenBoma Operations Center," says IFAW Chief of Staff Faye Cuevas, who led the team that conceived the tenBoma program. The KWS site at the airport will in turn be able to cross-reference information about suspected trafficking activities back to the Operations Center, which operates a Geo Database of poaching indicators. The tenBoma Operations Center looks for patterns of suspicious behavior and conducts predictive analysis with the goal of stopping poachers before they kill animals like elephants and rhinos.
In addition to the Operations Center and airport site, tenBoma also operates a field site in Voi, headquarters of Tsavo West National Park, home of Kenya's largest elephant population. As a result of poaching, Africa's savanna elephants are dying at a rate of eight percent per year, according to the results of the recent Great Elephant Census.
–AD

GD Star Rating
loading...
Article source: IFAW