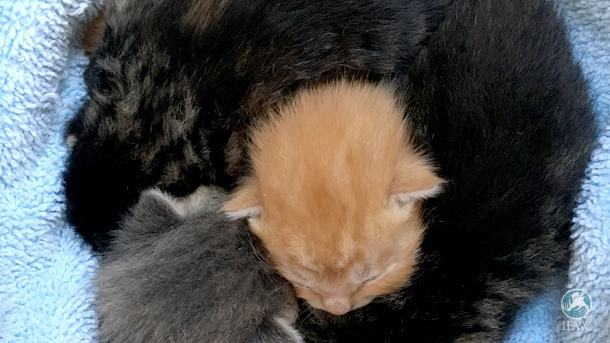 No one slept the night Hurricane Matthew passed near Jamaica, dropping rain through high winds lasting through the dawn. The storm's path changed so often but we kept planning for the direct hit that everyone feared would happen. Jamaica was spared (this time), but we are confident that our colleagues at The Animal House Jamaica will be better prepared next time due to the contingency planning we were able to do together.
The day after, we cleaned up debris at the AHJ shelter and checked in with staff and volunteers to make sure everyone was ok. It was a blessing to know that no evacuations or rescues were needed (this time) but we were ready! Even as we gave thanks for Jamaica being spared the direct hit we turned our focus on Haiti and the United States as Hurricane Matthew devastated the island and moved to our homes along the US Eastern Coast.
After a full day of assessment, clean-up and daily care we changed our flights to leave Jamaica early and get home to the US ahead of the storm.
Ironically as we flew west we had to fly around the storm as it was devastating western Haiti. Thankfully our colleagues with the Christian Veterinary Mission responded quickly and efficiently to help victims of the storm; humans and animals received desperately needed medical supplies and treatment, fresh water and food, temporary shelter. Field assessments took days as roads were destroyed allowing only aerial access to determine the staggering amount of damage. Relief efforts will continue for months if not years. Our team stands ready to support CVM in whatever they need to keep families together during this long recovery period.
READ: Deploying to Jamaica to help in advance of Hurricane Matthew
Just in time, IFAW responders arrived to prepare their homes and families for the worst. Luckily, our team members were spared a direct hit but several suffered flooding and loss of power.
Hundreds of thousands of residents along the US coast were not so fortunate. Millions of people were affected in Florida, Georgia, South Carolina and North Carolina. IFAW activated resources immediately to support the National Animal Rescue and Sheltering Coalition (NARSC) in Georgia, South Carolina and North Carolina.
The IFAW Disaster Response team deployed to North Carolina with an animal search and rescue team, transport truck and trailer, boats and emergency sheltering supplies. Our assignment took us to Pender County, NC to support the Pender County Animal Shelter.
We worked in and out of flooded waters to rescue animals left behind by residents that surely expected to be able to return within a day or two.
Now it was a week after the rains began and the rivers flooded into one neighborhood after another.
Frantic owners called the PCAS to ask for help to rescue their animals or just try to find them. Even a week after the flooding began 47 percent of the county was still flooded which is catastrophic for infrastructure and greatly delays recovery.
Seeing a buck's antlers sticking out of the water reminded us of the struggle all animals face during natural disasters. In extreme flash flooding like that experienced along the swollen Black River, exhaustion and panic can overcome the strongest of animal. We responded to calls for dogs, cats, horses, pigs and cows.
Sometimes we were too late….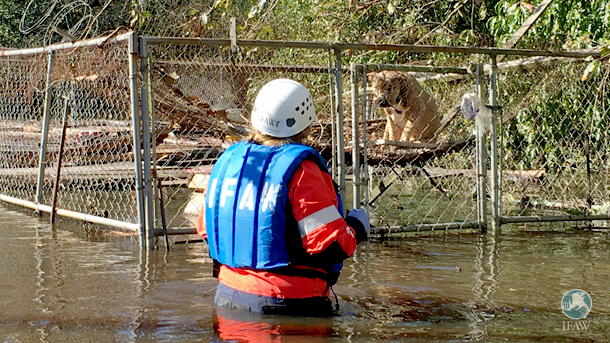 For many animals, there was hope. The dog in the picture above chewed through the wire roofing of his kennel and climbed up to avoid the water that quickly rose above his dog house. We rescued dogs and cats stranded on porches, discovered resilient pigs stranded in a submerged trailer, and collected surrendered animals from owners that made the difficult decision to give away their animal(s) in the midst of despair.
For many of the larger animals stranded on dry land like horses and cows we evaluated their condition and provided feed  and medical care if needed.
Everyone that came into the shelter needed a good bath and veterinary exam thanks to the contaminated flood waters and dire living conditions. Warm beds, full bellies, and lots of tender loving care were our main priority.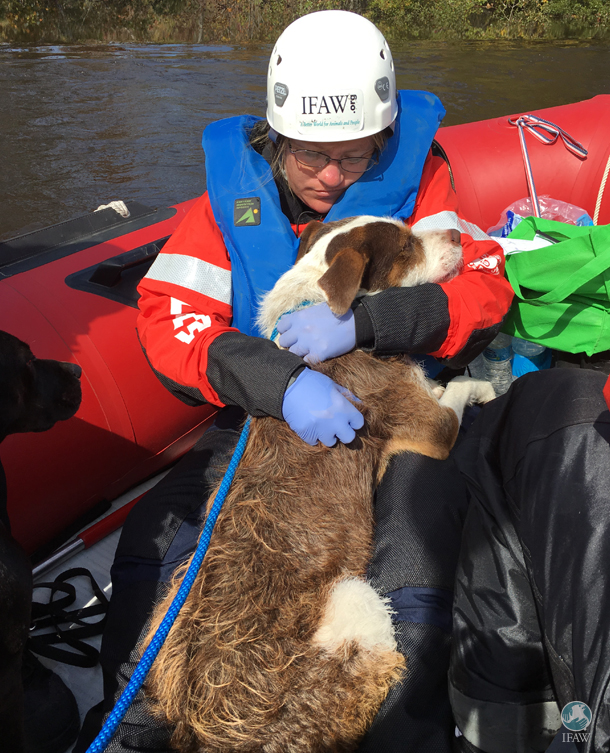 Two stray dogs were stranded together and the one in the picture above even took a nap on PCAS Shelter Director Jewell Horton's lap during the ride back to our base camp!
Owners were able to bring their pets to the PCAS for temporary sheltering which was a blessing for both the owner and the animal. Staff worked hard to not only care for the evacuated animals but all of their wards from before the storm and flooding happened. Horton earned our respect and admiration for how she kept everything together.
We are grateful to have been able to serve our colleagues in both Jamaica and the United States these last couple of weeks. And we keep our colleagues in Haiti in our thoughts and prayers as they continue to plan how to best serve the surviving animals and their owners across the island.
Natural disasters are increasing all around the world, and we are building capacity internally and with partners to ensure IFAW is ready when needed.
–SW

GD Star Rating
loading...
Article source: IFAW