by Ruthanne Johnson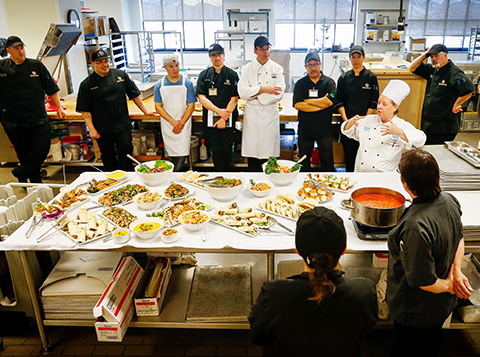 Has a plant-based diet been on your mind lately? You likely already know that eating meat-free even one day a week will help reduce our carbon footprint, save resources such as fossil fuels and fresh water and help prevent animal cruelty, but where to start?
Humane eating might not be as challenging as you think. Take chef Wanda White, a classically trained pastry chef and Southern food aficionado who was taught that you need butter, eggs and cream to make things taste good. At one time, she couldn't fathom cooking without those ingredients. But that changed after she was hired to turn around a failing dining hall at the University of North Texas in 2011. A group of students wanted a vegan dining hall, and White took on the challenge.
I began to work with the recipes and understand that taking the animal products out really actually made it taste better in a lot of things. The food tastes so clean and refreshing. "
– Chef Wanda White

She spent three months researching, writing and testing recipes, many of which were her own favorites that she transformed by swapping out animal-based ingredients with plant-based ones. The result was dozens of tasty dishes: biscuits and gravy, meatless loaf, fried tofu fingers and macaroni and cheese made with cashew cream. The grill where hamburgers were once made now sizzled with different types of bean patties and plank-cut vegetables marinated overnight in Italian dressing. "The students just gobbled it up," White says. The dining hall went from 75 transactions a day to about 1,700, making it one of the busiest of the five cafeterias on campus.
In 2015, White teamed up with HSUS food policy manager Ken Botts to run a hands-on, plant-based food training program for universities, hospitals and corporate dining services. The HSUS Culinary Experience helps these institutions learn how to excel at plant-based cooking. And it can help you, too.
Since her first days working with vegan cuisine, White has learned that cooking with plants is about using foods already in your kitchen. It's about seasoning and marinating, as you would with any meat dish, and using familiar cooking techniques such as broiling, steaming, baking, grilling and sautéing. These ideas hit big with institutions The HSUS culinary team has visited, and they can help transform your kitchen, too.
Wanda White
Chef instructor, The HSUS
Main ingredient: Garbanzo beans (chickpeas)
"Garbanzo beans are versatile, high in protein and delicious," says White. "You can use them in breakfast, lunch, dinner and even dessert recipes." You can form them into patties or falafel and use chickpea flour to make crepes (which are delicious stuffed with scrambled tofu and veggies as a breakfast item). You can add them to pasta primavera and atop salads for extra texture and flavor. It only takes about 15 minutes to whip up a delicious chicken-like salad using mashed garbanzo beans, chopped celery, diced onion and red peppers, egg-free mayonnaise and a little mustard, Italian dressing, garlic, salt and pepper.
And then there are desserts such as cakes, muffins, truffles and a traditional Turkish creation called Noah's pudding made with barley, legumes, dried fruits, sugar and nuts. Even the leftover chickpea juice, called aquafaba, can be used as an egg replacer in foods such as brownies and meringue cookies.
White likes to season garbanzo beans with spices and roast them for a light crunch. You can eat them as a snack or add them to just about any dish for flavor and texture, she says. More baking time adds more crunch.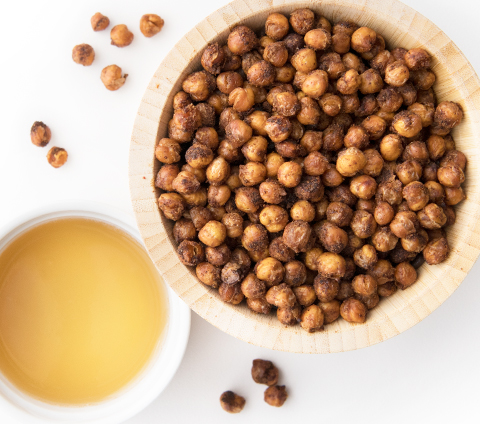 Roasted garbanzo beans
Ingredients:
1 16-ounce can garbanzo beans, drained and rinsed
1 tablespoon vegetable oil
1 teaspoon garlic powder
1 teaspoon chili powder
1 teaspoon creole seasoning
Or a combination of your favorite spices
Instructions:
1. Preheat oven to 375 degrees.
2. Toss garbanzo beans in oil and seasoning and place in a single layer on a rimmed baking sheet.
3. Roast for 30-40 minutes, until chickpeas are golden brown and rattle when shaking the baking sheet.
4. Use as a snack or addition to a meal, such as tacos, pasta or salads.
Per serving (1/4 cup): Calories: 73; total fat: 3 g; saturated fat: 0 g; cholesterol: 0 g; carbohydrates: 9 g; fiber: 3 g; protein: 3 g; sodium: 96 mg.
Paul Houle
Certified executive chef and associate director, campus dining services at University of Colorado Boulder
Main ingredient: Quinoa
Packed with protein, quinoa (pronounced "KEEN-wah") is another versatile ingredient. "The flavor profile is great to work with because it's so neutral," says Houle, whose staff cooks up quinoa in a little apple juice with fresh-cut apples and cinnamon sticks as a warm, hearty breakfast option. "The students love it," he says. For a Middle Eastern flair, mix quinoa with fresh parsley, tomatoes and cucumbers, then season the mixture like you would tabbouleh (olive oil, mint, lemon juice, salt and pepper). Or try quinoa with black beans, corn and a little chipotle for a southwestern kick.
After the HSUS training, Houle's team created a new recipe from a batch of quinoa that had accidentally been overcooked to the consistency of mashed potatoes. Houle knew that quinoa can be used as a binder in certain dishes instead of eggs, so he asked sous chef Christopher Klocke to somehow repurpose the batch. The result was a crispy quinoa cake. Overcooking the quinoa, Houle says, helps it adhere to things like spices and sauce, and makes it easy to shape into patties. Baking before boiling shortens the cook time and gives the seed a nutty flavor. The quinoa cakes can be served hot or cold, as a burger or atop a bed of salad greens, like arugula, and drizzled with a chipotle lime sauce.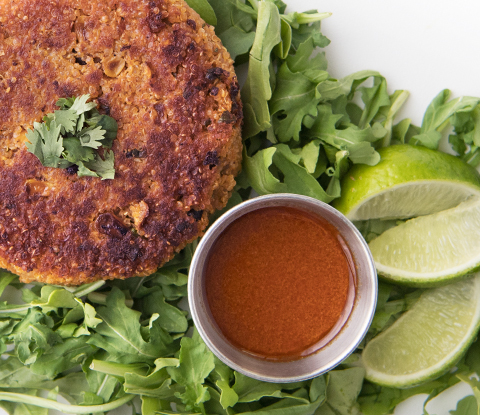 Quinoa Cakes with Chipotle Lime Vinaigrette
Ingredients for the vinaigrette:
1 chipotle in adobo sauce
2 tablespoons champagne vinegar
1/4 cup fresh lime juice
1/3 cup vegetable/olive oil blend (80/20)
1 tablespoon agave nectar
1/4 tablespoon paprika
1/4 tablespoon cumin
1 teaspoon minced garlic
1/2 teaspoon coriander
1/4 teaspoon kosher salt
1/8 cup water
Ingredients for the quinoa cakes:
3 cups quinoa
1 pound sweet potato, peeled, roasted and pureed
2 tablespoons sliced green onion
2 tablespoons diced yellow onion
4 teaspoons minced garlic
5 tablespoons garbanzo flour
1 tablespoon Old Bay Seasoning
6 tablespoons black beans, rinsed and drained
1 teaspoon cumin
6 tablespoons fire-roasted corn kernels (sold canned in stores)
2 tablespoons cilantro, finely chopped into ribbons
Instructions:
1. To make the vinaigrette, liquefy all ingredients except the oil in a blender.
2. Slowly add oil while blender is working. Chill mixture.
3. Heat oven to 350 degrees. Rinse dry quinoa, place on a baking sheet and toast in the oven for 15 minutes.
4. Bring 5 cups of water to a boil, add quinoa and cook covered for 15-20 minutes, stirring occasionally.
5. Keeping covered, remove from heat and let quinoa "steam" for another 15-20 minutes.
6. Combine quinoa with all of the ingredients and form into palm-sized cakes.
7. Heat a thin coating of oil in a skillet over medium heat. Sear the cakes for about 3-5 minutes per side.
8. Transfer to a baking sheet and finish in oven for 10-15 minutes or until internal temperature reaches 165 degrees. (Can be frozen at this point and stored. To reheat, cook in oven at 350 degrees for 15–20 minutes or until the middle reaches 165 degrees.)
9. Serve on salad greens and top with 2 tablespoons of the Chipotle Lime Vinaigrette. (Makes 8 cakes // Serves 4)
Per serving (2 quinoa cakes, 2 tablespoons dressing): Calories: 691; total fat: 18g; saturated fat: 2g; carbohydrate: 114g; fiber: 16g; protein: 22g; sodium: 330 mg.
Jim Metzger
Director of hospitality services, Palomar Health, Escondido, California
Main ingredient: Firm tofu
Foodservice staff members at Palomar Health are big into tofu. "It's kind of our specialty," Metzger says. The hospital group, which serves several hundred meals a day on three campuses, has had the HSUS culinary team out several times for plant-based training and consultation. Metzger says the hospital's plant-based options had been sort of ho-hum, but the trainings brought new ideas, especially for tofu. "The beauty of tofu," Metzger says, "is you can give it any flavor profile you want."
The hospital's café serves up tofu stir-fry, Greek salad made with tofu rather than goat cheese and a yummy tofu breakfast scramble based on a recipe from The HSUS. Patrons and employees alike love the "California Classic" sandwich, made with ¼-inch slices of firm tofu that have been marinated overnight in a tangy concoction and briefly charbroiled. The scored tofu is placed on a ciabatta bun, slathered with homemade spicy avocado hummus spread and topped with vegetables marinated in a gingery peanut sauce and roasted.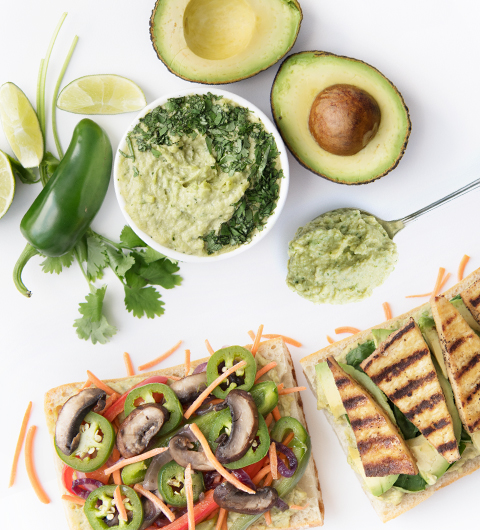 "California Classic" Sandwich with Spicy Avocado Hummus
Ingredients for the sandwich:
1 14 oz. package extra-firm tofu
2 tablespoon rice vinegar
Lime juice (to taste)
1/2 teaspoon salt
1/2 teaspoon pepper
1 teaspoon cayenne pepper
2 tablespoons peanut butter
1 inch ginger piece, peeled
2 limes, juice only
1 tablespoon agave nectar
1/4 cup water
1/2 teaspoon sea salt
1/2 cup sliced green and red peppers
1/4 cup sliced jalapenos (remove seeds)
1/2 cup sliced red onions
1/2 cup white button or cremini mushrooms, sliced
2 teaspoons vegetable oil
Fresh avocado slices
Fresh spinach
Shredded carrots
Ciabatta bread
Ingredients for the hummus:
1 16-ounce can sodium-free garbanzo beans
2 tablespoons tahini
½ cup olive oil
1 Hass avocado
1 jalapeno pepper with seeds and veins
Juice from half a lemon
1 large clove garlic
2 tablespoons chopped cilantro
1 teaspoon salt
Instructions:
1. Combine lime juice, rice vinegar, salt, pepper and cayenne pepper with tofu, then marinate overnight in refrigerator.
2. Place peanut butter, ginger, lime juice, agave, water and sea salt in blender and combine until smooth. Transfer to large bowl. Add vegetables and stir until coated.
3. Sauté vegetables in just enough vegetable oil to coat the pan, add salt and pepper.
4. For the spicy hummus spread, mix garlic, salt, tahini, cilantro and lemon juice in
a food processor until smooth; add garbanzo beans and olive oil and process until smooth again, scraping the sides of the bowl occasionally. Add the avocado and jalapeno and pulse until they're chopped and incorporated into the hummus. Set aside.
5. Cut tofu crosswise into slices, then cut each slice into two triangles. Heat oil in a large skillet over medium-high heat. Carefully place tofu in skillet and cook 5 minutes on each side, until golden and crispy. Transfer tofu to a plate lined with paper towels to absorb extra oil.
6. Spread spicy hummus on both sides of the ciabatta bun, add fresh spinach, warm tofu, sautéed vegetables, shredded carrots and fresh avocado slices. Serves 4.
Per serving (1 sandwich): Calories: 395; total fat: 22 g; saturated fat: 2 g; carbohydrate: 37 g; fiber: 7 g; protein: 18g; sodium: 394 mg.
Paloma Perez
Assistant director of child nutrition San Ysidro School District, California
Main ingredient: Red Lentil Penne Pasta
The San Ysidro School District in southern California serves about 3,800 meals a day among its seven schools. More than a third of its students are considered homeless, Perez says, which means the schools' free breakfasts and lunches are often the kids' best (and maybe only) meals of the day. In 2014, Perez introduced Meatless Monday in the district to provide students with plant-based meal options. The program has inspired discussion about how the food system impacts their health, the environment and animals. "We set up a table, Costco style, and we do little samples of the recipes for that day and let them know they can find dishes like this every Monday and it's free," Perez says. "Then with some [older] students, we go deeper into explaining about Meatless Monday, that it's because we want to eat less meat to protect animals and the planet and we want to eat more fruits and veggies."
Last January, HSUS dietitians and food policy experts Karla Dumas and Lauren Pitts held a one-day, plant-based food training for foodservice staff at San Ysidro. Dumas and Pitts served up exciting new recipes, food tastings and samples of K-12 approved products such as Beyond Meat beefless crumbles and ProHealth high-protein pastas, which Perez used to expand the school district's Meatless Monday menus to include beefless spaghetti, seven-bean chili, sloppy joes, baked pasta, sriracha lime tacos and breakfast burritos. Their Mama Mia Pasta—made with high-protein red lentil penne and a preservative-free basil sauce from a local, family-owned business—has become a student favorite.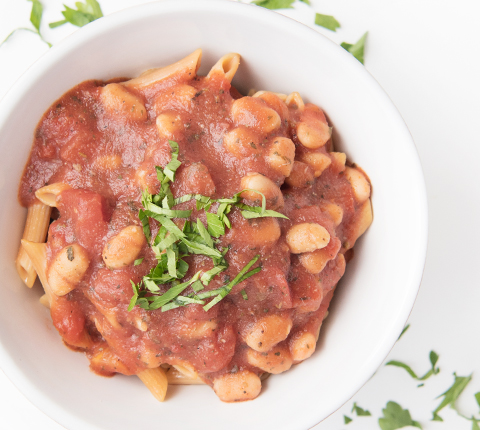 Mama Mia Pasta
Ingredients:
11 ounces uncooked red lentil pasta (available online and in some natural grocers)
2 2/3 cups diced canned tomatoes and juice
2 cups tomato sauce
1 cup Great Northern beans
2 teaspoons dried oregano
2 teaspoons granulated garlic
2 teaspoons dried basil
1 teaspoons salt
1 tablespoon sugar
1 teaspoon parsley
1/2 teaspoon black pepper
Instructions:
1. Prepare red lentil pasta according to package instructions.
2. Stir all ingredients except for pasta together in a saucepan.
3. Divide cooked pasta among four plates. Using ladle, pour marinara sauce over cooked pasta. Serve with salad and whole-grain bread, if desired. (Serves 4)
Per serving: calories: 457; total fat: 3g; saturated fat: 0g; carbohydrate: 79g; protein: 28g; sodium: 744 mg.
---
Read more from this issue
Subscribe to All Animals
GD Star Rating
loading...
Article source: HSUS