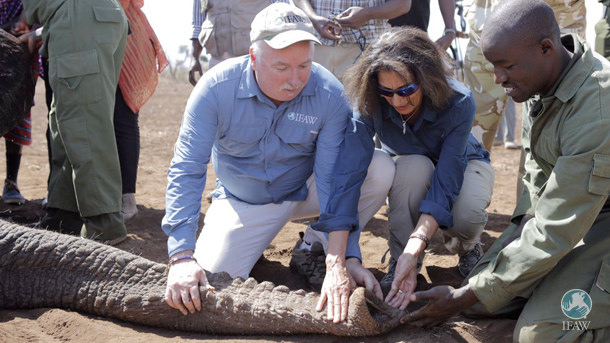 The following is a first-person account of the collaring of an elephant in Amboseli, which will allow the International Fund for Animal Welfare to better understand the movements of the elephant herds in this important national park habitat and its surrounding ecosystem. –The eds.
The night before we planned to collar two bull elephants in the Amboseli ecosystem, a clap of thunder and a bolt of lightning signaled the rain everyone but a few of us had been waiting for.
Rain is a blessing in Kenya but it also poses a potential problem for a collaring operation; rain would trigger the elephants to disperse into a much wider range and make it more difficult to spot the bull we were after.
But we persisted. Early this morning, we headed to the choppers and lifted off with the Kenya Wildlife Services (KWS) vet perched precariously out the open helicopter with his darting rifle in hand. As we gained altitude Mt. Kilimanjaro shone through the clouds, and I took that as a good omen. It was not long before we spotted a family of elephants with the bull we wanted to collar close by.
The chopper came in low and actually guided the bull towards more open, and less rocky, ground. We twisted and turned in a way that would remind you of a wild carnival ride; spinning and hovering until the perfect shot could be lined up.
The KWS vet expertly darted the bull and then we began a nine-minute journey watching and waiting for the bull to lie down so we could land, attend to the elephant to make sure cooling water was poured on his ears, his eyes were covered and his trunk was extended so that he could breathe easily.
I quickly ran from the chopper to assist in this and was especially moved to hold his trunk so that he could breathe. The strength of his trunk, even whilst sedated, was extraordinary and he pulled me over a few times as I held him and secretly wondered if he would awake as I knelt directly in front of his tusks.
It was also hard to imagine how anyone would want to hurt such an incredible animal.
The powerful, but now vulnerable, giant breathed quietly. As the minutes passed I felt more movement in his trunk as I held him. With his tusks at my back and his trunk in my hands there was no question that this animal would dwarf me when he awoke but that moment, his life was in my hands and I felt the weight of what we do at IFAW. As I looked around me there was nothing but awe in every eye.
I will forever hold this moment dear and silently pledged to continue the crucial work to protect the lives of these majestic souls.
–AD

GD Star Rating
loading...
Article source: IFAW