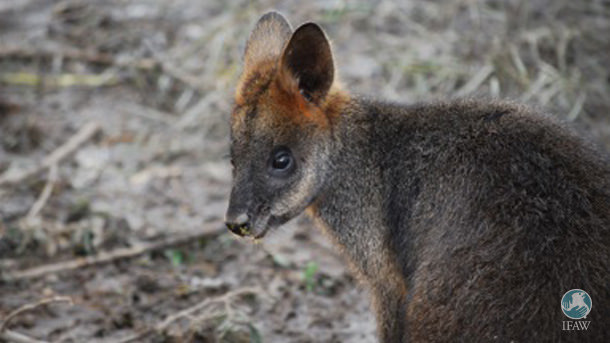 Due to severe flooding in Victoria, Australia last month, Koonawonga Wildlife Rescue's shelter was underwater. Kylee Donkers and her team worked around the clock for weeks to deal with the devastating flood waters, while juggling rescue calls at the same time. The International Fund for Animal Welfare (IFAW) provided an emergency grant to buy a water pump and assisted with purchasing food for the animals. Kylee submitted this blog. –JS
September normally means having lots of newborn animal babies in care at the Dutch Thunder Wildlife Shelter.
We got lots of rain instead.
All of our aviaries and enclosures went underwater, and we were running five to seven pumps full-time. We are lucky our house is built up with a deck around it. We moved some of the animals into the house, including 10 eastern grey joeys in the lounge, five ducklings and a kookaburra in the spare bedroom, and five eastern grey joeys and one red joey on the back deck.
In a desperate attempt to stop the water levels from rising, we started to shovel gravel. After the ninth wheelbarrow, I decided we couldn't do this alone and we put a call out for help.
Volunteers and dear friends all came and pitched in. Then the State Emergency Service (SES) turned up with sandbags!
Just as we thought we were on top of things, we heard that that the flooding was about to get worse, which would mean more rescues as well as more work to keep the sanctuary operating.
We were called out to Bushlands to rescue 20 eastern grey kangaroos trapped under a flooding house. We had to go out by boat to assess the situation.
When we arrived, there were mums and joeys everywhere.
The water was rising fast and it was getting dark, so we quickly came up with a plan….
We started catching the smaller joeys and putting them into the back of the property owner's van so at least they were not in the water. The idea was to come back in the morning, at first light, with all our gear and catch, sedate, and boat out the remaining roos.
The phone started ringing at 5:30 am and by 11 am, we'd had more than 30 call outs to places other than the house we visited the previous night. We called for help from our sister shelter in Yarrawonga who headed over to assist. There were kangaroos trapped on the Cobram Barooga causeway triggering traffic issues, fledgling birds dropping straight into fast flowing flood waters, koalas stranded in trees. There were joeys everywhere.
After attending to the immediate calls, my husband James and I travelled out to the flooded house with the owner by boat. The water was now knee deep and freezing cold. I caught and sedated kangaroos, starting with the most critical and smaller joeys that were already in the van and went from there.  Trip… after trip… after trip… we got 23 of them back to higher ground where colleagues had set up to dry, treat and warm the animals. Most of them were hypothermic, so once assessed and treated, they were popped into cars to warm.  
Four had to be euthanized and one joey sadly died from pneumonia after a few days in our care. But the rest were successfully released back into a nearby mob once they had woken from sedation and were warm.
It was a fantastic team effort and thanks to everyone that helped. The whole rescue took around six hours!
Another crazy day of rescues on Day 24. We got multiple call outs to not only kangaroos and wallabies, but cockatoos, galahs and Kingfishers on both the Koonoomoo Tocumwal Causeway, and the Cobram Barooga Causeway.
There were hundreds of kangaroos, wallabies and koalas sitting on the railway line when we realised that the train was due in 15 minutes.  After a few frantic phone calls, we tracked down the railway authorities and were able get the train to only go through at slow pace.
The animals would have to go back into the flood water as the train passed, but it was better than the alternative.
On Day 28, I received a late night message from my sister-in-law who lives in Torquay. She had seen a Facebook post from Camping on the Murray River about a poor koala known as Kevin, stranded in a tree.
Ulupna Island is a massive area and with the flood waters so high it was extremely hard to pin point Kevin's location. We headed out by boat anyway and found him.
He had no leaves left on the tree and had started eating the branches and bark.
The next challenge we faced: How on earth were we going to get him down? The rescuer climbed as high as he could then cut the branch Kevin was clinging to. I clambered out of the boat and into the tree to retrieve Kevin. He didn't put up much of a fight. Once he was safely in my koala bag and back in the boat we headed back to our cars.
Kevin was very underweight and his eyes were very inflamed. He received treatment for his eyes and was given lots of fresh gum leaves over the next few days. He was released safely away from the flood waters five days later.
–KD
GD Star Rating
loading...
Article source: IFAW