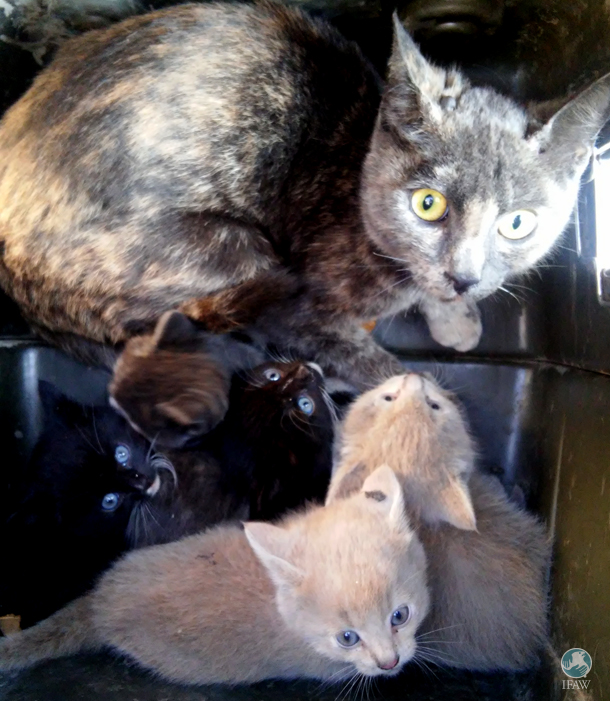 Sheena Dale, Project Manager CLAW – Operations, IFAW South Africa, submitted this blog.
After a long week of mobile clinics, emergency vet interventions and rescues, responding to a request for help on a Friday evening would not be high on the agenda of any bone-tired person. But that's just the way it is if you work for IFAW's Community Led Animal Welfare (CLAW) animal rescue project.
One recent evening, as the sun was creeping lower across the Durban Deep premises, we got a call to rescue a feral cat and her kittens. The cat, according to the caller Natasha, had moved into an empty shed on their property and had given birth. The family didn't know how to care for the new family and, truth be told, didn't want cats anyway.
A cat box was quickly at the ready, release forms prepped and the drive to the premises through Durban Deep traffic was mercifully quick for a Friday night.
The mother of the kittens had given birth in an outside lean-to, and she was none too happy to see strange humans in her safe space. As animal welfare assistant John started to unpack the catch equipment, the mother cat went on the defensive.
John's lightning fast response was too quick for her, and he quickly and gently bundled her up and put her in the cat basket. Then he popped the mewling kittens in with their distressed mother.
After a thorough check to ensure none of the kittens were left behind, the shed (which had to be emptied to get access to the cat and kittens) was repacked.
Mother and kittens were brought back to CLAW for care.
CLAW is able to rescue animals in need, educate the general public and explain the importance of sterilisation.
Young Natasha now wants her school to donate to CLAW and she is really proud of herself, knowing she made a difference by assisting an animal in need!
–SD

GD Star Rating
loading...
Article source: IFAW