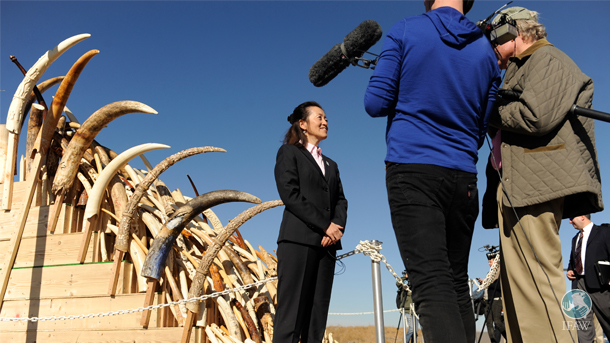 On the eve of Hanoi hosting the Conference on Illegal Wildlife Trade next week, the government of Vietnam will crush, burn, then bury in Hanoi's Soc Son District more than two tonnes of ivory and 70 kilos of rhino horn, according to government sources.
The cache being destroyed is from recent smuggling seizures, said the country's Ministry of Agriculture and Rural Development, which will perform the destruction on Saturday with the co-operation of the ministries of Finance and Public Security.
Destroying confiscated wildlife parts and products sends demonstrates a government' political will to compact wildlife trafficking. My organization, the International Fund for Animal Welfare, is in full support of the government's decision and reasoning behind ivory destruction—sending a strong message to poachers, traffickers and consumers on the entire blood-stained trade chain that crimes against wildlife cannot be tolerated.
Elephant populations have plummeted on account of poaching for the ivory trade at the rate of 30,000 to 50,000 a year. Recent elephant census data showed poaching had reduced 60 percent of African forest elephants in the past decade.
Rhinos are the second largest land mammals after elephants, and poaching levels and trade in their horn have reached their highest levels in the last two decades. Between 2013 and 2015, about 3,400 rhinos were cruelly killed for their horns, and today, rhinoceros populations are at historic lows with approximately only 30,000 remaining in the wild.
Vietnam has always been a leading consumer nation for rhino horn, and a hot transit spot as well as a consumer nation for ivory. Dozens of tonnes of ivory and rhino horn have been seized at local ports in 2015, including eight tonnes at Tien Sa Port in Danang in August that were in transit from Mozambique and Nigeria.
The Hanoi Conference, which has invited delegates from 54 countries and territories, is a monumental step in showing the country's commitment to combat the illegal wildlife trade. 
We hope that the conference in Hanoi will translate the words on the various declarations into concrete actions, such as closure of domestic markets for ivory and rhino horn and enhanced enforcement and meaningful penalties for violators, which will stigmatize consumption of endangered wildlife parts and products and help reduce consumer demand.
We applaud the government of Vietnam for its commitment to the cause, especially given the country's high consumer demand for such products. We are confident that such a public gesture will make waves across its own populace as well as the world.
–GG

GD Star Rating
loading...
Article source: IFAW