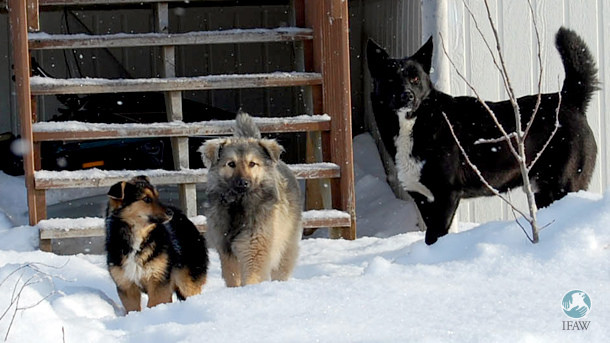 When people from outside our country think of Canada, they often think of vast expanses of frozen tundra stretching as far as the eye can see. Blowing blizzards. Frostbite. Snow.
And they aren't entirely wrong.
Most Canadians can afford to keep themselves – and their four-legged friends – warm and toasty during the long dark winter months. But this isn't the case in the indigenous communities served by the International Fund for Animal Welfare's Northern Dogs Project.
Dogs in these northern communities often spend their lives outside. They love it out there when they are playing with dog friends or following their people around. And traditionally, most haven't had much of a problem with the -40 degree weather. Huskies, in fact, are built for the cold.
But with so many new dog breeds showing up in northern communities there are now a lot of dogs who just weren't bred for withstanding Canada's winter. Short haired breeds, smaller breeds, and pups being born randomly from spring into fall – that's a recipe for a rough rainy fall and a disastrous cold winter.
We are also seeing a lot more mange in the dog populations which means that dogs are losing their fur from a stressed immune system.
Fur is a dog's number one defense against our weather.  A dog house is number two.
Over the next two months, IFAW will be building and delivering dog houses to northern communities for dogs who need them most. Students from the local high school are excited to once again be part of keeping dogs warm this winter by building dog houses in their wood shop class.  The dog houses are built of solid plywood construction, insulated with R40 foam, and have door flaps to keep out the cold north wind. And they are great shelter not just in the winter, but all year round. In the spring and fall, dogs can stay out of the wet weather, and in the summer they can beat the heat.
The Northern Dogs Project is about helping people provide for their dogs through annual vet clinics, humane education and in this case, by providing each dog a warm home.  By partnering with local students and generous IFAW donors, we can continue our work to change how dogs and people live together while we help dogs weather another frosty winter.
–JH

GD Star Rating
loading...
Article source: IFAW