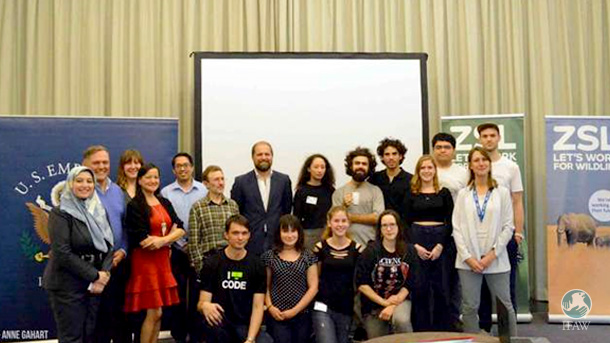 I was on hand while 80 computer coders at the Zoological Society of London (ZSL) competed in a so-called "Zoohackathon" where a top prize of £2000 would be bestowed upon the most innovative technology to stop the illegal wildlife trade. Simultaneously, creative minds were gathering at similar events organised by the United States Department of State in San Diego, Seattle, Sydney and Washington.
The atmosphere in the room was very intense, with groups forming to create some fantastic solutions to this ever problematic issue.
I was one of a number of so called "lightening speakers", there to talk to people about what the NGO community was doing to stop poaching, tackle the online sales of wildlife items and fight the global international trade in illegal wildlife.
During the London event I was able to showcase IFAW's tenBoma film, demonstrating how we are working in partnership with the Kenyan Wildlife Service to try and stop poaching incidents before the criminals can even pull the trigger.  The film gave the computer coders in the room something to think about and afterwards I was surrounded by people wanting to know more about our project, online market places and even how tourists unwittingly support illegal trade through souvenirs.
I was with Mark Moseley from the Metropolitan Police Force Forensic Unit, another "lightening speaker" and he was demonstrating his ivory fingerprinting kit, developed in conjunction with Kings College in London, which IFAW now has on field trials in Kenya. Mark was able to show that having access to the appropriate technology in the field can help gather hard evidence in catching criminals and how having a fingerprinting database and ways to communicate in real time would be very important for anti-poaching patrols and law enforcement officers in remote locations, along with cross border co-operation and border posts.  
The event ran for three days. I met a number of teams who were so dedicated that they had been sleeping over at ZSL to allow more time to develop their ideas, although one of them said it had been a noisy night with loads of animal sounds in the background! At the end of the Zoohackathon, teams presented their ideas to an expert panel of judges to nominate a winner.
The judging was very close, but the winning team was "Lookout," which won the £2000 top prize in the UK. The team developed an idea of a content management platform that could potentially integrate with travel websites like Hotwire and airline company portals such as Star Alliance. When travelers plan their trip, a pop up would advise them about endangered species, what kinds of products they should avoid, what not to buy and penalties for purchasing goods made of endangered species. The portal would also able to integrate with CITES regulations.
The team did some market research and realized that only 14% of potential consumers would be interested in downloading an App. Thus they decided to create a portal instead, so consumers would be mentally engaged during trip planning (apparently that is the time when consumers are most interested in gaining info about their travel destination) and be made aware of CITES info before their departure.
Some of the great ideas other teams came up with at the London event, courtesy of ZSL and the US Embassy:
 Wild Coin – a funding platform proposing a new method of peer-to-peer conservation funding, match making people to the conservation cause that interests them and allowing direct transfer of funds from donor to conservationist through block-chain technology. It also presents a platform for interested donors to advertise available funds for projects not yet underway. 
Improbable's Wildlife Trade Economy Game – a game that simulates the worldwide illegal wildlife trade economy, inviting gamers to make investments in different parts of the illegal wildlife chain and assess the impact of these on simulated wildlife populations. Similar to the cult game 'Pandemic', the game encourages players to make choices to explore the complex nature of the illegal wildlife trade chain. With development, the simulation could even be used by conservation organisations to explore the possible impacts of their conservation actions over time. 
Reading palms – a platform that uses satellite imaging and machine learning to detect potential locations of land use conflict within oil palm landscapes.
Zoolander – a browser plugin to educate travelers about the illegal wildlife trade. The extension automatically grabs your destination from flight booking websites and displays a list of species under threat from the illegal trade in that country. 
George Pachitariv – a phone robot to facilitate the reporting of wildlife crime, allowing data to be input into the SMART technology database in low technology areas. This phone robot only requires numbered options to be chosen, addressing the issue of illiteracy sometimes being a barrier in wildlife crime reporting as individuals can't text in what they have seen.
Rafiki – an app that adds machine learning into the SMART technology process to enable greater predictive power of poaching occurrences and communication throughout the community.
Trill – another solution building on SMART technology, connecting the community to the data gathering system via SMS, to report poaching.
Green Team – created Jane, a Facebook bot providing automated, country specific information on illegal wildlife trade products to travellers in response to their questions, covering every aspect from market products to food in restaurants. 
Palm Oil Optimisation Project – a platform to guide smallholder farmers through the process of achieving sustainable palm oil certification, cutting the complicated assessment criteria into bite-size objectives.
Snapcat – an app to discover and donate to wildlife by scanning objects in the world around you.
Sosa – an app integrated with SMART technology databases to help communities report wildlife crime anonymously.
Elephone – an app to help prevent travelers inadvertently buying wildlife crime products that recognizes illegal products through image recognition. 
E-conscience – A browser plugin that recognizes page mentions of animals threatened by the illegal wildlife trade and provides additional information on them and a way to donate.
Start spreading the Sumatran tiger news – a personalised video using green screen technology in which you star to address the issue of wildlife poaching.
After the Zoohackathon, a global panel of technology and conservation experts will review all of the winning ideas from each country and select a single top submission for possible development. 
This was a great event to be involved with as it provided the opportunity to inspire people to take action. 
Huge thanks to the US Department of State and ZSL for organising such a great event. The good news is that the US Department of State hopes to run the Zoohackathon next year, so start working on your ideas! 
–DC 
GD Star Rating
loading...
Article source: IFAW