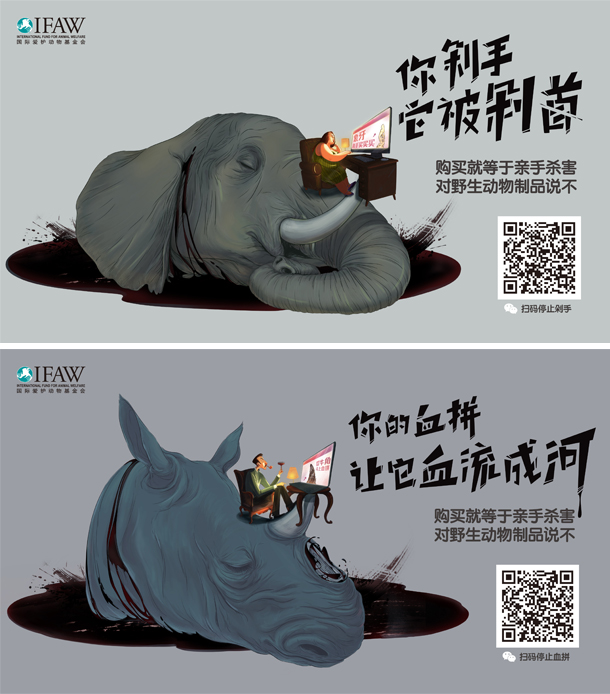 On November 11th, China's biggest shopping day, the International Fund for Animal Welfare (IFAW) launched a new campaign to dissuade consumption of endangered species.
11.11, also called "Singles Day," has now become the world's largest online shopping period.
Attracted by deep discounts, hundreds of millions of consumers flocked to e-commerce platforms, buying everything from everyday essentials to luxury products. E-commerce giant Alibaba's retail platform Tmall says it received 657 million orders on Friday worth a total of more than 120 billion yuan ($17.6 billion USD).
The shopping frenzy had created a new Chinese term, Duo Shou (cutting off hand), referring to one's need to cut off his/her hand to stop incessant shopping. In Chinese, the word for "hand" (pronounced shou) sounds the same as the word for "head."
Cleverly juxtaposing Duo Shou for shopping with Duo Shou for cutting off heads, IFAW's campaign urges consumers to think twice before buying parts and products from endangered wildlife including elephants, rhinos, pangolins and helmeted hornbills.
The campaign message resonated with Chinese consumers so much that it was re-tweeted and exposed to large audiences across the country overnight.
By Monday, three days after the campaign went live on social media platform Weibo, China's equivalent of Twitter, the message had reached more than 11 million people.
An overwhelming majority of the comments support the campaign, calling on friends, families and peers to reject wildlife consumption.
One netizen comments, "Never buy wildlife products! It is not necessary and is always derived from killing."
United Nations Environment Programme (UNEP) retweeted IFAW's campaign message: "Your Duo Shou results in their Duo Shou. Do not buy wildlife products."
Movie actor Li Chen urged his 456 million fans to help protect ALL living beings by rejecting wildlife parts and products.
Long term IFAW supporter and wildlife champion, actress Wang Luo Dan reminds individual consumers, "On 11.11, use YOUR power to reject wildlife trade." 
READ: Chinese cultural icons plead for the lives of elephants in media blitz
TV celebrity Luo Jin calls on consumers to stigmatize wildlife consumption, "Be a hero for saving wildlife! Don't be culprits for their demise!" he said on Weibo to his fan base, at 856 million strong.  
Following the Weibo launch, the campaign will go on Wechat, in subways, trains and other off-line locations.
–GG
GD Star Rating
loading...
Article source: IFAW